With all the hype of Terron Beckham, do you think he'd be a good back in the offensive backfield with Kubiak's system?
That's not even a relevant question at this point because so little is known about him.
A more valid question is this: Is Terron Beckham even a football player? The hubbub around him seems a little insulting to all the players who will be going to the NFL Scouting Combine or any of the NFL regional Combines (Beckham is not) and have worked their entire lives for this moment.
He hasn't played the sport in five years. He couldn't even hook on with a Division III program. I have no clue if he has the instincts, feel and game speed to play this sport at a college level, let alone an NFL one. There's no way to judge whether he can read the holes as they develop and then hit them.
The hype over Beckham seems to me like much ado about nothing, and I doubt it would exist if he wasn't related to Odell Beckham Jr. (the two are cousins).
You can be a great athlete and have otherworldly workout numbers, but it doesn't mean you're a football player.
If the team didn't see something to like and develop in their practice-squad players at the end of the season, they wouldn't have signed them to reserve-future contracts, which they did the week after the Super Bowl. It would come as no surprise to see any of them in the mix.
With a potentially robust draft class added to the mix, it's difficult to handicap the chances of each making the team. However, Jordan Taylor, Zaire Anderson and Kapri Bibbs would probably be the three top names to watch going into the offseason. Taylor and Anderson were summer stars during the 2015 training camp, and Bibbs will be at the fork-in-the-road point of his career when camp opens this summer; he needs to make an impression and find a way to stick on the 53-man roster.
No. 18 will not be worn again. Frank Tripucka and his family granted permission for it to be taken out of retirement and loaned to Manning, but when Manning's time in Denver concludes, it will go back into retirement. As Frank's son Chris noted:
I still say that as a way of honoring the connection between the two quarterbacks, the Broncos should try to boost the in-person attendance for a preseason game by using a baseball tactic and giving away a dual Manning/Tripucka bobblehead, providing fans a souvenir that commemorates the lasting connection between the two No. 18s across the eras.
Do you think the Broncos would trade up to snag Ohio State OT Taylor Decker? He's extremely athletic and could be a stalwart in the zone run scheme for a long while.
I think before that question can be answered, we first need to see what happens with Ryan Clady and whether he returns. No matter what, I don't think you'd see the Broncos move up for a tackle unless -- for reasons I cannot foresee, but who saw Shane Ray dropping at this point last year? -- Laremy Tunsil or Ronnie Stanley take an unexpected tumble through the first round.
Will Denver update their uniforms anytime soon? They've been the same since 1997.
There are no plans at the current time to change the uniforms beyond the potential for one-off combinations like the NFL's "Color Rush" program, assuming that continues in the future.
Let's assume LT Ryan Clady restructures his contract to stay with the Broncos. Who do you see as the other four starters on the OL?
If Clady returns, I'd expect Ty Sambrailo and Michael Schofield to compete at right tackle, Louis Vasquez to return at right guard, Matt Paradis to continue holding down the center spot and Max Garcia -- a.k.a. "The Future," as his teammates call him -- to push into the starting lineup at left guard with Evan Mathis set to become a free agent.
In this time of free agency, what is the difference between restricted and unrestricted free agents and how is that decided?**
It is decided by experience. If you have at least four accrued seasons in the NFL and an expiring contract, you are eligible for unrestricted free agent. If you have three accrued seasons, you are a restricted free agent. Your previous team then offers you a one-year tender at three levels: a first-round tender (likely around $3.5 million), a second-round tender (likely about $2.5 million) or a tender determined by your draft status (which will likely be approximately $1.6 to $1.7 million).
So let's say that the Broncos give Brandon Marshall a first-round-level tender. A team could give Marshall a contract, and the Broncos would have seven days to match it; if they chose not to, they would receive a first-round pick in return.
Here are the Broncos' free agents, grouped by type:
S Omar Bolden
S David Bruton Jr.
S Josh Bush
WR Andre Caldwell
TE Vernon Davis
OT Ryan Harris
RB Ronnie Hillman
DE Malik Jackson
S Shiloh Keo
G Evan Mathis
OLB Von Miller
WR Jordan Norwood
QB Brock Osweiler
OT Tyler Polumbus
DE Antonio Smith
ILB Danny Trevathan
WR Kyle Williams
RESTICTED FREE AGENTS:
RB C.J. Anderson
ILB Brandon Marshall
OLB Lerentee McCray
We all know that there are different rules which have been used in college football compared with the NFL. My question is, do you think NFL Football should follow the college football rules, in terms of when it's a 1st down play, the game clock should stop temporarily until the football is placed by the referee to resume the game.
Absolutely not. The NFL is trying to shorten games, not extend them. We do not need pro football to become like college football, with interminable games pushing four hours.
OT or OG in the first round in April?
Too many variables in the first 30 picks to narrow it down to two positions for when the Broncos select 31st. Their best play is to take the best player available, regardless of position, and worry about the rest later.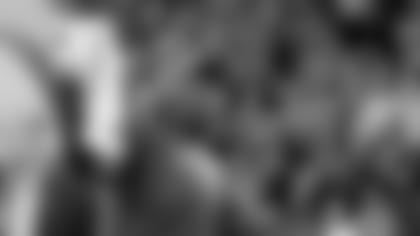 Hi Mase. A couple of questions from Denmark. Why do the players put the championship T-shirts over their pads? When I won the championship in Denmark we took off our pads and put the the T-shirt on. It looks weird.
And if Von would be lost in free agency and join a lesser team, would he not be more ordinary as a player as compared to in Denver where Wolfe, Sly, Malik and D-Ware allows him to easier attack the QB?
I'm not sure that the T-shirt-over-pads subject is one to which players give much thought, especially given everything else transpiring after winning a championship and awaiting the trophy. I know if I were a player in that situation, I'd be worried about losing my pads in the hubbub if I removed them.
And I wouldn't say that Miller would become ordinary if he left and joined another team. He has special talent that will flourish in any scheme. Having the players surrounding him with the Broncos does help, but I don't think he'd suddenly become just another pass rusher if he left. He's special, and you pay for special.
---
Submit a question for the next Mailbag!
The analysis, opinion and speculation in this story represents that of the author, gathered through research and reporting, and does not necessarily reflect the opinion of the Denver Broncos organization.