John Elway has drafted three defensive players in the first round of every draft since he took over: Von Miller, Sylvester Williams and Bradley Roby. Is Elway content to keep that trend alive by taking Denzel Perryman (according to most ESPN and NFL.com mock drafts they have him available late 1st round) or is the O-line so bad that Elway is forced to break tradition and draft one?
-- Jarad Sinsheimer
I'm not convinced that an offensive line anchored by two recent All-Pros is "so bad." Ryan Clady and Louis Vasquez are a pair of building blocks most teams would love to possess to start a building process.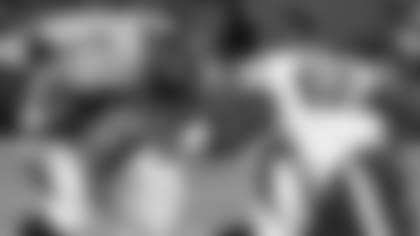 There are questions at the other three spots on the offensive line. But the Broncos have experienced starters on the depth chart at each position, a second-day pick at right tackle (Michael Schofield) who should get a long look to evaluate his development in what effectively became a redshirt rookie season, and offseason pickups Shelley Smith and Gino Gradkowski know what a zone-blocking-based scheme asks of its linemen.
That gives the Broncos the freedom to notpick an offensive lineman at No. 28 if they don't like the value there. So they could pick a linebacker -- you mention Denzel Perryman; I had Mississippi State's Bernardrick McKinney in my mock draft. But they could pick almost any position based on how the board falls. If, say, Alabama safety Landon Collins unexpectedly falls, he could be an option. The same is true of Nebraska edge rusher Randy Gregory and others.
"It's hard to go into the draft with a big need. That's the last thing you want to do because that's when you end up chasing them," Elway said at his pre-draft press conference April 23. "We always try to be solid at all positions going into the draft with some veteran presence. To be able to go into the draft and then when you get to the draft, take that player that you think is the best player available and has a chance to have to have a good NFL career. That is the key thing."
Do you think the Broncos could trade back up into the first round and take a talented WR like Dorial Green-Beckham? Scouts have compared him to Calvin Johnson and to give Manning a talented young WR with great size and talent you would believe the Broncos would make a move like this.**
-- Ethan Stanton
Talented, but troubled, with a guilty plea of trespassing and allegations of forcing open a door and pushing a woman down stairs. And on the field, he's a long way from being pro-ready; although he's a physical specimen, he hasn't handled anything like learning a route tree. Further, the Broncos invested a second-round pick in Cody Latimer last year; he posseses physical gifts of his own.
This receiving class is deep, and the Broncos can find quality in the mid-to-late rounds. It wouldn't surprise me if they picked a wide receiver on the second and third day -- perhaps one who can handle kickoff and punt returns. There's better value in waiting rather than trading up for someone with as much baggage as Green-Beckham.
Biggest bust? You'd have to go with first-rounders Ted Gregory (1988) or Marcus Nash (1998). Gregory did not ast a season and was shorter and lighter than initially thought. Nash barely played until he got to the Arena Football League and finished his NFL career with one of the oddest stat lines for a wide receiver in league annals: four receptions, no touchdowns, two Super Bowl rings (Super Bowl XXXIII with Denver; Super Bowl XXXV with Baltimore).
Greatest draft surprise? If you're talking surprising accomplishment, you'd have to go with 1983 12th-rounder Karl Mecklenburg or 1994 seventh-rounder Tom Nalen. For surprise of the pick itself, it has to be Tim Tebow in 2010 -- even though I kind of saw it coming, hearing the actual announcement from Roger Goodell was nevertheless a shock.
The Broncos can use both linebackers and offensive linemen. Most of the analysts in their mock drafts picked offensive linemen. Was your mock draft pick a linebacker because there is a better chance of getting a good offensive lineman in the second or third round than a good linebacker (one of your reasons)?**
-- Joe King
Not really; it was based more upon other factors, including:
The demonstrated ability of Gary Kubiak and Rick Dennison to find offensive linemen in the third round or later and develop them into quality starters given a year to develop.
The pick of Bradley Roby last year, which ensured the Broncos would be covered at cornerback even if Chris Harris Jr.'s comeback from a torn anterior cruciate ligament hit a snag. With 2014 njuries to the two intended starting inside linebackers (Brandon Marshall and Danny Trevathan) and an expiring contract for Trevathan, it seemed that inside linebacker was a possibility, and the value for Bernardick McKinney was right at No. 28.
McKinney appears to be a good scheme fit for a defense in which inside linebackers will have to engage with interior offensive linemen from time to time.
This is a huge "if," but if Marcus Mariota is available at 28. overall do we take him or an offensive tackle?**
-- Mark Lauderdale
In that unlikely event, it's not just about the Broncos, but every team in the final 10 picks of the first round. Those teams in that range who do not have their intended franchise quarterback for the next five years or more would give extensive consideration to Mariota. It's similar to the Packers and Aaron Rodgers a decade ago; the potential value would be too good to pass up.
Brock Osweiler is in a contract year. Peyton is playing quite possibly his last ... what are the chances (and options) of a QB at #28?
-- Mark Sandoval
The options would likely be UCLA's Brett Hundley, Colorado State's Garrett Grayson and Baylor's Bryce Petty. But none of them represent the best value at No. 28. On my list of top 100 prospects, I have Hundley No. 50, Grayson No. 62 and Petty No. 74. If the Broncos wanted a quarterback to start their draft and found a willing trade partner, a move down could be the wisest call.
I've heard rumors of a total overhaul on the Broncos uniform. Apparently Nike has been working on it for a while now. Can you confirm the rumors?
-- Chance Pullan
No, I cannot, because there is no truth to them.
---
Submit a question for the next Mailbag!
The analysis, opinion and speculation in this story represents that of the author, gathered through research and reporting, and does not necessarily reflect the opinion of the Denver Broncos organization.