I keep seeing Mock Drafts with DT being one of the top "needs" for Denver. Denver seems to have a couple solid guys (Kenny Anunike and Darius Kilgo) already on the roster and ready to go. They appear more than capable of filling the post held by Malik Jackson. Is DT really a TOP position of need outside of QB?
Yes. Defensive line, in general, is an area of need both in the short and long term.
Sylvester Williams and Vance Walker are both in the final years of their contracts, although the Broncos could opt to exercise the fifth-year option on Williams; the deadline for that decision is one day after the NFL draft.
Kenny Anunike is a possibility, but as Head Coach Gary Kubiak noted at the NFL Annual Meeting last Tuesday, he has to prove he can stay healthy first, and he's finished the last two seasons on injured reserve. To say that Anunike and Kilgo alone are capable of filling the role held by Jackson is to expect too much; remember, they have just 118 regular-season snaps between them. They are potential parts of the solution, but they cannot be the solution alone. Further, you can't forget Walker, who at this point, is a first-teamer -- just as he was early in the 2015 season while Derek Wolfe served his four-game suspension.
And even with Anunike, Williams, Walker, Kilgo and the re-signed Wolfe, you need at least one more defensive lineman on the 53-man roster, and possibly two. The Broncos took a flyer on former first-round pick Phil Taylor as a reserve-future signee, but this year's draft is rich in potential three-/five-technique defensive ends. The value will be there, so this represents a prime opportunity to re-fortify the talent at that position.
As Kubiak said Tuesday about the defensive ends, "We can get better in the draft, and that's what we plan on doing."
Don't count on it. The Broncos are happy with the work and potential of Williams and Kilgo at nose tackle, and as mentioned in the previous response, the draft class for defensive linemen who fit the Broncos' scheme is deep. Further, the Broncos have other, more pressing needs on which they must use their cap room, which at this point is limited.
With the additions of Okung and Stephenson at tackle, Sanchez at QB, and bringing CJ back, what do you think Denver's next area of interest will be either in FA or the draft? Do you envision any possibility that Denver moves up in the draft for the likes of an Ezekiel Elliott for RB depth or looks to a QB early on?**
For the moment, the Broncos have to tread lightly in free agency. The most recent public salary-cap report from the NFLPA has the Broncos with just $2,050,296 of cap room, all of which (and then some) will be gobbled up by the rookie class. Further, they're trying to work on a long-term deal with Von Miller, and also have other high prirorities for long-term deals over the next 10 months, including ILB Brandon Marshall and WR Emmanuel Sanders. Unless or until they create some more space, the free-agency avenue will be closed, aside from deals at or near the league minimum salary.
They still have areas in need of depth reinforcements, particularly safety and tight end. Those would appear to be the two spots where you could see an addition or two.
In the draft, quarterback is definitely more of a possibility than running back if you're talking about a move up in the first round. The four-year investment in C.J. Anderson likely ensures that the Broncos will wait to find a running back to serve as a potential compliment. Elliott's rising stock likely puts him out of reach.
But no matter what happens at quarterback in the next few weeks, don't be surprised to see a quarterback early in the draft. Obviously, getting Carson Wentz or Jared Goff would require a trade up, but they might see better value in standing pat and selecting one of the other prospects with one of their three Day 2 picks.
I have an unlikely scenario question. Should either of the top QB's do an Aaron Rodgers type fall during the draft, since we hold 10 picks and a tight salary cap is there any chance Denver would consider moving up?**
If Goff or Wentz took a Rodgers-like fall into the 20s, I would be shocked if the Broncos didn't begin hitting the phone lines hard to try and move up.
You saw their willingness to move up last year when Shane Ray fell. One advantage of going into the draft with a viable starting 22 (plus key rotational components like a No. 3 wide receiver, a nickel cornerback, etc.) is that they don't have one particular need they MUST fill in the draft. They can let the board fall to them and be in position to take advantage of an unexpected tumble. So whether you're talking about Goff or Wentz or someone else whose fall no one could predict right now, the Broncos are again in good position to make a move.
So why isn't Zach Mettenberger in the discussion for a trade? I mean he is pretty decent and athletic and has a cannon.
He also got benched in the 2015 regular-season finale (according to reports, as much because of performance as a thumb injury), appeared to regress in his play from his first to his second season, was convicted on misdemeanor sexual-battery charges while in college and his teams are winless in 10 career starts.
There are plenty of other quarterback prospects who are better and have less baggage.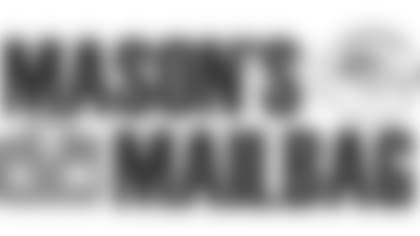 Is Matt Schaub a trade possibility to groom a young QB?
Seeing that Schaub just signed with the Atlanta Falcons this month, no.
Do you think the trade for Mark Sanchez was a ploy to get Colin Kaepernick?
No, and there are too many moving parts involved for one quarterback's situation to be connected with the that of the other.
What Broncos players still need to be resigned due to free agency. I saw something about another team interested in Norwood, and I didn't even realize he was available. What about Ronnie Hillman? I don't understand what his status is.
Norwood tweeted that he will be returning, providing a stable option on punt returns and bolstering the depth at wide receiver. Norwood can handle the slot if needed, and can rotate among all of the receiver spots.
Hillman is still on the unrestricted market, which isn't a surprise; he was likely to be a second- or third-wave pickup who landed somewhere once the market settled. Unfortunately for Hillman, poor playoff production (a 1.7-yard average on 32 carries and just two first downs in 33 playoff touches) hinders his value on the market.
---
Submit a question for the next Mailbag!
The analysis, opinion and speculation in this story represents that of the author, gathered through research and reporting, and does not necessarily reflect the opinion of the Denver Broncos organization.