For the Patriots game, do you think double-teaming Gronk is a good option? Unless putting CHJ on Edelman one-on-one is logical due to Chris' injury. Also, do you think the passing or run game of the Broncos is more important this week?
What you want to do is use deception and variance. Use some double-teams from time to time, and also show double-team looks but quickly change out of them at the snap. The only positive to playing the Patriots in the postseason is that you've had nearly six months of practices dating back to training camp, so at this point, you've worked on so many different concepts that your drawer is overflowing with tools.
Use them all, if necessary, because tomorrow doesn't matter without success today. As a certain Hall of Fame quarterback said:
As for the passing or the run game ... I'd give a slight edge to the ground game, because it can control the pace, prevent the Patriots' linebackers from attacking at the snap and open up play-action possibilities for the passing game. Even though Peyton Manning isn't going to execute the play-fake bootleg like Osweiler, a quick playfake can freeze the linebackers and safeties just enough to create coverage gaps that Manning can exploit. Using the run to set up the pass is totally old school, but if done properly, it can work in a big way.
As I've noted before, don't expect a change in who starts. First, the starter designation means nothing; they're going to split repetitions and snaps, with Kubiak willing to ride a hot hand if one gets going. Second, the Broncos have been far more productive on the ground with Hillman starting and Anderson relieving him; no coach is going to mess with what works, even if correlation doesn't mean causation.
Anderson had a big game working behind Hillman against New England in Week 12. He touched the football more often (19 to 15) and played 17 more snaps than Hillman that game, in part because he was so effective. Considering the improvement in Anderson's production on a per-carry and per-game basis since Hillman became the first-teamer, there is no reason to change this arrangement.
Because over the long haul, Kubiak has proven to be one of the better game-planners and play-callers in the league, and the historically above-average performance of his ground game has forced the Patriots to usually play more off-balance than they would prefer.
His offenses (Houston 2006-13, Baltimore 2014 and Denver 2015) have outperformed the league average against the Patriots for the last decade by a considerable margin.
The key rates bear this out:
POINTS PER GAME: *25.00 (Pats average points allowed vs. other teams: 19.21)
*YARDS PER GAME: *375.9 (Pats average YPG allowed vs. other teams: 342.7)
*YARDS PER PLAY: *5.59 (Pats average YPP allowed vs. other teams: 5.41)
*FIRST-DOWN RATE: **One every 3.197 plays (Other teams' first-down rate vs. Patriots: one every 3.502 plays)
But Kubiak's record against Belichick-coached teams the last decade is 2-5, in large part because the Patriots have racked up 33.29 points per game in those contests.
The 24 points the Broncos allowed New England in Week 12 were the fewest that one of his teams has allowed in his head-coaching career. The defense will need to be at least as good -- if not better -- this Sunday.
Including players on injured reserve, there are five players who played for the Broncos under McDaniels: safety David Bruton Jr., offensive tackles Ryan Clady and Ryan Harris, punter Britton Colquitt and wide receiver Demaryius Thomas.
Safety Darian Stewart was on the Rams in 2011 when McDaniels was their offensive coordinator, but didn't play under him, per se, because he was on the other side of the ball. The same holds true for cornerback Aqib Talib, who played with the Patriots from 2012-13 after McDaniels returned to their staff.
I'm guessing you might have read Bill Barnwell's assessment of how our defense might have the best statistical probability of disrupting Brady; rushing 4 and blitzing less often. Also, an interior push should cause more discomfort than edge pressure because Brady is so comfortable in the pocket. Wolfe, Jackson, and Co. are the right guys but do you think Wade Phillips will go away from what he's done most all season? Your mailbag is great by the way.**
Thank you, and to reiterate a point I just made on a radio appearance with an Atlanta radio station, I agree that the interior pass rush is more crucial to the Broncos than the edge, simply because Brady's ability to throw the football in 2.21 seconds on average neutralizes the effectiveness of the edge rush.
It's not an accident that two of the Broncos' 3-technique defensive ends had two of the three sacks of Brady in Week 12: Vance Walker and Derek Wolfe. The pass-rush abilities of the 3-techs give the Broncos an asset that most Patriots foes do not possess.
Their rush, plus the occasional blitz through the A-gap -- and I mean "occasional," because this is NOT something on which you want to lean too heavily, otherwise the Patriots will adapt appropriately -- can provide the disruption the Broncos need.
Malik Jackson also made a great point Friday: You have to get your arms up quickly. If you can't get to Brady, find a way to make it difficult for him to deliver the football on those quick timing routes underneath and longer passes down the seam in which he anticipates Gronkowski's break. Look for Jackson, Wolfe and others to get their arms up as quickly as possible to create another obstacle for Brady.
With Chris Harris' shoulder injury, will he still be able to play press coverage and get physical with the receivers on Sunday?**
He's going to have to. His full participation in practice this week is a positive sign, as is his improved health that came from the two days of rehab work to begin the week. His shoulder is still sore, but he noted after last Sunday's game that he didn't make it worse.
If Harris can get his injured arm up and be appropriately physical when the Patriots' formations allow him to get up to the line of scrimmage and jam an opposing receiver, the Broncos have a chance of neutralizing an attack that, so far, no one has (at least in the games that Julian Edelman has played this season).
I couldn't care less about the opinion of some guy in Boston of whom I've never heard until now. And even if I had heard of him, I'd just think, "Whatever." He's just looking for clicks, I reckon.
After the Cardinals-Packers game Clay Matthews suggested that "Let's go college rules. Just put us on the 25 or whatever it is and let us go at it," Don't you think NFL should consider adding that rule into the game? Another thing I dislike the most is that, after a first-down play the game clock doesn't stop temporarily (in college football it does) don't you think NFL should add that too in which it will allow the team to get an fair opportunity?**
Let me start with the notion of stopping the clock after each first down earned. That won't happen. NFL games are too long as it is and if there are any changes to the timing of regulation play, they will be made with the intention of shortening games. I can read a robust novel in less time than it takes to play a college-football game; those contests are absurdly long.
I'm in favor of teams receiving equal opportunity in overtime -- and yes, I know this would have removed the "magic" of the Tim Tebow-to-Demaryius Thomas touchdown of January 2012, but over time, any rule giveth and taketh. However, I don't like college tiebreakers -- at least, not immediately after regulation. Putting the football on the 25-yard-line to start each possession is such a contrived way to decide a game. (It could be worse; in some high-school jurisdictions, the football is placed at the 10!) To me, possessions starting at the 25 are a last resort to decide a game, akin to penalty kicks in soccer.
The only way I'd be in favor of going to a 25-yard-line tiebreaker immediately after regulation is if the NFL went to a points-based standings system: three points for a regulation win, two points for a tiebreaker win, one point for a tiebreaker loss, zero for a regulation loss. We have a better chance of seeing the pre-1978 pass-defense rules return than that.
My proposed solution is simple, even though I know most won't like it.
(So before you yell at me, understand that I accept that I am a contrarian on this, because I'm influenced by having an English mother, a North Carolinian father who often mused, "I love a good tie," and wasn't referring to neckwear, playing soccer as a child and being raised with the notion that a draw is a perfectly acceptable outcome to a game. I don't subscribe to the more recent and generally American concept that WE MUST HAVE A WINNER. I can think of many NFL games -- including the Broncos-Seahawks game of September 2014 and the Broncos-Patriots duel in November 2013 -- where I considered a draw to be the most appropriate result.)
Ditch regular-season overtime. If a game is tied after 60 minutes, it's a tie. This will reduce wear and tear on players, which continues to be a league priority. More ties also mean fewer tiebreakers in the standings, because there will be a greater variance of records. The NFL got along fine without regular-season overtime for 54 seasons; it can do so again. (An interesting ancillary concept would be to adopt the soccer standings convention of three points for a win and one for a tie, thus incentivizing aggression in late-game situations.)
In postseason overtime, each team gets the same number of possessions until the tie is broken after one round of possession, with overtime extending for up to 15 minutes.
If a 15-minute overtime in the postseason passes without a winner, then go to the 25-yard-line tiebreaker. This meshes with soccer, playing to a specific time limit (in its case, 30 minutes of extra time) before going to penalty kicks.
Does signing Derek Wolfe long-term have any significance positive or negative for Malik Jackson?**
It reduces the available cap room, obviously, but the Broncos are still hopeful that they can keep both, especially knowing how well Jackson and Wolfe work together as a tandem; they play off each other well when they get the chance to use each other to stunt and twist, and they create matchup problems on the inside. Nevertheless, the Broncos have some tough choices looming in the offseason, although re-signing Wolfe at least crossed one item off their to-do list.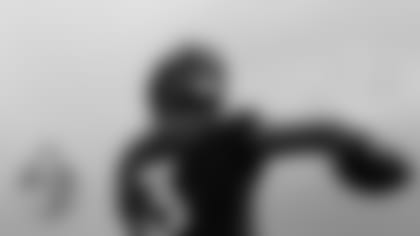 news
Ask Aric: The O-line's adjustment, Russell Wilson's playing style and undrafted players to watch
After watching voluntary veteran minicamp, rookie minicamp and a pair of OTA practices, we're starting to get a better sense for this Broncos team.