"Today is Father's Day, so to all you fathers out there, Happy Birthday."
-- Ralph Kiner
It doesn't have to be one or the other. As with the offense combining elements of the past three Broncos seasons with concepts from Head Coach Gary Kubiak's offenses in Denver, Houston and Baltimore, it can be both.
When Kubiak's Houston attack was at its most efficient, you had a clear featured back in Arian Foster, and then a No. 2 back in Ben Tate who could carry the load when the need arose. In 2011, Foster had 1,841 yards from scrimmage and averaged 5.56 yards per touch; Tate racked up 1,040 yards from scrimmage, averaging 5.53 yards per touch. There was less balance in 2012, with Foster amassing 1,641 yards from scrimmage and Tate and Justin Forsett combining for less than half of that (740 yards); however, the Texans had more stability at quarterback that year than when they started three different QBs in 2011.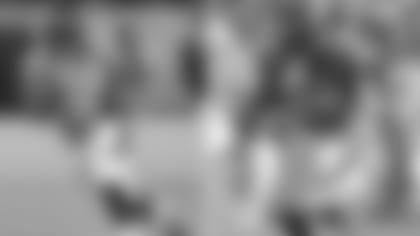 Kubiak's last previous year with the Broncos was about as balanced as you can get between two running backs: Mike Anderson gained 1,226 yards from scrimmage, with Tatum Bell chipping in 1,025 yards to recover from a disappointing rookie season in 2004.
C.J. Anderson is on the top line right now. He earned it with his late-season rampage to the Pro Bowl, and responded to the challenge put forth to him this offseason. But there's room for Montee Ball, Juwan Thompson, Ronnie Hillman, Kapri Bibbs and Jeremy Stewart to push and get opportunities of their own. Ball, in particular, seemed to grow more confident throughout OTAs, and in the final session open to media viewing, looked like a perfect fit.
If the depth is good enough, Kubiak, Offensive Coordinator Rick Dennison and Running Backs Coach Eric Studesville will find ways to get every runner on the active 46-man roster each gameday their chances. There will be a primary ballcarrier, but the stronger the depth, the more the backs can be rotated, and the fresher the No. 1 back will be.
First of all, Moffitt's comeback -- as tweeted about by Jay Glazer and noted in an NFL.com piece this week -- is a phenomenal story. Even if he never plays another NFL snap, his quest is a success.
But you note that the need for depth is "so great." If anything, depth is what they possess. Is Moffitt a better depth option at the interior spots than Shelley Smith, who knows about this blocking scheme from his years with the Houston Texans? I would argue he isn't. (And like Smith, Ryan Harris is that experienced set of hands as a backup at offensive tackle.) You can only keep so many linemen, anyway (remember, you'll only have seven, maybe eight O-linemen on the 46-man active roster each game day).
And don't forget that you have fourth-round pick Max Garcia, 2014 sixth-round selection Matt Paradis and 2014 third-round pick Michael Schofield, who is working at tackle but can move inside in a pinch. You want some of your depth -- and future starters -- to come from this group.
The Broncos want to see what their draft selections can do. So where would the snaps for Moffitt -- or any other more known commodity they could potentially add -- come from? Moffitt's procedural release (because he retired from the Broncos in 2013, they would have held his rights for a potential return) now gives him the chance to catch on somewhere else, where he could potentially receive the snaps that he might not have gotten in Denver.
The chances are virtually nil unless a) Peyton Manning is injured or b) the Broncos are locked into their playoff seeding at the end of the regular season and they want to give him some extra work. You're not sitting a first-ballot Hall of Famer who has an unmatched ability to adapt to changes in the game and his physical abilities and had a 101.5 quarterback rating and 39 touchdown passes last year. Even average Manning is better than almost anyone else.
You can look for the PDF file of it on DenverBroncos.com in the next few days. The public-relations staffers have busted their tails to get it ready.
The injury he suffered to his knee in January that forced him to injured reserve was a significant setback, but even before that, it seemed that he didn't have the same kind of speed of the edge that he possessed before he tore his anterior cruciate ligament during his senior season at Western Kentucky in 2012, when he was on pace to be the nation's sack leader before he was hurt. It's not something the Broncos wanted to do -- especially since the conversion to the 3-4 alignment would have played into his hands from a skill-set perspective. But even before they drafted Shane Ray, they thought the chances were better for Lerentee McCray, Chase Vaughn and others than for Smith.
Enough to dam the Colorado River.
That's not a stupid question at all. It stands for Organized Team Activity.
They might add some players if an emergency -- injury or otherwise -- strikes.
But a priority is to trust in as much young talent as possible and to trust the internal player development to provide replacements when injuries force changes. This is why Ty Sambrailo became the left tackle after Ryan Clady tore his ACL. This is why Ben Garland has the chance to show his worth at left guard after two seaons of development as an offensive lineman.
As Hickory High School coach Norman Dale said in Hoosiers ...
(Here's where I would insert the clip of that speech. But it's not on YouTube. So instead, here's the scene where Coach Dale opts to use just four players rather than put chucker Rade back into the Oolitic game ... as he says, "My team is on the floor.")
---
Submit a question for the next Mailbag!
The analysis, opinion and speculation in this story represents that of the author, gathered through research and reporting, and does not necessarily reflect the opinion of the Denver Broncos organization.