That depends on how you define "breakout," because the reality is that Latimer might not receive enough snaps to post the kind of massive numbers that such a description would imply. Demaryius Thomas and Emmanuel Sanders are perhaps the best one-two punch in the league, and while you will see three-wide receiver sets, there will be more looks in "12" and "21" personnel.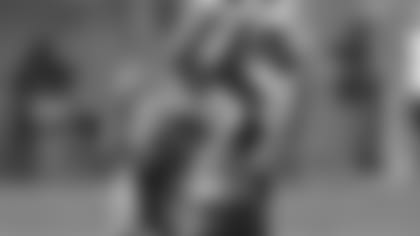 Depending on the game plans, there may be some days where opportunities are scarce for Latimer, and others where he sees plenty of work.
But if Thomas or Sanders succumbs to an injury, Latimer could be one of the best insurance plans any team possesses. He's found chemistry with Peyton Manning. He makes catches in tight coverage. He's an outstanding blocker and could factor in the goal-line package because of his ability to seal the edge and his willingness to get physical.
Owen Daniels is the best bet, simply because of his experience with the Kubiak-instituted elements of this offense and his ability to catch passes in heavy traffic. It's clear that he and Peyton Manning already have synergy; Manning knows he only needs a narrow window to connect with Daniels, which is a massive key to success with the NFL's all-time touchdown pass leader. Virgil Green might have to stay home to block a bit more often early as the offensive line finds its footing.
All that being said, don't expect the current tight ends to replicate Julius Thomas' touchdown production. Their job description will be different, and the statistics will reflect it.
With the Broncos secondary being deep do you think Roby is going to play a lot like he did last year?
-- Brandon Gilder
As it stands now, his role will resemble what it was last year: the No. 3 cornerback. The precautionary absence of Chris Harris Jr. from training camp Saturday (and Harris' veterans' day off Sunday) gave Roby some extensive work on the first team in the base package. He's still aggressive, but he makes fewer mistakes (although he did commit an offsides penalty Saturday that wiped out an Aqib Talib pick-six).
The depth along the defensive line in the wake of Derek Wolfe's four-game suspension to start the regular season. But even there, answers are starting to develop. Antonio Smith is up to speed, Darius Kilgo is difficult to move, Vance Walker is versatile and Kenny Anunike has a fast first step and doesn't back away from physical contact, even when he's going against offensive linemen 30 to 45 pounds heavier. He uses his quickness to his advantage.
The offensive line will continue to dominate chatter, and that's understandable; it's unproven, and could end up with three starters learning on the job. But the rest of the roster is stacked with proven talent. Many teams would sacrifice three entire years of draft picks to trade rosters with the Broncos.
There's a definite difference. Practice last year wasn't slow, but I think much of that pace came from the time invested in no-huddle work for the various offensive units. This year, the coaches dictate the tempo.
No one eases into work. Instead of starting with a walk-through period, the players get into football movement drills before starting their stretching. The special-teams drills, led by new coordinator Joe DeCamillis, have a heightened urgency and involve more players; during a kick-block drill last week, Pro Bowl defenders Von Miller, DeMarcus Ware, T.J. Ward, Aqib Talib and Chris Harris Jr. all got involved. Talib's enthusiasm was palpable; he insisted on going first.
DeCamillis runs special-teams periods with urgency and purpose. Instruction abounds -- some of it more vocal than others -- but it all appears to help; this is the best collection of football teachers I've ever covered.
Don't count having a kickoff specialist on the 53-man roster coming out of training camp. Kubiak and DeCamillis have repeatedly stated their preference to have three players covering the positions of kicker, punter, kickoff specialist and long snapper. Barring the addition of anyone to the competition, either Brandon McManus or Connor Barth will kick off.
Osweiler's contract is on their radar, but you want to see how he does in preseason game conditions in this offense before making a judgment one way or the other about being a potential long-term fit.
He had a more consistent practice Sunday than the previous Monday, which was his first training-camp opportunity to lead the first unit on a consistent basis. But any contract talk is premature at this point, a point on which he would agree; his focus is on day-to-day improvement and absorbing the scheme.
There were also plenty of questions this week about running backs, so let's tackle that topic:
Is it possible with all of the running back depth on this roster that the Broncos might trade one. Arian Foster out with the Texans and the Cowboys without a clear cut number one running back might be two teams.**
-- Nelson Knuth
Possible, but unlikely, and the return would not be enough at this time to justify a trade when there's still so much time -- and so much potential to injury -- between now and the regular season.
Running backs who can contribute league-average production on a per-carry and per-game basis behind a solid offensive line are not a scarce commodity; that's one of the reasons why the RB free-agent market is often soft, along with the natural wear and tear that comes with the high attrition of the position. Is receiving, say, a sixth-round pick worth a roll of the dice that everyone stays healthy, knowing that injuries often accumulate at running back during the preseason?
One man can only drink so much caffeinated soda. So feel free.