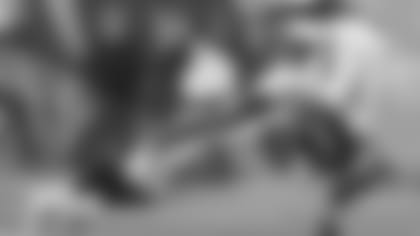 There's no indication as of yet, but the returning captains from last year are usually a good place to start the possibilities. Four of them return: David Bruton, Peyton Manning, DeMarcus Ware and Demaryius Thomas. Bruton was the special-teams captain, so that would leave a vacancy on defense after Terrance Knighton's free-agent departure.
But with a (mostly) new coaching staff, the group of captains could look different. And with a new year, new leaders can -- and often do -- emerge. Chris Harris Jr. would be a strong candidate. Ward could be in the mix as well. On offense, Louis Vasquez has stepped forward as a crucial leader on the overhauled, young offensive line and should merit consideration. There are others, as well. And the Broncos could opt not to leave the sixth captain's spot open for a week-to-week rotation and could make the sixth one permanent for the season, which would open another spot.
Do you think it is possible that the Broncos are grooming Cody Latimer to replace Demaryius Thomas? It is insane that Thomas is not signed yet.**
-- Mark Kinsey
Even in an offense with more two-tight end sets than previous years, you need three quality receivers, so Latimer's development is independent of any potential vacancy with Thomas. If Thomas does not sign a long-term deal and eventually departs, he could step in, but it would not be an apples-for-apples transition. Latimer's repetitions were limited last year and he acknowledged some difficulties in learning the playbook, so he remains an unknown quantity.
As for it being "insane" that Thomas is not signed yet, you're incorrect. It's typical. No franchise player this year has signed a long-term deal yet, and the last time the Broncos re-signed a franchise player, Ryan Clady, the extension came on July 14. As with many matters in life, it takes a deadline to produce action, but until one looms, situations often go down to the last days, which is where we sit now.
That's going to depend in part on the health of the other running backs, particularly C.J. Anderson and Montee Ball at the top of the depth chart. If they continue to demonstrate the form they had during OTAs and minicamp, then it would be tough for Thompson to move up, because they've done nothing to lose their spots.
But last year's injuries at running back are still another example of the natural attrition at the position. It's impossible to know whether Thompson will play a bigger role because it could be predicated on injuries. But if he has a good training camp, he will play a role, because he can contribute on special teams, he has good all-around skills and knowledge of the offense, and he's potentially the Broncos' best short-yardage back.
Now that Shelley Smith has been relegated as a second teamer behind Ben Garland, does that almost seal his fate to be cut?
-- Miguel Castillo
It way too early to make that assessment. Yes, the Broncos almost certainly won't be able to slip rookie Max Garcia onto the practice squad, so he would probably need to remain on the 53-man roster. But Smith can play any spot on the interior and is, at present, the only backup at guard or center with NFL starting experience. So, no, his fate is not almost sealed.
Why would he have a short leash? When you put a rookie at left tackle, you do so with a rational understanding that there will be some mistakes. Ty Sambrailo won't be perfect immediately; neither will Ben Garland working next to him as he works to secure a role on the first team. What you expect is improvement from day to day and week to week. As long as Sambrailo shows acceptable progress, there won't be a leash at all.
The hillside has the potential to accommodate 5,000 fans, however, parking will be limited to the lots in front of the indoor practice facility, which will open at 8:30 a.m. each day of practice. In the release issued by the Broncos announcing the dates for camp, fans were asked to "please avoid parking on streets across from team facility." So if you want to watch practice, arrive early. Further, I would encourage car-pooling when possible to maximize available parking and get more fans into practice.
Mase, love your work! I was re-watching some of Von's player from last season and noticed that after he "lost his contact" against the Jets he didn't seem like his old self. Yes he was still a machine but he didn't seem right. I was thinking maybe a hidden concussion? Thoughts?**
-- John Jardine
But as for a "hidden concussion," there was nothing of the sort. And honestly, he did look like his old self to me in the second half of that game. His two sacks and a pressure that day came after he returned after losing his contact lens. He seemed normal after the game.
Is it still a mystery for next year at the quarterback position now that Peyton Manning is entering his "last season"?
-- Brandon Leon
We don't know yet if it's his last season or not. Therein lies the mystery. If he plays well in 2015 and decides to return on the final year of his contract, there's your answer for quarterback in 2016.
You're only missing a sense of focusing on yourself. I've never given more than a half-second of thought to what other people in the gym are wearing because I tend to get lost in my own world during a workout. (And frankly, I like it that way, so if anyone reading this ever sees me at the gym, please, leave me be.) On the other hand, if people at the gym forget to apply deodorant, that's a bit harder to ignore.
---
Submit a question for the next Mailbag!
The analysis, opinion and speculation in this story represents that of the author, gathered through research and reporting, and does not necessarily reflect the opinion of the Denver Broncos organization.