Although there are several names to watch, Von Miller sits atop the list.
That doesn't mean the Broncos aren't looking to keep as many as they can of a group that is projected to be headlined by Malik Jackson, Derek Wolfe, Danny Trevathan, Brock Osweiler and restricted free agents Brandon Marshall and C.J. Anderson.
But first they will have some work to do to make room. There are significant savings that could come from restructures or other moves, and of course, the 2016 plans regarding Peyton Manning will play a role in determining the Broncos' cap space.
No matter what happens, the first priority is to keep unique talent and high production that is difficult to replicate via a newcomer or a player developed from within. That's why Executive Vice President/General Manager John Elway identified Thomas as a priority as far back as February and March 2013, when the Broncos let Eric Decker leave for the New York Jets. Realistically, you could keep Thomas or Decker, but not both. As good as Decker was, Thomas is a singular talent with a skill set that is distinct in the Broncos' 55-year history.
Miller also qualifies as such a talent. The team had to endure its worst season in four decades just to be in position to draft him, and as you know, he has not disappointed.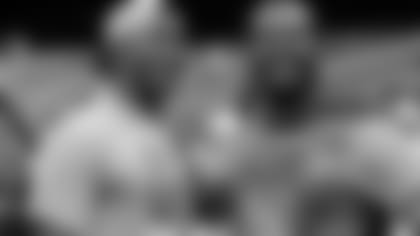 The Broncos will have the franchise tag at their disposal if they need to use it. But unlike with Thomas this year, both sides have a template with Kansas City's Justin Houston, whose production closely matches Miller's.
"D.T. was the first step. We will have a plan for Von next year as well as with other players," Elway said. "We have several other really good football players coming into their last year. We'll monitor as many as we can. It's impossible to hold on to everybody in the salary cap era, but we're going to do the very best we can to keep them all."
With the contract of DT completed, where do the Broncos stand on the salary cap? Does Ryan Clady's salary count toward the cap since he is out for the season?
-- Ken Tennant
According to the NFLPA's daily figures, the Broncos have $6,455,989 of salary-cap room remaining. Clady's contract still counts under the salary cap.
There were two players who caught my eye in May and June who could be the undrafted players to watch.
Wide receiver Jordan Taylor caught everything in sight and making plenty of plays downfield. He does a nice job adjusting to the football in flight, and every move he made was smooth and fluid. He's at the top of the list.
Center Dillon Day is behind Gino Gradkowski and Matt Paradis, but had some nice moments during OTAs. The big question, of course, will be whether he looks as quick moving up and blocking after the snap once full-contact work begins, but he showed plenty of promise.
They won't keep all four current quarterbacks on the 53-man roster, so in all likelihood, Zac Dysert and Trevor Siemian will grapple for one spot, with the practice squad a possibility for the other. Denver could opt to keep only two quarterbacks on the 53-man roster, which would leave Desert and Siemian fighting for the practice squad. That could be a possibility if there is a roster crunch elsewhere.
There are no young quarterbacks of note available. They're all on somebody's roster, with teams carrying four or more passers at this point. The only circumstance that would cause the Broncos to add a quarterback in 2015 would be injury, and if that happened, they'd likely sign an older veteran.
What will be the Broncos' win-loss record this season?
-- Edward St. Gemme
Sorry, but I'll pass until the end of the preseason. For now, your guess is as good as mine. And even when I make a pick, take heed -- if I could predict the future with any accuracy, I would forecast the weather.
An African swallow or a European swallow?
A hurricane ... unless it's named Hurricane Ditka.
---
Submit a question for the next Mailbag!
The analysis, opinion and speculation in this story represents that of the author, gathered through research and reporting, and does not necessarily reflect the opinion of the Denver Broncos organization.