ENGLEWOOD, Colo. — As Su'a Cravens drove north toward Los Angeles during the bye week, an apocalyptic vision stood before him on the horizon.
He watched as monstrous plumes of smoke rose from the hills just west of the metropolis, and for a moment, a practically incomprehensible thought struck him.
"It looked like a volcano erupted in the distance," Cravens says.
Such was — and still is for many people — life in California last week as the Woolsey fire raged alongside the Briggs and Hill fires in Los Angeles and Ventura counties, covering more than 100,000 acres in flames, not to mention the horrific Camp fire in northern California, which has killed at least 56 people and destroyed more than 8,000 homes.
Cravens got a pretty good look at the flames as he approached Encino, 30 or so miles from the eastern edge of the fire, but his experience paled in comparison to that of Keishawn Bierria, who spent part of his bye week helping his girlfriend, Geordin, and her family evacuate their home in the Woodland Hills area as fires threatened the home they had only recently moved into.
"During the bye week, I went home and, at first, the fires were kind of popping up all over the hills and spreading," Bierria recalls. "With the wind, we were just staying up all night, trying to figure out if it was going to come toward us, watching the news. Honestly, it got to the point where the area we lived in got hit as the 'red zone.' So everyone in the area had to move out, due to the fires."
Bierria had little packing to do for himself since he was just visiting, but he helped Geordin and her family pack up what they could: emergency items, a few outfits, those kinds of things.
"I helped them pack up a few things they could just take overnight," Bierria says. "The fire wasn't close enough to where the police are coming and knocking on people's doors to leave, but when we pulled up back at the house, the neighbors were packing up. Everybody's cars were parked and ready to go if they have to come home. Everybody had their stuff packed up. It was surreal."
The scene Bierria describes — including watching the fires light up the hill and the sky as you drive on the freeway at night or seeing what can only be described as a "fire tornado" — is hard to imagine.
"I've seen the video somebody posted about the fire tornado," Bierria says. "It's some crazy stuff going on. It almost looked apocalyptic, definitely. At the end of the day, you've just got to thank all those firefighters and people who are getting out there, and a lot of people in the prison system fighting fires for, like, a dollar."
And while the scene may be hard to picture from afar, it cannot be difficult to conjure up compassion and empathy from any distance for those going through this tragedy in Southern and Northern California.
"It's sad to see a lot of people losing everything they have, losing their houses," Bierria says. "I know a lot of the houses that burned down were brand-new houses being built, so people who are investing all their money in that, it sucks to see. From a support standpoint, if everybody in your community loses everything, you're going to have nobody to lean on but family, if you have family in that area."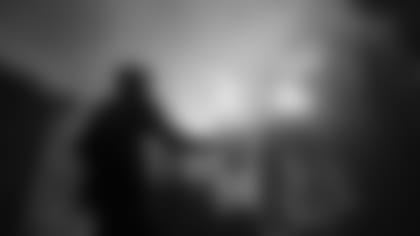 For years, wildfires have been part of life in Southern California, though they're not usually this common during this time of the year, which is typically the area's rainy season.
"Fires in California is kind of like hurricanes in Miami and things like that," Cravens, a Los Angeles native, says. "They just kind of come out of nowhere and you're just used to it.
"... You're so used to it, you grow numb to it, but at the same time, it's scary how fast fire spreads and how people have to evacuate their homes and things. Malibu's on fire. I've never heard of Malibu being on fire. Prayers to everybody who had to evacuate their home."
For the moment, Geordin and her family are doing OK, Bierria says, though they still haven't been able to return to their home, which remains in the "red zone."
The bye is generally understood as a time for players to rest and relax before returning to the grind, but Bierria's time in California wasn't exactly that.
"Everybody's kind of on edge, because you don't know if you need to pack up everything you own and try to take everything you've got," Bierria says. "It's definitely a high-stress situation. I know the fire's kept spreading. … You go to sleep one night and you wake up in the morning and it's right there at your doorstep. It's definitely a high-stress situation. Everybody's stressing out, hoping they don't lose everything. But at the same time, it's just making sure you live through the moment.
"... Other than that, it wasn't that stressful. I was just happy to be home, whether I was dealing with fires or not, being able to be around my family."