DENVER --Lindsey Vonn knows a thing or two about being the best. The 31-year-old alpine skier earned a gold medal in downhill skiing at the 2010 Winter Olympics and has won 76 World Cup races. She's also a faithful Broncos fan who tries to stop by games whenever her schedule permits. After moving to Colorado from Minnesota when she was 12 years old, Vonn adopted the Broncos as her own.
Before Saturday's preseason game against the Rams, Vonn caught up with DenverBroncos.com about her fandom, cornerback Bradley Roby's Ping-Pong skills and what most Broncos think she does for a living.
Aric DiLalla: How much do you enjoy being able to do this sort of thing with the Broncos?Lindsey Vonn:I love it. I'm on the road all the time, so it's not very often I get to come to a game. So even if it's a preseason game, I love being out here and I love being around other athletes and watching them work. They're a great team so it's fun to watch them.
AD: You're at the pinnacle of your sport. Are you able to take anything from watching the Broncos?LV:I do take some from them. Not often, but I've trained a couple times up in Los Angeles with some of the football players, and Von [Miller] was there, too. I don't know, it's just interesting for me to see what they do. It's different obviously. Different sports, but they're strong and I want to be stronger and so I just try to learn what I can and see if there's anything I can take away from it. I definitely took some exercises from their program and implemented it into mine. I definitely learned some stuff.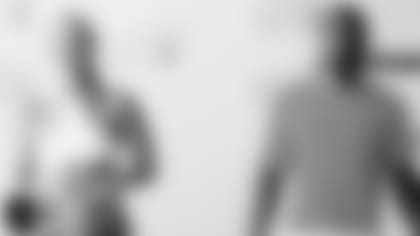 AD: I saw you were hanging out with Bradley Roby earlier this summer. Has it been nice to get to know some of the players away from the field?LV:Yeah, definitely. I learned that he's not that good at Ping-Pong [laughter]. But we still won, so it's totally fine. It's nice to be able to socialize and interact with these guys when they're not on the field and focused. I feel like all athletes have so much in common that you just get along well and it's easy to be friends with these guys. They're all super cool.
AD: Are they in awe of what you're able to do?LV:I don't think so. Most of them don't know what I do, necessarily. I feel like Von knows a little bit more because we did our knee rehabs together. So he's been around me more and he knows how hard I work. But some of the guys are like, "What do you do, like body-weight squats?" I'm like, "Nah, guys. That's not what I do."
AD: What are some of your goals for the season?LV:I'm 10 [wins] away from breaking the all-time World Cup win record, so gonna focus on that. Just keep winning.
AD: Do you think you'll be able to get to a few more games before your season really gets going.LV:Yeah, definitely. The schedule's a little bit rough this year as far as when the home games are and when they're away. But yeah, I'm going to come to as many games as I can.
AD: What team do you enjoy watching the Broncos beat the most?LV:I just like seeing them win. It doesn't really matter who they're playing against. I'm kind of the same way. Winning is winning.