This story initailly ran on Sept. 8, 2016 ahead of the Broncos' season opener against the Carolina Panthers.
The beginning came five years before DeMarcus Ware and Von Miller grabbed a Gatorade cooler and snuck up behind Gary Kubiak with a Super Bowl 50 victory in hand.
The beginning came before the blockbuster free-agent signing, before the "Dancing with the Stars" appearance and before the Super Bowl MVP award.
The beginning came a combined 114.5 sacks ago.
Long before any of that, Miller and Ware met on the field of Cowboys Stadium.
The Broncos had flown to Dallas to begin the 2011 preseason, and Miller faced the first set of expectations that have followed him ever since Executive Vice President of Football Operations/General Manager John Elway drafted him second overall.
On that field in Arlington, Texas, the rookie had his first opportunity to meet one of the game's most-productive pass rushers.
"I just felt like it was just an instant connection," Miller says. "You've got the idol and the guy that looks up to the idol. For us to have that connection, [it was] like he already knew me. And of course I already knew him. … It was something really like straight out of a movie."
Ware told Miller he'd been watching him play and gave him the first of many pieces of advice that would follow. For Miller, there could be no better role model. Ware was headed into the final season of the most productive four-year stretch of his career. From 2008 through 2011, Ware racked up 66 sacks. Those four years alone would put Ware among the top 100 sack artists to ever play the game.
Miller would tear onto the scene in 2011 as the eventual defensive rookie of year, but for a day, he soaked up Ware's advice.
As a young, raw player fresh off a productive career at Texas A&M, Miller had talent. He didn't know Ware would later help him refine it.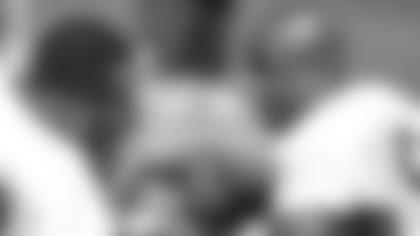 On Sept. 15, 2007, Miller pulled on his Aggie uniform for the first time. The 18-year-old true freshman then ran out onto the Kyle Field grass against Louisiana-Monroe.
The hype that would come after Miller's Super Bowl performance was nowhere to be found. Miller was the 15th-best defensive end in the country, according to Rivals, and he didn't make the list of nationally ranked players.
Miller wasn't even the highest-rated recruit in A&M's class that year.
He would record two tackles and assist on a tackle for loss during that first game, and would finish the season with just two sacks. Still, if he had the choice now, he wouldn't advise his former self about the road ahead.
"I probably wouldn't tell him," Miller says in early August. "What always kept me going was just trying to achieve and trying to get more. I never really expected any of this stuff. I just wanted to be the best Von that I could possibly be. I think the drive that I had my freshman year was exactly what it was supposed to be to get me to this point."
A little more than 24 hours after Miller's first collegiate experience, DeMarcus Ware and the Dallas Cowboys took the field more than 1,300 miles away in Miami. For the second straight game, the third-year professional finished without a sack.
That streak to open the 2007 NFL season would come to an end with that game. Ware threw opposing quarterbacks to the ground in seven of the Cowboys' next eight contests, beginning with a two-sack game the next week. In all, he would end up with 14 sacks and four forced fumbles that season.
The production would be a sign of things to come. Ware put together his finest season as a pro – 20 sacks and six forced fumbles – the following year.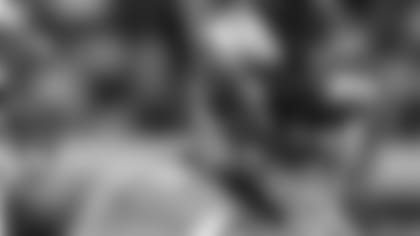 The news broke on a Wednesday.
After a loss in Super Bowl XLVIII, the Broncos had moved fast to bring safety T.J. Ward and cornerback Aqib Talib to Denver.
Then, on March 12, 2014, the Broncos added Ware, a seven-time Pro Bowler, to the fold. His play on the field would make a splash, but it didn't take long before Ware cemented himself as a leader on a team that already featured quarterback Peyton Manning.
Teammates soon learned that, as Ware likes to say, he could "give you bad news and smile in your face at the same time." Ware's messages in Denver stemmed from honesty and his new teammates were receptive.
"I always lead by example," Ware says in mid-August. "When guys see you do the right thing, they have no choice but to follow. But [it's] also being vocal when it's time to open up and say the right things at the right time. I've always been that way, throughout my whole career."
Miller, who racked up 35 career sacks in his first three seasons, suddenly had one of the best to ever play the game at his side. Three years after meeting in Dallas, Ware and Miller got the chance to line up on the same side of the ball.
The next two seasons would serve as Miller's chance to elevate his game with the help of a savvy veteran player. As they went through two seasons, 24 wins and 42.5 combined sacks, Ware didn't see the need to hold back on advice.
"I think it's past the figuring out point," Ware says. "I think you just tell him point-blank how things should be, and we talk all the time about everything. I think some things don't need to be figured out [on your own]. Really nothing does. If you know it, you tell the guys, and it's all about them listening or not."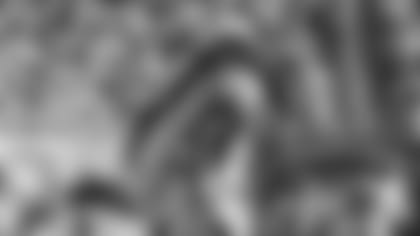 The advice, paired with Miller's natural talent, seems to have worked. Miller has thrown together double-digit sack performances in each of the last two seasons.
Along the way, both players have thrived outside of football. Miller's love of chickens and "weird" personality is well documented, but Ware also puts football away when he leaves the UCHealth Training Center. On the outside, you're more likely to find him taking photos in a national park, trout fishing in Utah or playing with his band than you are to find him stressing about a defensive package.
"When I leave work, there's no more football," Ware says. "It's DeMarcus' time, because I put everything 100 percent in that I can here at work, and then once I leave here, now it's the other guy: the real, intuitive, chill, relaxed dude. And that's what a lot of people don't see."
Inside the building, however, they're all business – except for the dancing show Miller puts on at nearly every practice.
"I play with joy," Miller says. "There's nothing funny about losing games or getting beat or anything like that, so there's definitely a serious element there, as well. [Head] Coach [Gary] Kubiak, he always talks about a switch and turning it on and turning it off. I think I'm a prime example of that.
"I can go on the football field and just be the Von that everybody needs me to be, be the Von that I know I can be. Be serious, get the plays – whatever it takes to make the play on the football field. I can step right off the football field and crack jokes and talk to the fans … and just bring it back and forth. That quality makes me Von."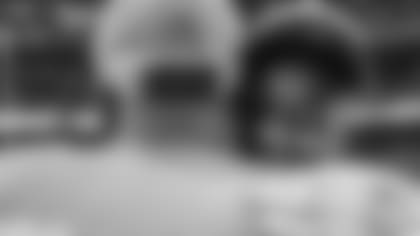 As the confetti fluttered down at Levi's Stadium on Feb. 7, 2016, and the Broncos celebrated on the field, Ware found Miller among the chaos.
Miller couldn't even finish pulling on his gray Super Bowl champion T-shirt before Ware pulled him into a hug. 
"Put that shirt on, baby boy," Ware said, repeating it again as they embraced.
In that moment, the mentor and mentee reached their respective pinnacles. After a 2.5 sack and two forced fumble performance, Miller had secured his place as the most disruptive defensive player in the game. For Ware, a long-sought-after Lombardi Trophy was finally his.
On the left side of the Broncos' pass rush, there's no reason to suggest Miller can't replicate his postseason success. The expectations for the sixth-year pass rusher are higher than they've ever been, but Ware said he thinks Miller will live up to the hype of his new contract. In Ware's eyes, Miller has brought a new level of focus to training camp and seems to have gotten everything else "out of his system."
"[I'm] very proud," Ware says. "I think I've seen his focus in the game really change since I've been here. Now he's seeing a lot more things, doing a lot more technical stuff instead of just worrying about his athleticism. … He's using his mind to make plays before they even happen."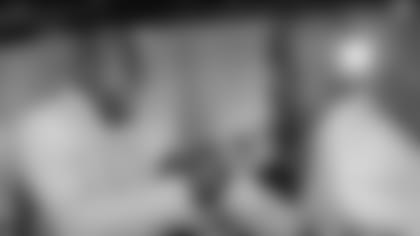 After an offseason of rehab on a back that's seen 12 years of wear and tear, Ware returned to practice leading up to the Broncos' third preseason game. He says he's getting closer to 100 percent after being only 70 percent in the Super Bowl.
With the progression of outside linebackers Shaquil Barrett and Shane Ray, the Broncos have the necessary depth to keep Ware fresh during the year. And while Ware has served as an indelible mentor for Miller, Defensive Coordinator Wade Phillips admits that Miller has influenced Ware, as well.
"I think if you don't learn something every year, you're not gonna continue to be the great player you are," Phillips says.
Despite the Super Bowl victory, Ware says "there's always competition" and there are still goals he wants to reach. Miller says he thinks "a couple more" Super Bowls may be on that list along with 15 or so more sacks. Just two more sacks will move Ware to ninth for career sacks. If he can get 16.5 more, he'll move past Chris Doleman for fourth in league history.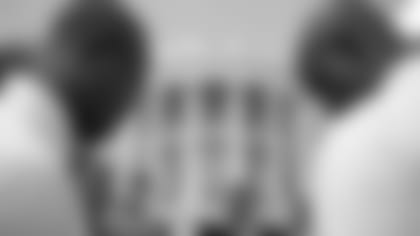 "There's still a lot more that he can achieve," Miller says, "and whatever it is that he has on his list, I'm gonna help try to get it for him."
Alongside his 134.5 sacks – and counting – he's shaped a resume that Phillips considers Hall of Fame-worthy. Hall of Famer Reggie White is the only player with more 15-sack seasons than Ware.
"There's no doubt about that," Phillips says. "I've had quite a few. He's a dominant player. Any time you're a dominant player in your era and everybody acknowledges it, I think everybody sees that."
Neither Ware nor Miller is ready for that Hall of Fame moment to arrive quite yet. While Miller says he'll be in attendance someday during Ware's "special" induction, he knows No. 94 has more left to prove.
"He's still writing his legacy," Miller says. "I don't want to start talking about what it's gonna be like, 'cause he's still got chapters to go."