Von Miller seemingly enjoys basketball comparisons as much as he loves sacking quarterbacks.
He and Chris Harris Jr. are like Shaquille O'Neal and Kobe Bryant. He and DeMarcus Ware were like Steph Curry and Klay Thompson. He and Derek Wolfe are like Dirk Nowitzki and Steve Nash.
But ahead of the Broncos' 2019 season, Miller made an exception.
Late in the preseason, Miller enjoyed some rare time off by flipping on "Remember the Titans." The based-on-a-true-story film focuses on desegregation and high school football, and in one pivotal scene, defensive players Gerry Bertier and Julius Campbell come together after making a tackle in practice.
"Left side!" Bertier shouts.
At first, Campbell is apprehensive. But after a moment, he responds.
"Strong side!" Campbell says.
The two players become more than teammates over the course of the movie; they're brothers.
As Miller watched the movie, he came to a realization.
"Man," he remembers thinking. "That's me and Wolfe right there."
Miller, an outside linebacker, works in tandem with Wolfe, a defensive end, on nearly every play. But the two men who entered the NFL within a year of each other have formed a bond that only has so much to do with the positions they play.
"That's the great thing about this sport … it brings people from all different backgrounds, different upbringings," Wolfe says. "You bring everybody together for one goal. That's how me and Von are. We're just two different guys. Eight years ago, I walked into this locker room and he treated me like family and the rest is history."
Miller agrees, saying the two have a "lifelong brotherhood."
"When he got drafted and came in, we just hit it off from Day 1," Miller says. "We were really brothers. We've been up, we've had our battles, we've been in every single situation that can try our brotherhood and we've come out on top."
It just so happens they are brothers who are really good at football.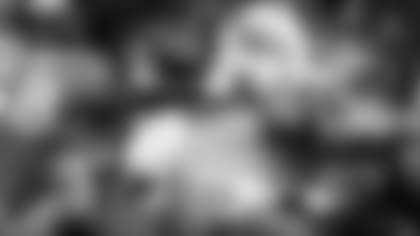 Though it's the Cincinnati product who has freed Miller up for sacks time and time again over the last eight years, Wolfe grabbed the first sack in the duo's initial game together.
Against the Steelers in the 2012 season opener, Miller took on the right guard and right tackle — and a chip from a tight end — and Wolfe had a free path to the quarterback after the center appeared to miss his assignment.
The rookie dragged down Steelers quarterback Ben Roethlisberger and unleashed the wolf howl that has since become synonymous with Wolfe making big plays.
He's recorded 25 regular-season sacks since that moment and added 2.5 postseason takedowns for good measure.
Miller has recorded 104.5 sacks of his own, including the postseason, but it's difficult to say which sack belongs to Miller and which belongs to Wolfe.
"I think my rookie year, when I realized what kind of ability he had, I was like, 'Man, if I just get good push, he's going to make plays.'" Wolfe says. "And then we just took it to another level and started playing off of each other. If I feel him rush inside, I'm going to cover him. If he feels me getting up the field, he's going to wrap around me. We get sacks like that all the time."
The two essentially function as one. If Wolfe goes one way, Miller goes the other — and a quarterback is usually waiting at the end.
Wolfe admits that two defensive players spending eight years next to each other is a rarity in the league. But the pairing's consistency is what makes it potent.
"We feed off of each other," Wolfe says. "If he's doing his job, he knows I'll make the play. If he's setting the edge, that means I'm going to make that play in the run game. In the pass game, as long as I'm getting up the field and getting push, that means it's opening up space for him and grabbing guards and making sure they can't get out to him and doing stuff like that. There's a lot of different dynamics that go into it."
And as the two approach the latter portion of their careers, it's hard not to think about their legacy near the line of scrimmage. As a duo, they've had their hand in countless wins, including a Super Bowl 50 victory.
"[Opponents] have to slide their protection to us," says Wolfe when asked about their legacy. "They're using four to block two. I want people to know they had to use four people to try to block two of us."
Even when they did, it wasn't often effective.
After all, Miller has Wolfe as his not-so-secret weapon.
"As an outside person looking in, you may not see [what] Wolfe is doing to put both of them in position to make plays," Bradley Chubb says, "but when you break down the film and you see how they work together, it's very special to see.
"… That's the edge rusher's dream, for sure."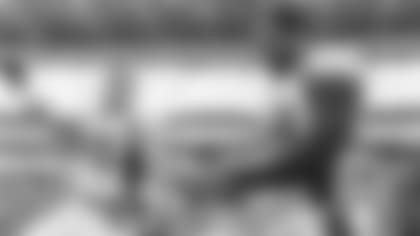 Miller and Wolfe are different people than they were eight years ago.
They've been to the proverbial mountaintop. They've won four division titles together, a pair of AFC Championships and a Super Bowl. They've earned second contracts and become leaders in the locker room.
They've also seen their share of defeats. They've suffered back-to-back losing seasons and haven't tasted the playoffs since that night in Santa Clara. They've each suffered substantial injuries.
Mainly, though, they've grown as men. Wolfe is now married and has two kids, and Miller was the Broncos' 2018 Walter Payton NFL Man of the Year for his work with Von's Vision.
"There's a lot of maturity on both sides," Wolfe says. "We've both matured. We went from young boys to men, really. We were just kids at that age — 22, 23 years old. Now we're going into our 30s. We've got families. We've just matured."
The brotherhood, though, remains as strong as it has ever been — and Miller has done his best to make sure Wolfe gets the credit he deserves.
"I know what makes me successful and I always just try to give credit where credit is due," Miller says. "That's my boy. I can't just leave him out to dry like that. I need to let people know what type of success he's had and what type of success he's given me."
Wolfe, to be clear, doesn't need the recognition to be happy. But he does appreciate it.
"He doesn't have to do that," Wolfe says. "I don't ask for that. It doesn't make me upset if he doesn't do that. But I do, I appreciate the love that he shows. It's all love between us."
Odds are, Miller will have more appreciation to show soon. In Head Coach Vic Fangio's new defensive system, both players could flourish. Wolfe has said he loves the new system and that he feels born to play in the scheme.
Miller, meanwhile, has been challenged to be better by Fangio since he was hired.
A better Miller and Wolfe seems scary for opposing offenses. But is it possible?
"You can always get better," Wolfe says. "You can always do something to get better. I think we did that this offseason. I think it's going to be something to watch."
With Gerry Bertier and Julius Campbell playing defense? It sure will be.