INDIANAPOLIS –As South Carolina running back Marcus Lattimore got ready to meet the press, legendary NFL personnel guru Gil Brandt stepped in to interrupt him.
"I want you to know one thing," Brandt told the media. "This is not Marcus Lattimore. This is medical history. "
On October 27, Lattimore was on his way to a typical game, having carried 11 times for 65 yards, good for an average of 5.9 yards per attempt.
His 11th carry would be the last of his college career.
Just under four months from the devastating injury, Lattimore is putting in whatever rehab is necessary to help him reach his goal of lacing up the cleats for whichever NFL team drafts him in 2013.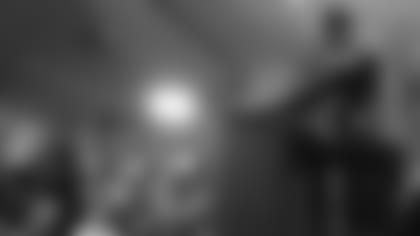 "Definitely, it's very tough," said Lattimore, who walked without a knee brace – or even the trace of a limp. "You get frustrated. But you know it's the right thing for you, the right thing for your future. I have to think about long term. Rushing back may not be the right thing to do, but if I'm ready, I'm ready."
Among the endless support that he's received from all corners of the globe, Lattimore has talked with Broncos running back Willis McGahee, whose college career at the University of Miami ended after knee injury.
"He had a similar injury, pretty much the same kind of injury," Lattimore said. "He's helped me a lot."
Lattimore said that successful recovery stories like that of McGahee have helped inspire him as he goes through the countless hours of rehab.
"Willis came back from it," Lattimore said. "He's a guy that worked hard. That's what I'm going to do, and trust in God. I haven't talked to him lately, but I've talked to him a bunch of times. He just tells me, 'Keep grinding. Keep doing what you're doing. Trust in God, you're going to be fine, you'll come back from it.'"
Minnesota Vikings running back Adrian Peterson tore his ACL at the end of the 2011 season, then returned to come within 9 yards of breaking Eric Dickerson's 28-year-old, single-season rushing record.
Kansas City Chiefs running back Jamaal Charles suffered the same injury early in 2011 before leading the AFC with a career-best 1,509 rushing yards in 2012.
Lattimore ran for double-digit touchdowns in each of his sophomore and junior seasons, despite knee injuries shortening each campaign.
So if other players can come back even stronger from similar injuries, Lattimore expects the same out of himself.
"There'll never be another Adrian Peterson," Lattimore said. "But that definitely gives me a lot of motivation, knowing that he came back from it the way he did, he came back better. And that's what I plan on doing, just coming back better. Seeing him do what he did this year, I think about that all the time."
"I watch them from afar," he continued. "Those are guys I admire by the way they worked and came back from it."
Lattimore doesn't wallow in his own misery thinking about what could have been or how high he would have been drafted had the injury never occurred. He allowed himself one day of looking back before his attention shifted forward.
He plans to be the next example that people cite when talking about running backs making remarkable recoveries.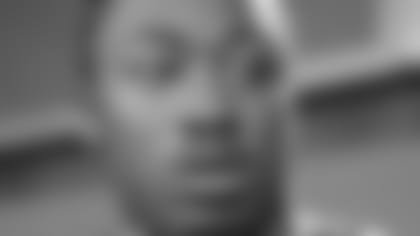 "The day after it happened I was thinking about what could have been, what could have happened, but I don't think about that anymore," he said. "It happened for a reason. The reason is for me to come back and inspire a lot of people."
When he steps back on the field in pads for the first time since the injury, Lattimore won't be worrying about getting hit or changing his style to try to avoid another major injury.
"I'm going to run the same way I usually do, because that's all I know," he said. "I really can't change my game. It got me here. I feel like if I change my game, I'll be a different player. I'm just going to go out there with confidence, not thinking about my knee, just go out there and run like I usually do."
"I've been hit 2,000 times, and that happened twice. I'm not even thinking about it."
Despite all the letters he's received from supporters who feel sorry for him, Lattimore considers himself fortunate to be where he is.
When embarking on a comeback that some are saying will make medical history, there's no time for self-pity.
"It's a blessing to be here – I would not take this opportunity for granted to be at the combine," Lattimore said. "I just think about guys who are less fortunate than me, guys who would kill to be in my shoes, even with the injury."