DENVER --Perhaps all you need to know about the security of Juwan Thompson's spot on the Broncos' roster is on paper from Thursday night's preseason finale against Arizona: zero rushes for zero rushing yards, and zero snaps on offense or special teams.
The team withheld Thompson from the game, a move that appears to show how much they want to preserve him for the regular season.
"It was mind-boggling because [I thought] 'Am I going to go in?' I'm sitting around the whole time," Thompson said after the game. "I mean, I just never thought it would be that everything is locked in at that point in time."
He kept waiting, thinking he'd be called up to give one of the backs a respite, but he wasn't needed. The team didn't have the ball as much as they thought and the running backs didn't need any rest, so Thompson rested instead.
"It still seemed like I was supposed to go out there and do something," Thompson added. "I was hearing that I wouldn't play or I'd play a little bit or just in case. It was just [that] I would have the opportunity to showcase even more talent on the field if I got the chance to go out there but that didn't happen. It was good to get my body a rest, though."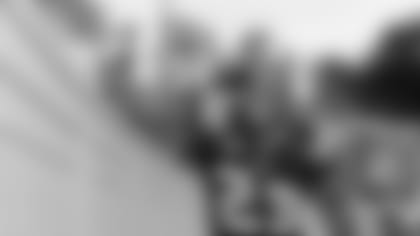 Thursday's game was a stark contrast for Thompson as he looked back on where he was a year ago or even earlier. Across the sideline, he spotted Cardinals quarterback Logan Thomas, a former Virginia Tech opponent. Two years ago, Thompson, eager to help his team in whatever way he could, played a series at linebacker for Duke against the Hokies. He made three total tackles, including two on Thomas. And now here he was, being held out of the fourth preseason game from all phases of the game to keep him healthy and ready for the regular season.
Even just a year ago, Thompson was a college free agent trying to show he could make an impact at the NFL level. In the last preseason game, the coaching staff gave him a heavier workload with 13 rushes and he produced once again, just as he had for much of the preseason.
As the roster cutdown neared, Montee Ball, Ronnie Hillman and C.J. Anderson were all more experienced and ahead of him on the depth chart, and there was plenty of competition with him throughout training camp.
Thompson knew nothing was guaranteed for him, and so while waiting for the final cuts, all he could do was just relax, keep his mind off of it and think positively.
"I don't really pay too much attention to a lot of things like that," Thompson said. "I did what I could do on the field and everything else is out of my control at that point. The decision is on them. I felt like I put great things on film last year and [they] take it from there. [...] I was just in my hotel room trying to get out when I could, and I got out and just enjoyed the time here because you can't look at it in a negative way. Just stay positive and positive things will happen."
Positive things did happen for him. Eventually news leaked of who made the team and phone calls and text messages from family and friends began to pour in.
Now it looks like he won't have worry about any of that. After years of working his tail off to show he belongs at each level of football, Juwan Thompson seems to have made a lasting impression.