After transitioning to a starting spot in 2017, safety Justin Simmons has taken aim at bigger goals for his third season in the NFL. But in addition to the lofty standards he's set for himself on the field, he'll also gain a big responsibility off the field. We caught up with Justin about impending fatherhood, how he's spending the time leading up to his daughter's birth and how he plans to rack up an insane number of turnovers in 2018.
Aric DiLalla: Can you explain what "Fortnite" is?
Justin Simmons: Since I'm an avid offseason gamer?
JS: You actually have no idea?
JS:** Have you ever seen "Hunger Games"? That's what it is. You have 100 people and you can do squads, you can do duos or you can do solo. And you try to be the last one alive. Do you remember in "Hunger Games" how if they wanted you to fight someone, they would close in the mist or the storm? That's what they do in "Fortnite." There's like 25 places to land on this map, and you land with just a pick axe. And then you loot as much as you can, and the storm starts coming in. It gets smaller and smaller, and it forces you to fight. By the end of the game, as the circle gets smaller, it's just the last one standing.
AD: Didn't Drake play a few days ago?
JS: There's a very popular streamer out right now called "Ninja." His name's Tyler Blevins. People love him because he's legit, like, crazy. He says some bizarre stuff. But he's one of the best at the game, if not the best. And then Drake was like, I want to play with him. Everyone loves Drake. So everyone watched his stream. JuJu [Smith-Schuster] from the Steelers was also in it.
AD: How can Broncos fans play the game with you?
JS: I'm on Xbox. JSimms1119. You can add me, and then we join a party and start playing. But I've only got a limited amount of time. When May gets here, my kid is due and I'm done. I'm retiring the game for at least a year or two.
AD: How are you feeling about that?
JS: Ah, man. It's the first one. It's a girl, so I'm in big trouble. I'm feeling nervous, excited.
AD: Harder than football? Scarier than coming in as a rookie?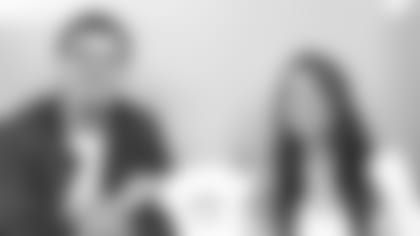 JS: Oh, 100 percent. Because, I mean, I love the game of football, and I'm obviously here putting in the work. I put in so much effort and time into the game, but at the end of the game, it is just a game. When it's all said and done, I want my career to be up there. My standards are to try to get up there with guys like Steve Atwater and Brian Dawkins. Those are the type of names that I aspire to have my name associated with. But then when I think about my kid, it's way beyond that. I'm talking about building their character, responsibilities in life and how they deal with disappointment and losses compared to wins and achievements.
AD: What's been your strategy to get ready?
JS: I've been reading up, but there's no instruction manual that comes for your kids. They're all different. But I've just been reading stuff, like some parenting advice — like you're their parent, you're not actually their friend. That can be a bit of a complex ideal for young parents, because you're so young and you have a child. … Obviously, a lot of the books that you're reading, as much as it's about the child, it's just as much about you and your spouse and things you agree and disagree on and how you should hash that out beforehand. Those are the types of things that we're working through and [my wife, Taryn] has me going to baby classes with her. That's a day in my life: wake up, work out, rest of the day baby classes, and then if I have time at night, hop on Fortnite with Ninja and Drake and them.
AD: How's the naming process going?
JS: Terrible. I'm so picky. And I didn't even know I was picky. It's not good. Taryn will bring up a name, and I'll be like, "Ah, I knew a girl in fourth grade with that name." I haven't talked to her since fourth grade, but it's the first person that comes to mind. "Nope, knew her in fourth grade, can't." She could be a great woman. She could be the next winner on "The Voice." But I know her, so I can't. I just can't do it. I just nix a bunch of them. I want a unique name, but I don't want one that's out there. I'm not naming my kid Blue Ivy.
AD: A few football questions for you: What's your perspective on the defensive side of the ball on Case Keenum signing with the team?
JS: I'm excited to have Case for multiple reasons. First, he's a competitor. I watched the playoffs and consistently saw what he was doing with Minnesota. They had a great defense, but more importantly, he was making the right plays, extending drives, taking risky plays and making them. And then obviously that miracle play against New Orleans was just awesome to watch. It wasn't what they wanted when they played Philly, but as we know, Philly was a great team. So I'm excited to have him. I think he's going to be a great leader for us. And not that everyone in here is far removed from that playoff atmosphere, but he was just in it. He was just in the NFC title game. I feel like he's going to be hungry for more and to earn that leadership spot. And on top of that, being a believer, I'm super excited to have a guy at that position that will lead our team the right way. And having him as a believer and stepping into that leadership role is going to be huge for our team. I think it's going to affect us in such a positive way.
AD: You mentioned that a lot of your teammates aren't far removed from the playoffs, but you've never had that experience before. How anxious are you to make that happen?
JS:** I think back last year, and it's crazy. You really do take keys and points from every year that you play. Last year, starting 3-1, and after the big win against Dallas I was thinking, "Man, we're on track for a great year this year. We're going to go the playoffs. We're going to make a big run." We were looking so far ahead, and then next thing you know, we lose eight in a row. It just puts it in perspective. This is really a week-by-week, game-by-game, quarter-by-quarter league. You can't take a week off. You can't take your foot off the gas pedal. Especially because we've got that Broncos logo on our helmet, we're going to get teams' best shot[s]. That's just the way we've got to prepare this offseason and really hunker down for a really good 16-, 17-week grind.
AD: If this team gets off to another 2-0, 3-0 start, how do the last two years change how you handle that?
JS: It's really just going to be focus. It's going to start with some of the younger guys. When I look at 2016, toward the end of the season, that's when Will and I played a large number of our snaps. Guys get banged up and the younger guys have to step in and play. Even though this is Year 3 for us, it's our job to get those younger guys ready to get in and play and to contribute on some key snaps. We're going to need every single person in this locker room. This isn't a pride thing about how much I can play and how much I can do for the team. It's about how much we can do as a whole for the team so that we can be the most successful and extend our season to the playoffs.
AD: Year 3 is sometimes the year when guys take a huge jump. For you, what would be an acceptable next step?
JS:** When I'm talking about personal standards, for sure a Pro Bowl. I want to be a 16-turnover guy, whether that's eight interceptions, four forced fumbles and four recovered fumbles — whatever it takes for me to get 16 turnovers just on my own. And then at least 10-plus pass breakups. I just need to be more ball productive. I think I've done a decent job my first two years, but not to the standards that I hold for myself. That's really the goal on a personal level. That's the standard I'm setting for myself. Obviously, as a team, I just want to get into the postseason. Because once we get into the postseason, these veterans that have been there know how to handle these games. We'll be good to go.
AD: As a third-year player, how do you see your role in the locker room changing?
JS: I've never been as vocal of a leader as a guy like Aqib [Talib] and some of the other guys that have been captains, but I will say that being one of the older guys that are starting to come up and going into my third year, it requires you to have more of a vocal presence, not only in the locker room but on the field and in the film room. Like I said, you need every single person on the roster — practice squad and up — to buy in week in and week out. That leadership role is definitely going to be what is coming next in my career, not only vocally but on the field and off the field, showing guys how to do it the right way.