ENGLEWOOD, Colo. --Three-hundred and sixty-seven days have passed since John Elway hired Gary Kubiak to be his team's new head coach, and team is exactly where he hoped Kubiak would lead it.
Despite offensive hiccups, injuries at quarterback and on the offensive line and the issues associated with integrating a mostly new coaching staff and altered offensive and defensive schemes, the Broncos still won the AFC West for a fifth consecutive year, still earned the AFC's top postseason seed and now will host the defending world champion New England Patriots with a trip to Super Bowl 50 at stake.
The Broncos aren't as dazzling on offense, but their defense was the league's best, and the team's penchant for comebacks and close wins revealed a resilience that served them well last week.
"If you look at the team that we have this year and the games that we've won and how we've won them, they've all been hard-fought football games, they've all been close and a lot of them we've won at the end, we've had to make plays at the end," Elway sad. "And so the mindset to me is that you know we play for 60 minutes -- even though we haven't consistently played well for 60 minutes -- you know our mind-set has been there.
"And that's why this team is a tougher team: because it's a mentally tough one."
Kubiak had a challenge that most new hires don't face: change the attitude to create a team that would live up to the "kicking and screaming" mantra Elway espoused, but don't make too many changes to upset the delicate balance that made the Broncos a perennial winner in the first place.
"What is not mentioned is the hot seat that Gary stepped into was hotter than any seat in the league," Elway said. "I mean, we'd had great success before he got here and for him to come in, do what he's done, you know we had tough situation because he's done a tremendous job of managing the quarterback situation."
That created another set of issues that often sinks a team, but if anything, Peyton Manning's foot injury, Brock Osweiler's development in seven starts and, finally, the return to Manning in the regular-season finale brought the team closer.
"I think even with the [QB] Peyton-and-Brock situation, he came in and he attacked every situation from the beginning of the week," said wide receiver Emmanuel Sanders. "He didn't shy away from anything or the direction he wanted to go. He let us know that, and it gave us a sense of confidence of us saying, 'All right, we attacked that problem. Let's move on.'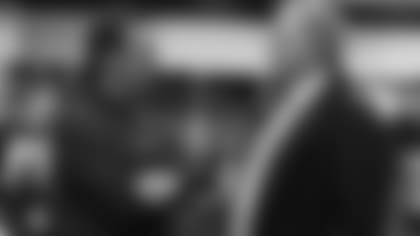 "He helps us in terms of how to deal with the problems that come along—the media, the controversies and everything. He's doing an exceptional job, and it's shown. The first year, he's [got a team] playing an AFC Championship game."
Kubiak has also made extensive use of younger players, an emphasis that began with altered practice schedules during OTAs, in which younger players were given more extensive work.
The teaching has continued from there.
"That comes with the staff, and the type of staff that you hire, and Gary's hired a great staff, and realizing that we have to develop talent as we're trying to win football games," said Elway. "We've got a good base, a great core of veteran players, and also we've got another nine or 10 picks this year in the draft, so the emphasis is on both [experience and youth].
"When you have a 53-person squad, you're going to need everybody to get through the year, and to be able to coach those young guys while also coaching the other guys, then he understands that. That's why he's done a great job, and the staff's done a great job."
And the professional marriage of Elway and Kubiak has been a union of equals, as the Hall of Fame quarterback sees it. They entered the league together as rookies in 1983, roomed together as players and built a bond that endures today.
"Even when I was the starter, Gary and I were equals," Elway said. "Gary and I, we've been friends, but even when he came back here, even though I am really his boss, I look at is as equal in the fact that we both have responsibilities within this organization to do, and we have great conversation, he runs the football team and I run the personnel side. But I don't look at it that way, and the fact is that we've been able to work together so well."