ENGLEWOOD, Colo. — A day before Vic Fangio started his first training camp as the head coach of the Denver Broncos, he guided his car down a street near UCHealth Training Center as his daughter posed a question.
Cassie Fangio wanted to know how her 60-year-old father was feeling. After 32 years as an NFL assistant, he was about to begin his first season as a head coach.
"Are you nervous?" his 22-year-old daughter asked him.
He quickly waved her off. No, he said.
But Cassie, who grew up around the NFL and has spent the start of training camp with her dad and the Broncos, can't say the same.
"Oh, yeah," she says after a recent Broncos training camp practice. "I'm very nervous to see what my dad is going to be like on TV and just in charge of the game on the sideline. It's going to be a change for sure, but I'm excited."
It's been a long time coming for both Vic and Cassie. Fangio spent 32 years as an NFL assistant or coordinator before he got the opportunity earlier this year, and he had come to terms with the fact that he might never be destined to earn the top spot.
"It's obviously something I've thought about throughout my career at various times, but I was comfortable enough in my own skin that it didn't have to happen," Fangio said at his introductory press conference in January. "I was happy with being a defensive coordinator in the NFL for close to 20 years. If a good situation ever arose and I matched what a certain team was looking for, I'd be all in. I believe I've found that here and I'm all in."
Before he accepted the Denver job earlier this year, though, Cassie wasn't sure if she would see her dad take the next step in his career.
"I mean, he's not the youngest guy around," Cassie says jokingly, "so you kind of thought maybe it would never happen."
When it did, his daughter's reaction was reflective of the work he's put in during four decades of coaching football at all levels.
"When I first found out, I was pretty much in tears," Cassie says. "This is what he's worked for and it's what my family and I have always wanted for him. He deserves it so much. I see how hard he works outside of the office. He's the last one to leave every night. He deserves it, and I hope he enjoys it because I know it's going to be stressful, too. But I hope he enjoys it."
As he starts his head coaching career, it's clear he's enjoying the moments he can spend with his daughter before she heads to Texas for her first job out of college. When the Broncos aren't on the field for practice, the future U.S. Army nurse and her dad are nearly inseparable.
In the morning Vic and Cassie eat breakfast together. During practice, she stands on the sideline and watches as her father directs some of his first training camp practices. They grab a quick lunch when the morning's practice wraps up, and she's around to talk when her dad gets home after a long night at the office.
"It's been great," Fangio says Wednesday. "I've thoroughly enjoyed having her here. She's starting a new life here and becoming a nurse in the Army soon, so both myself and her mother's chances to see her are going to be slim and none for a while, so anything we get, you cherish.
"We've eaten most meals together every day and I see her at the house late at night every day. She hangs out in my office when there's some dead time for her. So it's been great. I've cherished it.
"It's a bonus — and we all like bonuses."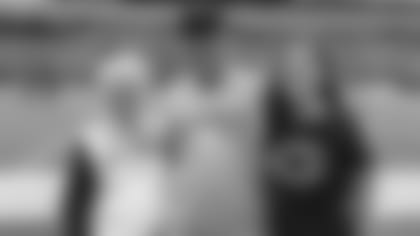 Vic Fangio's two children have never known anything but the NFL.
When Christian was born in 1991, Fangio was midway through his stint at the Saints' linebackers coach. Cassie was born five years later in Charlotte as Fangio got his first shot at being an NFL defensive coordinator.
The Fangio family moved to Indianapolis in 1999 and to Houston in 2002 for a pair of defensive coordinator roles. They moved again in 2006 — this time to Baltimore, where Fangio served as the linebackers coach.
"They've never been alive without having an NFL team to root for," Fangio says.
By the time Cassie turned 10 years old, she'd lived in four cities — and the NFL had become an unmistakable part of her life.
"I don't really know anything else," Cassie says. "Sunday was game day. If he was away, my family would order pizza and we'd sit at home and watch the game. I always remember him working long hours. And I think my favorite part as a kid was being able to bring friends to games. Some of my friends had never been to NFL games, so I'd get to give them that experience."
She started to feel the pull of the game when she was 5 years old and living in Houston and no longer wanted to leave games before they ended. In Baltimore, she would attend nearly every home game. And even though Cassie stayed in Maryland when Fangio headed west to coach at Stanford and then with the 49ers, she still traveled to any game she could.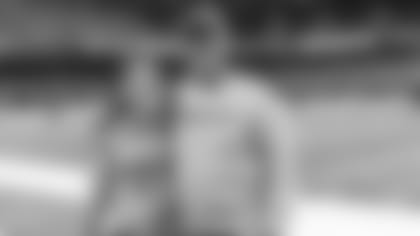 It was during Fangio's time with the 49ers that Cassie told her dad she hoped to make it to every NFL stadium. And though a series of 49ers road playoff games proved helpful, she says she has at least 20 to go.
There were other perks. Linebacker Patrick Willis followed her back on Twitter and her dad would occasionally let her break down the defensive huddle after practice. Eventually, though, Cassie recused herself. It was too embarrassing as a teenager, she says now.
But the life of a football coach — and of their children — isn't always easy.
After Fangio and the 49ers lost Super Bowl XLVII to the Ravens, Cassie had to head back to her high school outside of Baltimore.
"You know how that ended, and I had to come back to a Ravens town," says Cassie, remembering her sophomore year. "That was probably the hardest part. But it's always hard. … Winning and losing isn't just a quick moment of happiness and a quick moment of sadness. It kind of lasts the whole week until the next game. If you lose, you have a knot in your stomach the whole week.
"It's not just a game for me. It's my dad's life and my life."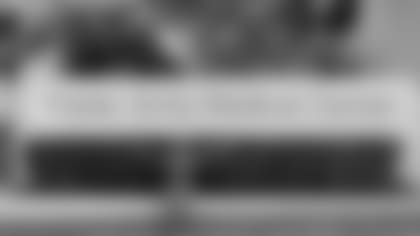 Forty years after Fangio started his coaching career, Cassie will begin her own professional journey.
She graduated from Towson University this spring with a Bachelor of Science in nursing, and she was commissioned as a second lieutenant in the Army from Loyola University of Maryland's ROTC program. She also passed her NCLEX exam to become a registered nurse.
In October, she'll head to Fort Sam Houston in San Antonio, Texas, for mandatory U.S. Army officer training. She'll work at the hospital on the base, and for at least a year, she'll be stationed domestically to learn clinical skills.
After that, she could be deployed overseas.
"Anybody that's willing to do service for our country is to be commended," Fangio says. "She came to this decision totally on her own. I didn't push her; her mother didn't push her. She wants to do it, so hats off to her."
Even as she prepares to serve her country, football played a role.
"When I was debating on where I wanted to get stationed first, I initially wanted to go to Germany," she says. "But once he got hired, that was kind of taken off my list, because I knew that I probably wouldn't make it to any of his games. I didn't want to miss too much of his head-coaching career."
Cassie says she hopes to make it some games this season — the Broncos' Week 14 game in Houston is just hours away from San Antonio — but there are no guarantees.
And that makes these 12 days at training camp feel a little more valuable.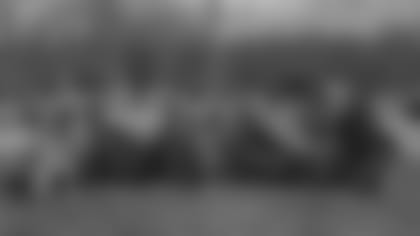 "I've gone to a lot of training camps, but only for a couple days, usually," she says. "I've been here for over a week now, so this is the longest time I've ever spent at a training camp. It's cool. I value it, and I'll remember getting to watch him as a head coach."
As she's stood on the edge of the practice fields for both the team's full-length sessions and their occasional afternoon walkthroughs, she's noticed her dad's coaching and parenting styles aren't all that different.
Vic the father, she says, is "strict when he needs to be, but not overbearing."
"He expects a lot," she says, "just like he expects from his players."
And with those players — who range from 11-year veterans to undrafted rookies — Cassie says her father tries to do more than just provide coaching tips. At some point in her life, that's what helped her realize her dad was more than just a smart man.
He was a brilliant coach, as well.
"I've always known my dad was smart," she says. "Not necessarily with football, but with life stuff. And then being here at training camp, I see that he tries to teach the players not just about Xs and Os but about life and family. He did the same for my brother and I."
Along the way, he also instilled a love for football in his daughter that isn't going away any time soon.
Cassie says she isn't necessarily interested in coaching, but she wants to "stay around the game forever" in some capacity. Even after her dad eventually retires, she says she wants to find a way to be involved in a manner that's more than just being a fan of the game.
As Fangio is told of his daughter's plan, Cassie stands just a few feet away.
"I'd love for her to do that," Fangio says as she looks on. "It's a good way to make a living. It's healthy to be a part of a team. Any time you're part of a team, you get a little extra pop in your life — rather than just punching in and punching out every day. … If she wants to do that, I'm all for it."
This day at training camp, though, isn't about the future. It's about adding another memory to a life defined by football.
Vic and Cassie pose for their first photo together in Broncos gear — a snapshot that's sure to be added to a collection of photos from Fangio's time with other teams — and then they turn to head inside.
It's time for another meal and another cherished moment.