KANSAS CITY, Mo. — The drum thunders.
In the swirling snow, a red-blanketed crowd chants in unison.
And in a sea of tomahawks, the Lock family stands perfectly still.
Andy and Laura — the parents of Denver's rookie quarterback, Drew Lock — have been to Arrowhead before. In previous visits, they too would've been decked out in red and gold and likely chanted along with the tens of thousands of Chiefs fans.
For the Lee's Summit, Missouri natives, that was their reality.
But that was before Drew was drafted by the Broncos in April, and their allegiances changed.
During the Broncos' trip to Arrowhead on Sunday, there is no doubt: Blood is thicker.
Andy has exchanged Chiefs gear for a black Missouri Tigers parka — his and Drew's alma mater — and an orange Broncos knit cap.
It's the first time that he and Laura, who dons a Broncos beanie, have worn orange in this stadium.
"I had to call up to Denver and have some more orange brought to me," Andy says.
There's a reason for that. Andy and Laura are hardly alone. Drew's sister, Claire, stands alongside the couple. His aunts and uncles and at least one cousin are in the rows around his immediate family. His private quarterback coach is here, as is Drew's girlfriend and a number of high school and college teammates.
They tailgated before the game, and now they've moved into section 107. More Lock fans are peppered throughout the stadium, but there are close to 50 friends and family members in this pocket of Arrowhead.
Of course they're here. They wouldn't have missed Lock's first appearance at Arrowhead. He's played here before, a 2015 Missouri win over BYU. This is different, though.
"Arrowhead's a special place," Andy says. "It's an iconic stadium in the NFL. To couple that stadium experience with our family and friends and Drew, it's a once-in-a-lifetime experience to be here for his first time. Hopefully, there's a lot of them."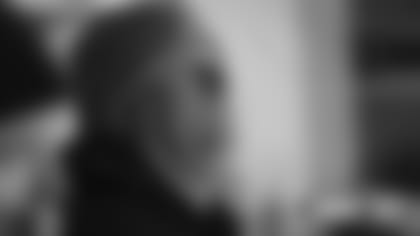 Drew seems to share the sentiment. Before kickoff, Lock texted his parents.
It couldn't be any better than this.
It's hard to argue with him. Laura and Andy agree that it's an emotional day, and it seems the same is true for their son.
"This means as much to him as his family means," Andy says. "This is really important that he represents the Broncos and represents John Elway and the people that believed in him enough to draft him. It's important to him."
Lock trots out on the field to begin the game, and the Broncos quickly pick up a first down. Andy and Laura don't look to each other, but they each raise a hand and fist bump.
The drive stalls, but his parents remain undeterred.
Meanwhile, Chiefs fans in neighboring rows have pieced together why a pocket of orange has developed.
They were glad to welcome the Locks back to Arrowhead.
"I'm going to root for him quietly," one Chiefs fan mutters.
"An NFL QB? Are you kidding me?" says another. "He's the greatest thing to come out of here."
"He could be as good as Mahomes," one more says.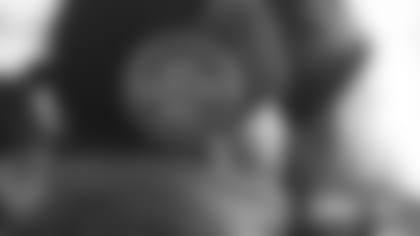 The Locks appreciate all the goodwill. Before kickoff, they weren't sure how Drew would be received. He's the hometown kid, but he's also the quarterback of an AFC West rival.
"I feel like it'll be good," Andy said before kickoff. "Not great, but good."
"Either way, we get it," Laura added.
For now, the reaction is positive. If Lock becomes too good, that could change. Chiefs fans could cease to view Drew as a nice hometown story and instead view him as the man in the way of a division championship.
"Wouldn't that be cool?" Andy says. "That'd be awesome, man. I so hope that happens."
On this Sunday, though, the Broncos struggle against their division rival. The Chiefs jump out to a 12-0 lead as the offense fails to sustain drives. As the first half nears its end, the Locks finally find something to cheer about. On fourth-and-1 from their own 48-yard line, Lock fakes a handoff and launches a pass downfield to tight end Noah Fant.
Fant races down the sideline straight toward Section 107, which is just behind the left corner of the east end zone.
The Locks spring to their feet as the ball is in the air, and they jump up and down, high-five and hug as Fant is brought down inside the 10-yard line.
Lock looks to Courtland Sutton in the end zone on second down, and the Lock contingent again springs to its feet. The ball is knocked loose by Tyrann Mathieu in the end zone, and the Broncos settle for a field goal.
That's the closest the Broncos will get to the end zone the rest of the afternoon, as Denver falls 23-3.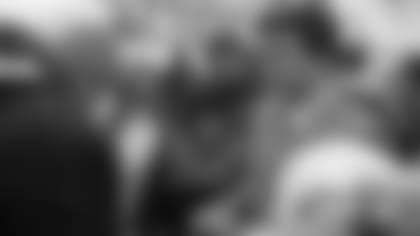 As time expires, Lock leaves the snow-covered field, heads up the tunnel and enters the visiting locker room. He swaps his stained jersey for a gray suit and meets the press.
"It is disappointing, but it does not have anything to do with coming home," Lock says of the loss. "I would be disappointed anywhere in the country if I played like this. When you come out with a loss, you are never going to be excited. Disappointment will always be the reaction, so it is what it is after a loss like that you will be disappointed."
Lock leaves the podium and heads back toward the tunnel. This time, he turns away from the field and heads up and out of the stadium. His parents and part of the viewing party are waiting outside in the snow for a few minutes with him.
For a short time, they talk with Drew — the son, brother, friend and teammate they've all come to see.
"He's pretty wise beyond his years sometimes," Andy says the day after the loss. "I was happy with the way he dealt with that yesterday. He took that upon his shoulders and said, 'Hey, I've got to be better. We've got to be better.' During down times like that in losses, you learn a lot about people."
Lock says in his postgame press conference that he hopes that any future trips to Arrowhead end differently. And make no mistake: Even after three starts, the Lock family plans to be back.
"You want to play at this stadium 10 more times," Andy says. "That's what he wants. I think he understands this one's special, but I also think he recognizes there's going to be even bigger ones down the road in this place."
If and when Lock returns to Arrowhead, orange hats will again pepper a red canvas.
The drum will thunder. The fans will chop.
And the Locks will be there for their son.