ENGLEWOOD, Colo. --Three and a half weeks after suffering a lower-ankle sprain during practice Aug. 12, Derek Wolfe's ankle looks -- and feels -- normal.
He worked on a limited basis during practice Thursday, but he said after the session that he's ready for a full workload Monday night against the Los Angeles Chargers. There will be no easing back into work for the six-year veteran.
"Ease in? It's football. Especially in the trenches. I don't even think about it," Wolfe said. "It doesn't even feel like it's had an issue. I tape both of my ankles the same.
"I told you guys I wasn't going back on the field until I felt like I was 100 percent. I feel like I'm 100 percent, so why not go practice? You've got to practice to get better."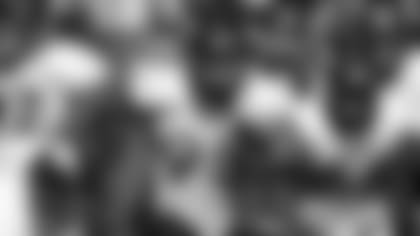 Wolfe and fellow defensive end Jared Crick both saw limited work Thursday, but remain on track to play Monday.
Cornerback Aqib Talib and running back Jamaal Charles were given veterans' rest days Thursday.
"It's just smart to rest those guys who need rest," Head Coach Vance Joseph said.
Running back Devontae Booker (fractured wrist), quarterback Paxton Lynch (sprained right shoulder) and defensive end Zach Kerr (knee bruise) also did not practice.
Defensive end Adam Gotsis also saw limited work because of a shoulder injury but "looked good," Joseph said.
Relive the Broncos vs. Chargers series history with photographs dating to the teams' AFL roots in the 1960s.