ENGLEWOOD, Colo. --Inside linebacker Brandon Marshall and cornerback Aqib Talib returned to practice Friday, while center Matt Paradis watched from the sideline as the Broncos continued their preparations for the Chargers.
All three are questionable and will be game-time decisions Sunday.
Marshall (hamstring) and Talib (lower back) did not practice Wednesday or Thursday, and Paradis has been held out of work this week because of a hip problem.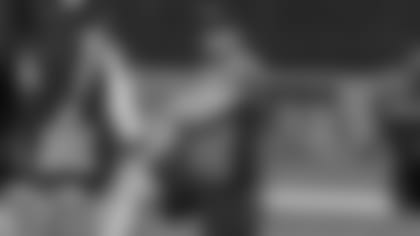 "It's something Matt has played through before," Head Coach Gary Kubiak said. "I would have liked for him to get some work [Friday], but after further consideration, we decided not to."
Paradis is the only Bronco to have played every regular-season and postseason offensive snap since the start of the 2015 season and has played more snaps than anyone else in the NFL during that span.
Kubiak added that Paradis could play Sunday without practicing.
"There's no doubt about that," he said.
Outside linebacker DeMarcus Ware practiced for a third consecutive day Friday after missing five games because of a fractured forearm.
Running back C.J. Anderson was the only Bronco on the 53-man roster or practice squad not on the field Friday after undergoing knee surgery Thursday.
The Broncos' finished their on-field practice preparation for their rematch with the Chargers. (photos by Ben Swanson)