ENGLEWOOD, Colo. — Andrew Beck played an important role for the Broncos in 2019.
As a fullback-tight end hybrid, Beck filled in for an injured Andy Janovich as a blocker, caught a handful of passes, was a key special teams player and started six games for Denver.
Beck, who caught the first touchdown of his career in Week 17, could be an impact player again when the 2020 season arrives.
And yet, he'd be the first to tell you that he doesn't even have the most important job in his own relationship.
As he prepared for the Broncos' virtual offseason program in April, his fiancée, Hope Woodby, dealt with more pressing matters.
Beginning in early March, Woodby and her coworkers at Dell Children's Medical Center in Austin, Texas, were on the front lines in the battle against COVID-19.
"I'm fortunate I get to play a game for a living, but even before all this started, she would come home and my rough days at work are we had long meetings or practice was tough," Beck told DenverBroncos.com this week. "Her rough days at work are one of her younger patients died. Their job as a whole is very difficult. You add a worldwide pandemic like this, it just makes it that much harder."
Woodby, a pediatric registered nurse, spent the last two years working at Dell Children's, and as COVID-19 became a reality in the United States, she was working night shifts in the respiratory unit.
"From the beginning of all this, we kind of could tell we were going to be the unit that was hit the hardest with everything," Woodby said.
Woodby said her unit was fortunate to not be as devastated as some of the neighboring hospitals, but they dealt with long shifts — 6:30 p.m. to 9 a.m. — and braced for worst-case scenarios. Early in March, they began to ration personal protective equipment (PPE) and prepared for a situation in which they would also have to accept adult patients.
Often, Woodby and her coworkers didn't know how much they were exposed to the disease.
"We saw policies and procedures changing daily, sometimes multiple times during a shift," Woodby said. "We had residents and doctors who would come down with it, and we would have to isolate and monitor symptoms from being exposed to them. It was a crazy time."
Woodby geared up for each shift in PPE and cared for her young patients until April 18, when she finished her time at Dell Children's and prepared to move to Denver.
"What's impressed me most [has] been her discipline at work to handle everything and then to come home and flush whatever happened that day and move on to the next day and know she's going to have to go back and face the same thing," Beck said. "It's wearing on health-care workers everywhere. … The tragedies that these people see, to come home and have a normal conversation with their loved ones and then go back and do it the next day is unbelievable.
Beck and Woodby, like many around the world, were gearing up for a far different summer.
After more than five years of dating — the two met as undergrads at the University of Texas — they were scheduled to be married on July 4. They will now forego a larger ceremony in favor of an intimate one with just their parents.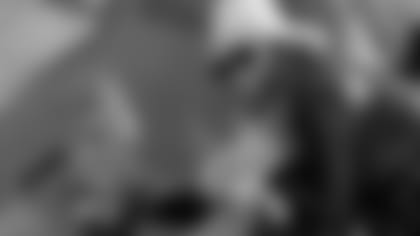 Beck was also slated to travel abroad as part of the NFL's USO Tour. During the trip, he would've visited one of the bases that his father, Chris, travels to frequently. The elder Beck currently serves as the commander of the transatlantic division of the corps of engineers for the U.S. Army. Andrew hopes to be able to participate in a rescheduled tour during the 2021 offseason.
And, most noticeably, Beck and Woodby have been kept apart. In more normal times, the two would visit each other at least every three weeks. During the Broncos' season, Woodby would travel to Denver to watch Beck play, and Beck headed to Austin for the bye week.
That constant travel hasn't been an option recently.
"I would fly up there or he would come down here," Woodby said. "That was really something that got us through being apart. Now, being scared to fly, being scared to be in large crowds and things like that, I think that's really been hard for us."
Woodby self-quarantined for 19 days after finishing work at Dell Children's in an apartment that had already been emptied, save for a bed and wireless internet router. She has since traveled to spend time with her parents, but she made sure to take precautions before arriving at home.
"My dad had open-heart surgery six months ago, so he's kind of an increased risk," Woodby said. "I wanted to be extra careful before I came home and potentially exposed my parents to something. I just kind of sucked it up and hung out with myself for 19 days."
Despite the change and uncertainty, Beck and Woodby have tried to remain focused on the positives of their situation.
"Everyone we love is healthy," Woodby said. "No one is sick. We've been really fortunate. Things could be worse. In the grand scheme of things, we are very luck and very fortunate. We're doing OK."
Woodby said it has given her hope to see NFL teams and players join people from around the country in supporting the fight against COVID-19.
"We're seeing our community come together in ways that we never have," Woodby said. "For health-careworkers, just that kind of appreciation is amazing and it's so helpful. People don't have any idea just how much things like that do keep us going. Seeing the good that is being done outside of the hospital kind of makes what we're doing worth it. I think it's awesome."
Beck and Woodby have done their part to help the cause. They recently donated nearly 5,000 meals to Food Bank of the Rockies to help those who are food insecure.
"Our health-care workers are going through a lot right now, but there's also people who have been laid off and can't work right now because of everything that's going on," Beck said. "I'm fortunate enough to be in a position where I can donate a little bit now. It was the right thing to do from the position that I'm in. You've seen other guys across other teams that have done the same thing. Hopefully it maybe gets a couple teammates to think and maybe do the same thing. That's kind of the goal."
Beck and Woodby hope to be reunited soon, as Woodby plans to move to Denver. Finding a moving company has been difficult, but she should soon get to Colorado. When she does, she'll look to find a nursing role at a local children's hospital.
Just as Beck hopes to return to the field, Woodby said she wants to get back to her nursing responsibilities.
"I'm incredibly proud of her and very grateful for her and people like her, health-care workers in general that are on the front lines dealing with everything that we're going through," Beck said.
As the NFL season approaches, both Beck and Woodby are doing their best to stay safe and do their part during an unprecedented time.
"I want football to come back just as bad as the next person," Beck said, "but to remember that this is bigger than us right now is incredibly important."