ENGLEWOOD, Colo. --John Elway and Gary Kubiak got their man.
"Yes," the Broncos' general manager said when asked whether they arrived at the UCHealth Training Center on Thursday targeting University of Memphis quarterback Paxton Lynch.
"We worked the phones from noon on today to try to find where we could slide in."
The value had to be right. Elway mentioned a week earlier that he didn't want to sacrifice multiple drafts to move up and take the gifted 6-foot-7 passer with a strong arm and an innate feel for eluding the pass rush.
Elway said the Broncos began their calls with the Atlanta Falcons, who held the No. 17 overall pick, before they made the trade with the Seahawks.
It cost the Broncos their No. 94 overall pick to move up five slots from the 31st to the 26th selection. Elway and Kubiak felt the value was right.
"We were thrilled to do it," Elway said. "We were thrilled that we were able to do that, and Paxton was still there, and we were extremely excited.
"He's a big, athletic, strong, young guy that fits us perfectly."
The Broncos were able to be patient because they received intel that the Jets would not take Lynch with the No. 20 pick.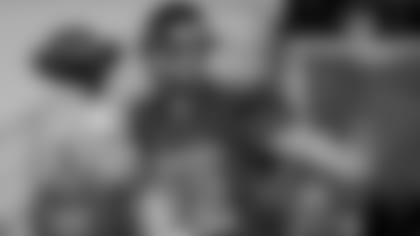 The Jets appear to have a hole at quarterback in the wake of their decision to not re-sign Ryan Fitzpatrick, but last week their general manager, Mike MacCagnan, expressed confidence in the development of second-year quarterback Bryce Petty, who they selected in last year's fourth round.
"It was our feeling that the Jets were not going to take him, from the information that we had," Elway said. "We felt that he was going to get past the Jets."
The bigger threat came from the quarterback-needy teams with picks early in the second round moving up into the first -- especially given the value of the fifth-year option on first-round picks, which can keep them under team and cost control for one more year than those in the second through seventh rounds.
"We thought for sure someone would be coming from behind," Elway said. "From all the information we're getting back now, there were a couple of teams that were coming from behind. So we're thrilled that we were able to get the deal done with Seattle."
The Broncos' search for quarterbacks is not done, Elway said, and it would seem likely they bring in a fourth quarterback -- perhaps another veteran as insurance in case Lynch is not ready to be a starter if needed as a rookie, or a young quarterback later in the draft or from the undrafted ranks.
But it would appear that any pursuit of veterans like Sam Bradford and Colin Kaepernick is over.
"We're probably over with Kaepernick," Elway said.
And now Lynch will arrive to compete for playing time with Mark Sanchez, Trevor Siemian and perhaps another quarterback to be determined.
The race is on. But at some point in this year or beyond, the Broncos expect Lynch to be ready to carry the torch.