DENVER — All Phillip Lindsay wants to be for the kids who were at West High School's Tuesday-afternoon football practice is Willis McGahee.
As Lindsay approached the practice field at Sunken Gardens Park, ready to speak to the team, he recalled the impact that McGahee had on him in 2012, when he had an opportunity to touch a high-school student's life, and Lindsay knew he could have that same effect six years later.
The situation was much different in 2012, but the end result could be the same.
Lindsay, fresh off surgery reconstructing his ACL after a devastating tear that ended his senior season at South High School, was at the lowest point of his life. His future in football was impossible to predict, and to him, the outlook didn't seem bright.
And then he got a call from then-Broncos running back Willis McGahee.
At the time, McGahee was a busy man. The previous season, he had revitalized his career with a 1,199-yard Pro Bowl season and was in the midst of a troubling start to the Peyton Manning era (which, of course, ended up being just fine).
Yet during a break in the week leading up to the Broncos' Week 3 game against Houston, he took the time to call Lindsay, who was known in the organization because of his participation in the Futures Football program that the Broncos run with Denver Public Schools.
Lindsay knew McGahee well, at least through his family's television set. The standout University of Miami running back was a star on the Hurricanes' early '00s teams, but his collegiate career ended abruptly when he tore his ACL, PCL and MCL in the 2003 Fiesta Bowl National Championship Game.
"I knew his story with his knee and how hard it was to get back," Lindsay says. "To be able to see what he did after that brutal knee injury, it felt good to get a call the day after surgery. He was just like, 'Hey.' He didn't have to do that. He didn't have to take the time, but he did. He felt the need to take the time to tell me I was going to be OK. And now I'm sitting here in the same shoes he was in as a Denver Bronco."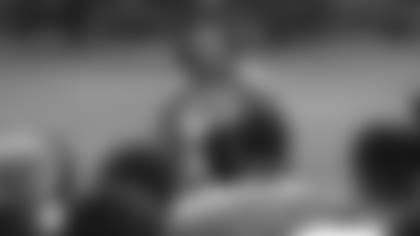 For Lindsay, who now knows all the responsibilities that come with being an NFL player, the call amazes him even more.
"Being in this job here in the NFL, it's hard to find time to do the little things sometimes," Lindsay says. "It's not even that you forget; it's so much going on. And for him … in my senior year of high school, at my lowest point, he called out of the blue. I was watching a Colorado Buffaloes game, and he called me. That gave me a lot of hope. It felt good that somebody cared enough to be able to contact me and reach out to me at the lowest time of my life."
Though visiting West's practice Tuesday isn't the same scenario, Lindsay knows the standard that's been set for him as far as making an impact on young lives, and he wants to hold himself to that — even just days after becoming the first undrafted rookie to record at least 100 yards from scrimmage in each of his first two games.
"I'm never going to be too big for this," Lindsay says. "This is how I grew up and where I came from. Everybody here knows who I am, and it just feels comfortable. I don't have to sit there and put on an act for anybody. I can just be myself, which I am anyway. But [it's great] to just be able to be here and feel comfortable and see these young men and try to impact them so they can go on to college."
So when he spoke to the students, who will participate in this week's Broncos High School Game of the Week against North High School, he spoke of that importance, hoping they might follow in his footsteps as a scholar with two degrees, regardless of whether they're able to chase NFL dreams as he did.
"That's the biggest thing," Lindsay says. "The NFL is going to be there, and it's going to come and go faster than you would go to college. For college and getting a degree, it's probably one of the most satisfying things you can have. Yeah, I'm in the NFL and I'm grateful for it, but at the end of the day, I do have my degree. I have two. I'm excited about that, and I want to make sure that they understand that."
Following the speech, Lindsay walked off the field, meeting a few players one on one, including one who told Lindsay that he's his hero.
As big as expectations may get for Lindsay as a Bronco, they may be even bigger as a local idol, and even if he can't be Willis McGahee, being Phillip Lindsay will be enough.