ENGLEWOOD, Colo. -- **Paxton Lynch's fit within the team is about more than just what he can do with his right arm. It's about leadership, an innate feel for the position and, finally, the value of his first NFL contract and how it could give the Broncos flexibility for the next four to five years if he succeeds.
On the field, Lynch appears to be a perfect fit to handle a quarterback's role in Head Coach Gary Kubiak's offense. Athletic and mobile with a strong arm and an ability to hit the deep pass, Lynch is perfectly suited to run the play-actions and bootlegs and downfield throws that the scheme dictates.
Further, he has an innate feel for the pass rush and knows how to escape, displaying a poise and instinct that cannot be coached into a player; typically, you have it -- or you don't. Lynch possesses this.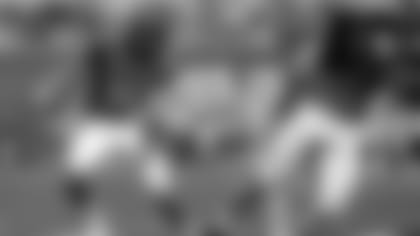 "When I watch him on film, the thing that's really exciting is that this guy extends plays," Kubiak said. "He has the knack for making people miss [and] extending plays.
"It's really hard in this business to coach guys to keep their eyes down the field when they're moving, and this guy does a great job of that -- [a] big, strong kid, makes all the throws, moves around very, very well."
Most of Lynch's work at Memphis came in the shotgun and in a no-huddle attack. But he said Thursday that work under center is "all I've been doing" as he prepared for the Scouting Combine and his pro day workout.
Kubiak sees the ability to operate under center and make playcalls in the huddle, something he did as a freshman at Memphis.
"I don't see that as an issue at all," Kubiak said. "I think one of the big things that John [Elway] and I did see was we saw him do all of the things that we want him to do from a movement standpoint -- playing out of the gun, throwing the ball out of the pocket, getting up under center, moving, those types of things.
"All those things we're looking for we were able to see very easily."
How Lynch fares in those areas could help determine how quickly he can push for the starting job. Although many draft pundits saw him as a project who could take a year to develop, Kubiak and Elway see a quarterback who can push for the job in a competition with Mark Sanchez and Trevor Siemian right away.
Lynch bristled at the notion that he is a "project."
"I wouldn't say I am a project," he said. "Obviously every quarterback coming out of college, we have stuff that they need to work on. I don't think any quarterback is ready so I guess you could say every quarterback is a project when they first get in."
And many of those quarterbacks pushed for starting roles right away.
"They're all going to compete," Kubiak said. "The great thing about our situation right now with Mark and Trevor and of course Paxton now—they're all coming up together. Even though Mark is a veteran player, he's new in our system. So the growth together will be a good situation for all three of them.
"But there are no givens on our team. Everybody competes, and I'm expecting him to come in here and make up some ground really quick. But I think it's a great group to go to work with. I know [Quarterbacks Coach/Passing Game Coordinator Greg Knapp] and [Offensive Coordinator Rick Dennison] are very excited about him, so we've got to make up as much ground as we can."
Sanchez has already taken the steps to show his leadership capabilities, reaching out to his potential targets and taking the offensive linemen to a Rockies game at Coors Field last Sunday. Soon, Lynch will show the leadership ability he displayed at Memphis, which Elway noted was evident in his enthusiasm.
"If you watch tape, he's the first down there if they have a long touchdown or what-not -- Paxton is the first one down there in the end zone to congratulate the guy," Elway said. "He's involved, so I think we really liked that what we saw on tape."
And the Broncos also like how Lynch can help the long-term construction of the team -- not only because it settles the most important position on the offense, but because his contract can help the Broncos relative to their salary cap, allowing for financial resources to be devoted to other areas.
Consider that in early March, the Broncos were prepared to offer Osweiler a massive contract that would have reportedly been worth $16 million per year.
Last year, the No. 26 overall pick, Ravens WR Breshad Permian, signed a four-year deal worth a reported $8,705,317 -- good for an average annual salary and cap value of $2,176,329.
If the Broncos pay Lynch the same percentage more than Perriman's increase over the 2014 No. 26 pick (Eagles LB Marcus Smith), Lynch's average cap value would be $2,429,211 -- $13,571,789 less than the reported offer to Osweiler, and $15,571,789 below his average annual value on his Houston contract.
That is money that can go toward other players and keeping as much of the team together as possible.
Having a cost-controlled quarterback in his first seasons with a higher percentage of the cap going to other players, especially on defense, was what helped Seattle construct its dominant defense while Russell Wilson learned on the job. Now Wilson is on his second contract, and the Seahawks will adjust, but that bought time for Wilson to grow in the best possible situation -- with a ground game and a defense that complemented him and allowed him to work through his rough spots.
The money the Broncos save by having Lynch could help them retain Emmanuel Sanders, or keep the components of their elite defense as intact as possible for a longer period. This could help the Broncos maintain an elite defense, which would give Lynch a buffer as he develops; he wouldn't have to carry the team.
If Lynch flourishes, even his fifth-year option would allow the Broncos to have him at below market value in the 2020 season.
Elway often talks of winning "from now on." From his skill set to his intangibles to his financial value, Lynch gives the Broncos a chance to do precisely that.
Photos of new Broncos QB Paxton Lynch, who the team selected with the 26th overall pick in the 2016 NFL Draft after a trade. (AP Photos)