DENVER — Each Wednesday in the multipurpose room at the Denver Broncos Boys & Girls Club, the floor in front of the television is cleared, sofas pushed to the edges of the room to make room for five rows of plastic-backed chairs.
As they get a quick bite of pizza, it appears that for the sake of time maybe they'll skip one of the other weekly rituals this time, but the kids quickly protest and Broncos safety Justin Simmons is called to the front of the room.
Before they dive into issues of social justice and inequality, they need to warm up with some physical movement, and this is where Simmons comes in.
From the front of the room, the Pro Bowl safety leads them in a series of stretches. They bend to touch their toes, roll their heads in clockwise circles and stretch their arms up to the ceiling.
With the calisthenics over, Simmons takes his seat and the physical actions shift to mental activity as RISE instructor Chris Chavez begins to go through the day's topic and discussion points. Simmons' involvement isn't done, though. Over the course of the afternoon, he remains an active participant, as he has over the past two years of the educational sessions.
The program's curriculum, which was completed Wednesday, features the teaching of historical leaders and key moments but is largely centered on discussion, talking through the definitions of equity, identity and privilege and working through hypothetical scenarios or case studies to gain a better understanding of societal challenges and the ways people can advocate for change in the face of prejudice and other issues.
"I'm really appreciative of RISE and just the conversations that they're pushing," Simmons says. "The thing I appreciate about RISE when I go is everything is surface-level, but it's really the conversations once you start scraping off what's on the surface. It's really those conversations that are really powerful and can really help build. And so I'm really thankful for RISE and their whole team, their organization and what they do and how they do it. It's definitely been special working with them."
Simmons began working with RISE more than a year ago, when participation was limited to video-conferencing sessions. He was a consistent presence and something of a mentor, as he has been particularly active in social-justice spaces in recent years.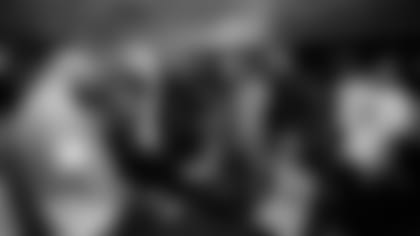 But if the kids viewed his participation at first as a brief special appearance, that must be largely gone as he ensures he's as much a part of the meetings as they are.
"It's been great," club member Naja'Ray says. "Just having him there, having him involved, knowing that he cares, showing up. I know last year we did it online, but him actually being here every week, every Wednesday, just like the rest of us for an hour and 45 minutes is great. Just to see him come all the way out here is just amazing."
Another club member, Austyn, adds that Simmons is able to put kids at ease to voice their opinions in a group setting, which can understandably be challenging.
"I think he really helps more kids feel kind of more comfortable and open up," club member Austyn says. "Because obviously talking to a group of people is scary. It gives you anxiety. And I feel like he's there to help and help kids be more relaxed and more open, to feel more comfortable to talk about whatever topic we're on. He wants them to know it's OK for you to feel how you feel and let your opinions out."
The work Chavez does at the club isn't just for kids, though. There's multi-generational involvement, from the young teens to older adults who work at the club. But the subject matter suits that, as elders can share their knowledge and at the same time learn from the younger generation.
"I think that's what makes the Boys & Girls Club special, like all in all," Simmons says. "You have people that care, and we're talking about with RISE at the Denver Broncos Boys & Girls Club and the specific group of people that I get to have the honor and pleasure of being around. It's cool to see how tied in everyone is to their community and how important these conversations are and, honestly too, how much they want to learn and listen to each other and just adapt and have different points of view and hear people out. Everyone has different experiences; it doesn't make one more right than the other, but it's just people living life and trying to figure it out."
While Simmons may appear to be a larger-than-life or a guiding figure to some in the room, he's there for the same reason they are, to learn.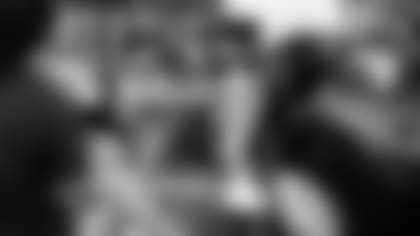 "I came into RISE just with kind of an open mindset to learn," Simmons says. "I just wanted to sit back and just hear a different perspective than mine. Especially when it's a different age gap.
"… Just different people with different experiences in life, so it's cool to get to go in there and sit down and hear like how their perspective on what's going on in the world in terms of the social justice topics and everything that's happening in local neighborhoods, between community and police and just getting real feedback. They live that life every day. As a player, I feel like there's times where you're kind of removed from that — those specific situations. So it's just cool to get to sit down and kind of just hear a different perspective. I think that perspective is everything; it gives you a different view on how maybe you do things maybe moving forward."
In turn, the teenagers are able to gain the knowledge that can reshape their lives and perhaps the community they call home.
"To be able to hit the youth with this kind of knowledge, this kind of education, these tools at such an earlier age is definitely super beneficial," Chavez says. "I think it will provide that kind of lasting change and leadership opportunities for them to stand up. Just like how today we're talking to them about [how] it takes a little bit of courage to be able to stand up for something. So the fact that we're creating a space to make it vulnerable but also empower, I think, will have lasting effects."
In recent years, as Simmons has felt the urge to become more vocal about inequities that he sees, it's something that he's recognized more and more, too.
"The other thing that I've learned, even from working with the kids today, is that if there's something that I don't like and I'm a part of that community, I have the power to change it," Simmons says. "And obviously it takes a lot of work and a lot of work but there are some things you can get involved in. You can go to the courthouse. You can get involved with laws that are being passed or brought up in your state or your counties. You have a say. I feel like growing up, I maybe knew it but not to the extent that I know it now. The only reason I like talking about it and publicizing it is not for the fact of notoriety, but it's more of just, 'Hey, you guys can be involved too.' I'm pushing the narrative because I do have a platform. It's useful to take advantage of it. But this also affects more than just me; it also affects all of us and you can get involved. If there's something you don't like, we can talk about it and get involved."