Broncos 2015 draft picks:LB (Round 1)| *OL (Round 2)| TE Jeff Heuerman (Round 3)*
ENGLEWOOD, Colo. --The selection of Ohio State tight end Jeff Heuerman completes the transformation of a position group that will have different points of emphasis than it did for most of the last two seasons.
Although Heuerman does have some growth potential as a pass catcher, the first way in which he will make an impact is by using his 6-foot-5, 254-pound frame to bring some nastiness as a blocker.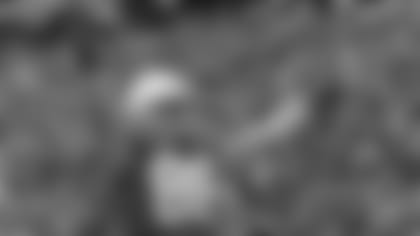 But Executive Vice President John Elway noted that Heuerman can play both the 'Y' tight end -- which focuses more on in-line blocking and short routes -- and the 'F' tight end, which is more of a pass catcher, can line up away from the offensive line and often looks to make plays outside and down the seam.
The Broncos' top three tight ends -- Owen Daniels, Virgil Green and James Casey -- all have that kind of versatility, with the option of lining up in the backfield if necessary. This allows the Broncos to change their formation without altering personnel, allowing the offense to throw different looks at a defense while maintaining a no-huddle, up-tempo pace.
"We obviously like his size," Head Coach Gary Kubiak said of Heuerman. "I think he can probably get a little bigger. He can probably put on a little weight. I think he has the ability to do both.
"He's a very smart player. Anytime you have those types of players, you're versatile offensively, you can do a lot of things and they are special teams players, too. There was a need here, but I think the fact that we were very surprised that he was there and were able to add to our football team made it even more so."
Heuerman is already an effective -- and aggressive -- blocker. There are no questions about his physicality and performance in that area of his game. But his infrequent use as a target could lead to some developmental time before he becomes a consistent target.
However, for an example of how a pass-catching tight end can develop, the Broncos need only look at Owen Daniels, a fourth-round pick of Gary Kubiak's first Houston Texans draft class in 2006:
The Broncos hope that Heuerman can have a similar pro trajectory, one in which his per-season numbers look like the four-year tally from his college career.
"I really think that he has a high ceiling," Elway said. "He's just scratching the surface of what he can do. We were happy to get him the bottom of the third."