Broncos 2015 draft picks:LB (Round 1)| OL Ty Sambrailo (Round 2) |TE (Round 3)
ENGLEWOOD, Colo. --Ty Sambrailo lined up all along the offensive line at Colorado State. He played every position but center, with the majority of his snaps coming at left tackle.
But the first job for the No. 59 overall pick will be at right tackle, where he will compete for the job with a group that includes Chris Clark and 2014 third-round pick Michael Schofield.
"He really fits our system," Executive Vice President/General Manager John Elway said. "He's going to compete for a starting job at right tackle."
Although he started the last two seasons at left tackle, he worked at right tackle during Senior Bowl week in January, reflecting where most teams saw him making an immediate NFL impact.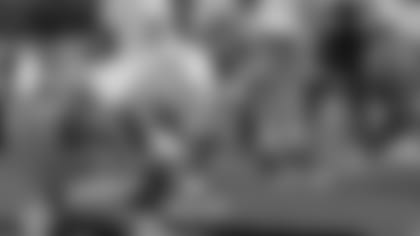 "I thought I was a little shaky," he said at the time. "It's been a couple of years since I played right tackle with live reps, and coming out here and playing agains the best in the country is an interesting way to get back into it.
"It's kind of like writing right-handed for your whole life, and then switching over and writing left-handed. It doesn't seem like much, but you know there's little differences that make it tough."
But he did show palpable day-to-day progress during that week in his snaps at right tackle, and the Broncos are counting on that continuing once they insert him into the lineup.
"We think he's a quick study, too," Head Coach Gary Kubiak said. "That's one of the things that was very important. We don't see a big transition for him from a mental standpoint from what he's been doing in college and what we're going to ask him to do for us.
"We think this kid will be in position to compete really, really quickly. That was a big advantage there, too. Obviously like John said, we like the way he plays, but I think his knowledge of what he's doing and playing on both sides through college is going to really help him really make an adjustment with us."