ENGLEWOOD, Colo. — When DeMarcus Ware first joined Bradley Chubb and the rest of the pass rushers in their meeting room, Chubb was star struck. Here was a legend in his midst, someone he looked up to, an idol he could compare himself to in both position and body type.
"He came in, sat in the meeting room in the back, and he knew my name off grip," Chubb recalled last Monday. "It surprised me. I was like, Oh, man. This legend knows who I am."
That wasn't all Ware knew about him, either. He also knew the scouting report on Chubb, his strengths and his weaknesses.
"I remember we were watching film; it was the first OTA practice," Chubb said. "And he was like, 'Hey, Chubb. I know you're good at this, but try doing blah, blah, blah.' I was like, Dang, this guy knows his stuff. It was pretty cool for him to come in and do it like that."
In his role as the team's pass-rush consultant, Ware returned to the Broncos in 2018 — a year after he retired from a memorable NFL career that included a Super Bowl 50 title with Denver — to provide a rare level of experience in coaching role.
With Chubb, the young and talented fifth-overall pick, joining the team, the move to bring Ware in as a coach was intended to provide invaluable guidance to get Chubb's career off on the right foot.
And that's just what happened, though it didn't happen immediately.
"When Chubb first came in, he was like a sponge," Ware said in late November. "He knew where he wanted to go, but he didn't know how to get there. And talking with him, you can see that as a rookie, you just don't want to make mistakes. But I really harped on him to take the chains off. It's OK to take the chains off. You're already here. You're not going to get cut your first year."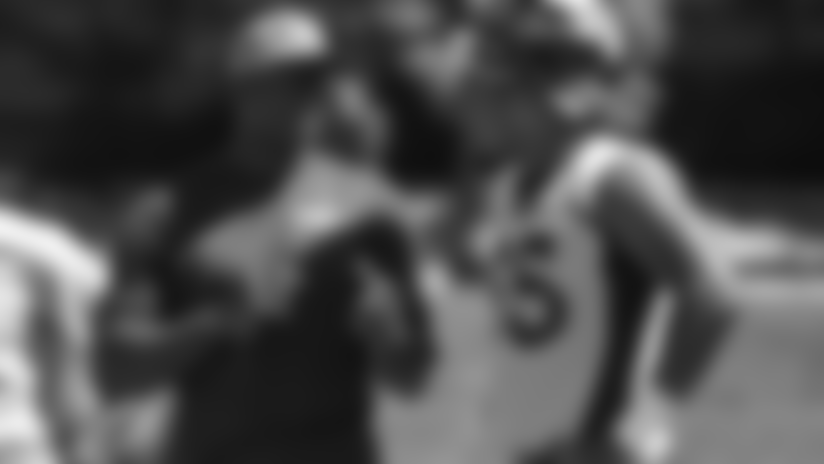 Ware, who was also a first-round pick, could relate to that feeling.
"The first year, you always think about your responsibility," Ware said. "So, you're learning a whole new playbook, but also the speed of the game is about three times faster. Not only is the speed of the game three times faster, but the guys are bigger and smarter. So that's three things you've got to worry about as a rookie.
"And you being a first-round draft pick, you've also got to know, 'I've got to be able to make an impact. Right now. I'm a first-round draft pick. They're relying on me to win the Super Bowl. They brought me in to win the Super Bowl.'"
Though that pressure was never expressed to him or explicitly levied upon him, Chubb felt it internally. That made Chubb overthink his responsibilities to the point that he wasn't playing like the player the Broncos had drafted.
"I just didn't want to be 'that rookie' and mess up," Chubb said. "I didn't want to be the No. 5 draft pick who messed up a coverage and the whole world knows it. It was a lot of thinking, a lot of playing timid, because I wanted to do everything perfect."
Ware could identify that because he had also gone through it, so he pulled Chubb aside to talk.
"I said, 'You play the same position that I play,'" Ware recalled. "'And as a pass rusher, your job is to be very aggressive. Get to the quarterback, wreak havoc. Even if you make a mistake, you probably took two dudes with you and somebody else on the team is going to make that play. It's your job.'"
After that, Chubb began to show the NFL the player he really was.
"But then I feel like Week 4 or 5, I just flipped that switch off and just kicked it in," Chubb said. "They brought me here to play football, not to overthink things. I just went out there and, with the help of D-Ware, went out there and started doing what I felt like I was good at."
Coupled with some added levity through the leadership Von Miller provided, Chubb finally had his breakout game, recording three sacks in Week 6 against the Rams.
"Both of those guys make sure I kept a level head all season," Chubb said. "I remember before the Rams game, I had like one-and-a-half sacks. And that's like Week 6. It was before the Rams game. And he was like …, 'Hey, Chubb — what's your sack celebration going to be this week?' And me, I'm not even thinking about getting a sack. I'm like, 'I don't know.' I ended up going out there and getting three sacks."
A proud Ware watched as Chubb torched linemen to the tune of 7.5 sacks over five games, beginning with that Week 6 game.
"I could see how he's been progressing throughout the whole season, from the first game, second game, third game.Oh, man, [in the] third game he got a sack!" Ware recalled thinking. "And I could see he's progressing along as he should, but he's still learning and he can get even better. And knowing that now he's past my single-season rookie record already, I feel like the sky is the limit for him. I told him, 'You have all the tools needed to be an awesome pass rusher, and as you keep progressing, you take it, but don't be afraid to make mistakes."
Though Chubb will continue to be able to gain advice from Miller inside the locker room, Ware's future as a coach with the Broncos is yet to be determined as the team continues its head-coaching search. Regardless, Chubb knows he'll still be able to count on Ware for support when he needs him and help maintain the Broncos' elite pass-rushing tradition.
"I feel like this whole year I built a great relationship with him," Chubb said. "Even if he's not here coaching with us, I still feel like I can text him, still hit him up, still learn from him. I feel like this whole year has been a great experience and I'm excited to keep working him in the future because I feel like if I continue to do that, the sky's the limit."