CANTON, Ohio — Have you heard? Aformer Bronco named Peyton Manning changed careers and has become a successful television star and producer.
It's true, and on Friday afternoon in the cradle of football civilization in Canton just minutes away from the Pro Football Hall of Fame, the five-time NFL MVP and Super Bowl 50 champion hosted a special screening of some choice extended clips from his show, "Peyton's Places." 
Through the course of the show, Manning hosts a tour through pro football history, showing viewers key moments and artifacts from the sport's history to celebrate the NFL's 100th season, visiting with instrumental figures including players, coaches and other movers and shakers along the way.
Friday's event was about the closest you could get to going with Manning to film one of his episodes — or perhaps three. After a clip, Manning brought out special guests who were in each one. It was a parade of NFL stars, including former Steelers running back Franco Harris, former Raiders linebacker Phil Villapiano, former Vikings wide receiver Cris Carter and former Jets quarterback Joe Namath. Each sat down with Manning and co-host Trey Wingo, of ESPN.
Luckily for you, if you weren't able to get a ticket, we were on the scene. Here's a brief rundown of some of the most memorable moments, from the hilarious to the insightful.
Terry Bradshaw's Magruder Film
One of Manning's segments focused on the "Immaculate Reception," the infamous and much-debated play in which Harris plucked out of the air a Terry Bradshaw pass that deflected backward off a collision upfield and then ran it in for a game-winning score. If you don't already know the story, the debate centers around whether the ball hit the ground before Harris snagged it.
Given that it was 1972 and not 2019, no camera angle provided a definitive answer, so the referees let the call stand. But that hasn't stopped people from going frame by frame through the footage. And that's when Bradshaw had a slip of the tongue in the show.
"Terry called it the Magruder Film," Manning said during the discussion after the clip, failing to contain his laughter. "He's referring to the Zapruder Film of John F. Kennedy. At least he didn't say 'MacGruber,' the great Will Forte movie."
A tradition unlike any other
It's one thing to be on the victorious side of a franchise-defining moment. It's quite another to be on the losing side.
Villapiano knows this all too well, as he told the crowd about the phone call he gets every year on the exact anniversary of the "Immaculate Reception."
"Franco calls me at 4:07 on every December 23rd since they invented cell phones," Villapiano said, incredulous. "This happened before they invented cell phones. And he asks me, What are you doing? What are you doing!"
Sure, Harris may enjoy rubbing it in just a little, but they've all become friends over the years over the play that changed their lives. And of course Harris celebrates the anniversary with his former teammates.
"On December 23rd, I call Frenchy," Harris said. "Most times I text Bradshaw. Because it's a special day. We're all tied into this play together. And it was important. This was the first playoff game the Steelers ever won."
In the show, Manning honors the play by bringing Bradshaw, Harris, Fuqua and Tatum all together on the same field once again, this time trying to recreate the play (with some stand-ins) to either prove or disprove whether the play was even possible.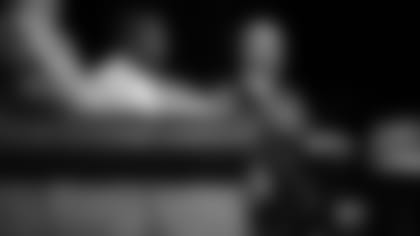 Under pressure
When Peyton Manning goes to the Big Apple, the whole city shuts down.
Well, at least it seemed that way in the second clip, in which Manning tried to recreate a publicity stunt from the 1920s, when the NFL was fighting for any fan it could get. At that time, nearly 100 years earlier, two of the league's biggest stars headed to Midtown Manhattan's Bryant Park, where Hinkey Haines caught a pass from teammate Lynn Bomar. Here's the twist: Bomar was 23 stories up on an adjacent high-rise building's terrace.
Unfortunately for Manning and Carter, the park's lawn has since been cut back in front of the building, adding about 50 yards to the distance of the original pass. Whereas Bomar's pass had a pretty clear path down to the ground, Manning's had to cross a wide walkway and clear some tree branches, in addition to West 40th Street.
"You kind of did feel the pressure because of all the effort that went into it," Manning said. "It would be a shame if I couldn't get it across the trees down there or Cris wasn't able to catch it. I think it would have felt like we were letting the folks at NFL Films down who were so excited."
Carter, though, who was on the receiving end of some footballs that were reaching peak velocity or near it as they arced through the sky and floated unpredictably with the wind, disagreed.
"Pressure on him? What was the pressure for?" Carter joked. "I put a little pressure on him, because at the beginning, they kind of doctored up the video a little bit. He took down some trees and everything. I had called for my man, Archie, because Archie's the best quarterback in the family. And then he was bad-talking Eli. I go, Eli's got a stronger arm than him! I was like, Let's go to Jersey and get Eli."
Putting his kidding aside, Carter said he felt a different kind of weight by taking part in the project.
"This guy is special," Carter said of Manning. "He is a special human being. I didn't question NFL Films, because the NFL, they've been very good to me. NFL Films, they've been very good to me as far as documenting my career and things like that. But when they called me about the project, it was, We're going to pull this off in Bryant Park, and Peyton Manning has requested you. I was like, What? Oh, I'm available!
"… Look at all the great guys he's played with. He's got access to any Hall of Famer, current players. Peyton can get anyone. But Peyton said, No, if I'm going to throw a ball off a building, I need Cris Carter to catch it. That was the pressure that I felt."
Coat check at the pool party
A student of football history, Manning knew that in the 1960s, Namath conducted a television interview over a game of pool. So he decided it'd be fitting to echo that for his own heart-to-heart with Broadway Joe.
At one point, though, the interview hit a speed bump when Manning apparently went afoul of billiards etiquette, starting a question as Namath was about to hit a shot, bringing about a quick rebuke from Namath.
"I thought he was going to, like, cancel the whole deal," Manning said with a laugh. "He was like, Hey, hey. I'm still serious about my pool game." 
As for the results of that game, Namath contended that Manning proved to be the more skilled player. Manning, on the other hand, demurred at the suggestion.
"He's good at everything. He hustled me," Namath joked. "Did he tell you how much money he won? Huh? And it was on his payroll, of course."
By the end of the episode, Manning walked out in one of Namath's famous fur coats. It was just a gift, not payment for a victory in pool.
Now it resides in Manning's home, another piece of football history in his collection.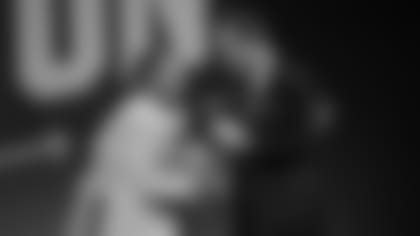 Namath's AFL memories
In Namath's segment on the show, it's clear that at the time of his Super Bowl III win, players from the American Football League had a chip on their shoulder. Once a fledgling league competing with the NFL, the AFL had agreed to merge with the more popular league starting in 1966. But AFL players still felt that their talents were being undervalued and disrespected just because people assumed the NFL was dominant.
When Namath made his Super Bowl guarantee in January of 1969, his words were partially spurred by that motif.
"One thing that really stood out to me if I'm watching those old interviews and Joe, from talking to him, is what the AFL meant to him," Manning said. "Nowadays, NFC, AFC, I don't really know if guys have that pride of being an AFC or NFC guy, but back then it was different. And to hear Joe talk about in an old interview about [former Chargers quarterback] John Hadl and [former Bills and Raiders quarterback] Daryle Lamonica and how those guys were kind of being overlooked, and these were great quarterbacks. 
"That really stood out to me, that he was playing for more than just you and the Jets. You were playing for Hadl and Lamonica and these other AFL guys. To kind of win for them I thought was really special."
That conversation then brought up memories of the Denver Broncos and their unique uniforms from their first two years.
"Peyton's right, 1,000 percent," Namath said. "Even starting off with the AFL, that first year they started off in 1960, the Denver Broncos had stripes on their stockings that were vertical. I had never seen a thing like that before. But they could play, and I watched that team, those players in the AFL play for three years and then being a senior in college, I had an opportunity after that to go to one of the two leagues, and it didn't make any difference to me when it came to competition, because it was the greatest competition that I had ever seen, as far as football players go."
Peyton's take on the Class of 2019
In the closing portion of the event, Manning shared his memories of the members of this year's class, which includes Pat Bowlen and one of his former teammates in Champ Bailey.
"Being here is so special," Manning said. "I've been here two of the last three years to see a couple of old teammates — Marvin Harrison — get inducted — Coach Tony Dungy, Bill Polian. In the class this year, playing against some of these guys, I'm not really looking forward to the induction anymore, because I'm going to be on Ed Reed and Ty Law's highlight tape a lot. Like, do we have to show that, you know? Ed Reed had as many receptions from me as some of my receivers that played a couple years with me.
"… I played against Champ in college, against the Redskins, play against him in Denver and be his teammate. And in that two years we had together, I got to see why he was such a special player.
"… And of course, Pat Bowlen and his contributions to football. For all the Denver Broncos, it's a special weekend."
To see more of "Peyton's Places," including the first four episodes of the 30-episode documentary series,head on over to ESPN+.