Even after a decade in the Broncos' front office, there are moments that force Darren Mougey to pause.
There are times, whether in the Broncos' war room or on the sideline before a game, when the Broncos' newly promoted assistant general manager can't help butfeel grateful to be in his position.
"I always reflect on where I've come from and where I'm at, and I have moments often throughout the day when I'm like, 'Wow, this is awesome,'" Mougey said from Mobile, Alabama in a recent interview with DenverBroncos.com. "They're moments of appreciation. Even [at the Senior Bowl] the music is going, guys are playing football, you're like 'Oh, I'm so lucky to have this job.' I have those moments all the time."
Mougey, 36, a trusted confidant for General Manager George Paton and crucial member of the Broncos' front office, has enjoyed those moments as he's risen to the precipice of the NFL's most elite personnel executives. 
Ten years ago, Mougey was a Broncos scouting intern. Now, he plays a critical role in building one of the league's best young cores.
And Paton is certain his path won't end here.
"He's still young," Paton said. "He'll continue to learn and continue to get better, but [he] certainly will be a GM down the road."
Before Mougey helped shape an NFL roster, he tried to make one.
A three-star recruit at his Scottsdale, Arizona-area high school, Mougey committed to San Diego State and began his collegiate career as a quarterback in 2005. He received reps behind newly hired Vikings head coach Kevin O'Connell at quarterback as a freshman and saw some more time as a sophomore, but the Aztecs shifted Mougey to wide receiver ahead of his junior season. At wide receiver, the 6-foot-6 player became an immediate starter and finished third on the team with 32 catches for 368 yards and two touchdowns in 10 games. His production increased as a senior, as he caught 34 passes for 437 yards and five touchdowns — and he did enough to catch the attention of NFL scouts.
Though Mougey went undrafted, he signed a college free-agent deal in 2009 with the Atlanta Falcons and worked with the team throughout the offseason and the early parts of training camp. A year later, Mougey latched on with the Cardinals for another run at a roster spot. Mougey's NFL future, though, was uncertain.
As Mougey wrestled with whether to continue his career, he returned to Scottsdale to help coach Chaparral High School, his alma mater. It was there he met Dave Ziegler, who was the team's special teams coordinator and also worked with running backs and tight ends. Ziegler, now the Raiders' general manager, joined the Broncos in 2010 as a player personnel assistant and remained on staff as a scout as President of Football Operations John Elway took charge of the team's front office. As Elway shaped the personnel department, he hired Brian Stark as a west coast scout.
For Mougey, who had always been interested in the personnel side of the game, that provided another connection; During Mougey's career at San Diego State, Stark had served as the team's passing game coordinator and quarterbacks coach.
Mougey explored several options around the league, but he chose to fly up and interview in Denver with Elway and former director of player personnel Matt Russell.
Shortly after his NFL career ended, Mougey found a new start as a Broncos scouting intern.
"I always knew I wanted to stick around football," Mougey said. "The scouting side always intrigued me. Obviously I knew about the coaching side, having been a player, having a lot of interaction with coaches. My short stint in the NFL is when I really was when I was really intrigued by the scouting side, because I had no contact with that side. I had all this interaction with the coaches — I'd gotten cut twice as a player, and always kind of wanted to know what was going on behind the scenes. That was what really kind of sparked my interest in it, having my experience as a player in college and my short stint in the NFL. I knew I wanted to stay around football and thought it might be coaching, but then once I saw the other side of it I was really intrigued and excited about it, so I went that route."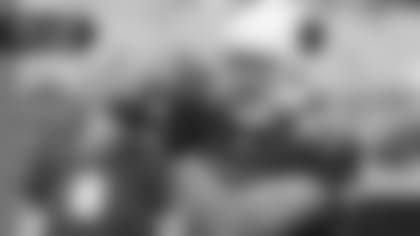 With his foot in the door in Denver, Mougey quickly climbed the ranks.
He became a personnel and scouting assistant in 2013, was promoted a year later to a role as a college and pro personnel scout and then made the jump to area scout in 2015. Mougey credits Ziegler, Russell and new Raiders assistant GM Champ Kelly for helping him learn the scouting ropes, and he says his time on the road in his early years with the team has given him an enhanced perspective for his current role.
"Having come up in the building as an intern, having done pro scouting and then getting on the road as an area scout and then over the top scout and really growing through the college ranks, I definitely have an appreciation and a different perspective now in the seat that I'm at for those college guys, having gone through that," Mougey says. "I have a lot of respect for the hours and the work that those guys put in and really I still enjoy that side of it. Sometimes I actually miss it. It is a grind, and when you're in it in those shoes, it's kind of like overwhelming or can get to a point where it becomes a little bit of a drag, but now being in the office, I often find myself almost missing that road life a little bit. I just have an appreciation and respect for the work those guys do, no doubt."
Mougey came off the road after five seasons in 2020, when he earned a promotion to assistant director of college scouting. A year later, when Paton began his tenure as general manager, Mougey made another leap. Paton named Mougey the team's director of player personnel and tabbed him to oversee the day-to-day operations of the pro and college scouting departments. Mougey also began to work directly with Paton on all personnel decisions.
Paton didn't know Mougey when he arrived in Denver, but he quickly learned he wanted him on his side.
"I didn't know Darren or many of the staff members when I got here, and he quickly shined," Paton told DenverBroncos.com at the Senior Bowl. "His organizational skills, his detail, his ability to manage people. He had a great feel, obviously, for the draft. He was on the college side. I thought he was one of the better evaluators I've been around. And so he shined quickly. I thought we had a really good staff when I got here, but he stood out."
"I knew he was going to be a fast riser, and so I promoted him after the draft to director of player personnel. And then I delegated a lot to him, being a first-time GM, and he grabbed the bull by the horns and oversaw the pro and college scouting departments, did a great job of communicating with both sides, the college and pro, and then obviously managing the fall and everything that we had to go through on the pro side, in terms of COVID. I don't know how many transactions we made, but probably one of the most in the league in terms of bringing in players. And so he kind of knows how I roll. He's really adjusted."
Mougey, meanwhile, got a firsthand look at Paton's processes and ability to run a front office. Mougey said he "learned a ton" as he processed Paton's scouting scale, and he further understood the magnitude and importance that lays with each front-office decision.
"Whether it's a practice squad guy we may sign or may cut or even if it's just a guy we're going to peek at as a possible option, every decision is very important and has a thorough process," Mougey said. "That's one thing I've taken from him — that every decision matters and a thorough process goes into every single decision, even some that seem small to others."
The quick transition from area scout to director of player personnel could have seemed daunting, but Mougey said Paton helped ease the transition. As Mougey assumed a larger role in the decision-making process, it felt seamless — and didn't feel all that different from his previous role.
"George did such a good job of making everyone feel comfortable, making it all collaborative, that I never felt like, 'Oh, wow, now this [opinion] carries more weight,'" Mougey said. "I felt like everything I said from my very first year till now carried weight. I wasn't going to say something unless I felt it and really believed it. I think our opinions were always heard and valued. I still feel that way now listening to our scouts. If they say it, I expect them to believe it and have done the work."
In Paton and Co.'s first offseason in Denver, they assembled a draft class that ranks among the league's best with pieces like Pat Surtain II, Javonte Williams and a host of other contributors. And away from the scouting process, Mougey also continued to provide value to Paton and the Broncos.
As the 2022 offseason began, Paton knew he didn't want Mougey to join another team's scouting staff, and he promoted Mougey to assistant general manager.
"With this coaching search, just his ability to add, discuss, articulate with these candidates, and that's not easy," Paton said. "I just thought he's ready to be an assistant GM. He's earned it. He's shined in all aspects — pro, college, coach search, transactions, dealing with agents. … So the whole part of the scouting process, but it's just not football when you're in the front office. You really have to manage people, and he does a really good job of that. … So I think he's got the whole package. He's only going to get better, and so I didn't want to lose him, and I think it's a great win for the Broncos."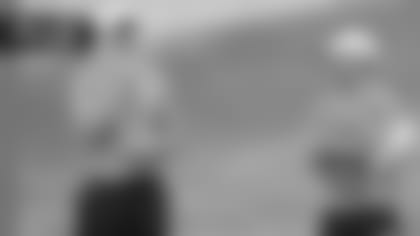 There are more moments to come on the horizon for Mougey.
Just 36 years old, Mougey is among the next generation of personnel executives who may someday receive a chance to run their own team.
Paton certainly sees that for his trusted assistant.
"No doubt," Paton said of Mougey taking the next step in his career. "He's got all the traits you want. He's great with people [and a] great evaluator. I talked about the management and the organization and the detail. So he's got everything you want."
Yet while Mougey admits he someday hopes to guide a front office, that's far from his current focus. In a job with plenty of moments of appreciation, his most memorable "pinch-me" moment came on Jan. 24, 2016. When Bradley Roby picked off Tom Brady in the end zone to secure Denver's AFC Championship win, Mougey remembers feeling incredulous as the confetti fell around him.
More than anything, Mougey wants to help bring a moment like that back to the Mile High City. And until then, he'll have unfinished business.
"I'm in no rush to get there," Mougey said of being named a GM. "I admire the way George did it. I think he had a lot of opportunities throughout his career to pursue one or be one, but he was selective in his process and waited for what he thought was the right time. I've got a lot to learn and I'm learning every day, so there's a lot for me to still learn, but I'm grateful that George includes me in everything and is really open to teaching me everything and is going to help me get to that career goal when that time is right, when that opportunity is right. I'm excited and happy with the position I'm in now and the direction the team is going now.
"I want to see us, the Broncos, have success and win another world championship here, before I really start thinking about all those other things. I'm kind of in the moment now enjoying it."
That, in essence, is what Mougey hoped to find when he arrived in Denver a decade ago. With his playing career done, he simply wanted to find a way to be a part of the game, to be part of something bigger than himself.
"I obviously grew up playing sports, competing in athletics my entire life and competing in football, and when it was over, you're kind of like, 'OK, what's the nextbest thing?'" Mougey said. "I really enjoyed that short time in high school when I got to help out at the high school and got to help coach and be around the game and thought, 'OK, this can be my fix.' And then I got introduced to the scouting world and it was a totally different world, but I still got to get my fix and be around football.
"Yeah, I guess it's the next best thing to actually playing, really being a part of it, building a team, seeing the team evolve, going through the highs and lows of the season. It's probably the next best thing."
In Darren Mougey, the Broncos may have found the next best thing, as well.