ST. PETERSBURG, Fla. --The surname Tripucka stands for athletic accomplishment.
Kelly Tripucka played over a decade in the NBA for the Detroit Pistons and Charlotte Hornets. A bevy of Tripuckas have played various sports on the collegiate level, including Texas A&M's Shane Tripucka, who punts for the West team in the East-West Shrine Game this week.
And then, of course, there is the late family patriarch Frank, the original Broncos quarterback in 1960 whose jersey number 18 is one of three in Broncos history that is retired.
So who is the best athlete in the family?
"Oooh -- it definitely ain't me," Shane Tripucka said. "I would say I'm a decent athlete, but I don't know, it's a hard thing to live up to. My dad was pretty good, and my uncle could shoot the ball wherever.
"I think I'd still have to go with Grandpa. He could do everything. He lettered four times in five or six different sports in high school. He could do everything."
"Everything," including travel through excruciating pain. Shane has heard all the stories about his late grandfather, who died in September 2013, but one in particular stands out.
"My grandpa was playing against USC at the [Los Angeles Memorial] Coliseum when he was at Notre Dame, and he broke his back in the middle of the game," Shane recalled, "so the tough guy that he is, they stuck him on a board and they put him on a train all the way from Los Angeles back to South Bend, Indiana, after the game.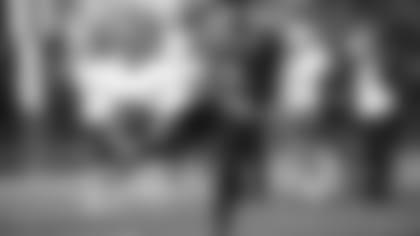 "That's something that's always stuck with me. It's crazy to think that he sat on a train on a board for however many hours to get back there."
And that injury reverberates today, because in a way, Shane Tripucka is finishing one job that his grandfather left undone by taking part in the Shrine Game. The Ring of Famer was invited to play in the 1949 East-West Shrine Game, Shane recalled, but had to decline because of that injury.
Shane earned his selection for this year's game by averaging 45.5 yards per punt last season, improving his gross average by 2.6 yards from his junior season. In six of the Aggies' 13 games last season, he averaged at least 48 yards a punt, and blasted at least one punt of 50 or more yards in every regular-season game.
His blossoming as a prospect is the product of diligence and patience that came as he sat behind Drew Kaser, now with the Los Angeles Chargers.
"In that time, you get a little frustrated because you want to play, but it ended up being a good thing for me," Tripucka said. "You get to sit and watch somebody who's one of the best in the game right now. So I got to learn from him and work on my skills and put my head down and work hard."
That hard work included missing the unveiling of his grandfather's No. 18 banner above the south grandstands at the stadium in 2016 because of his Texas A&M football responsibilities.
Despite the family legacy, Shane Tripucka has never been to a Broncos game in Denver. He hopes a chance to play in the NFL will change that, given how much the team and his grandfather's role in its early days means to his family.
"I'm dying to get up there and see all of that," he said. "It's an unbelievable honor for our whole family just to have his name up there with some of the greats in Broncos history.
"He didn't play much there, but he did a lot for that organization, getting them going. You know, he went there as a coach -- he didn't even think he was going to play, and then they stuck him in there and he gave it all he had."
Now it's his grandson's turn to give his best and carry on the family tradition.
View images of Broncos Ring-of-Fame QB Frank Tripucka, who passed away at the age of 85.