Years after Jim Ryan carved out a 10-year career from 1979-88 as a linebacker for the Broncos, he returned to Colorado to begin a lengthy coaching stint. Ryan served as Regis Jesuit High School's head coach from 2002-04, and he then rejoined the Broncos, where he served in a variety of roles on the coaching staff from 2004-08.
Ryan was back at UCHealth Training Center on Tuesday, when he took in practice and visited with former teammate Gary Kubiak and former coworker Vance Joseph.
Following practice, he visited with DenverBroncos.com about working with Joseph in Houston, what it was like to be back at Denver's facility and what he remembers from the two Super Bowls (XXI and XXII) in which he played.
What's it like to be back? The facility has obviously changed quite a bit, I'd imagine?
"It has, it really has. Last time I was actually in the building was probably 2008 when I was on Mike Shanahan's staff, and I don't think I've been back since. It's just gorgeous. It turned from a building into a campus. It's great."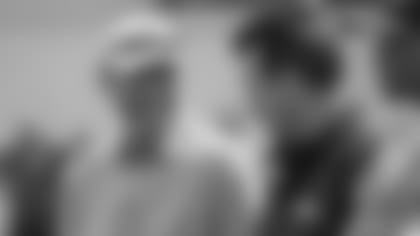 What do you remember from your time working here? From getting your start at Regis to coaching for the Broncos, it seems like Colorado is where your coaching career flourished.
"I don't want to say it was a miracle, but it was kind of a confluence of situations that had come in the middle of the season in 2004 with Mike Shanahan. I had finished my season with Regis, and he was short a coach. During the bye week, he had lost a coach, and it just so happened that I said, 'Hey, do you need help?' And he said yes and I ended up being on the staff for five years after that. So that was really fun. I was kind of the accidental coach. It was great, and I still have a heart for the Broncos, even though I left and went to a couple other places. … It's really fun to come back here. There's still so many people that you recognize that are part of the organization and it seems like they've been part of the organization their whole lives, including guys like Jim Saccomano and [Steve 'Greek' Antonopulos]. So it's great. It's really fun to come back and visit."
You know both Coach Joseph and Gary Kubiak from your time in Houston, right?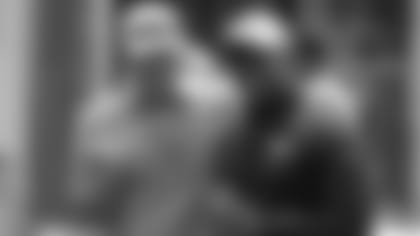 "I do. Well, I was a teammate of Gary's back in the '80s. I've known Gary since his first year in '83. I'm a little bit older than him, but not much. I spent some time with him today, and it was great to catch up. I have such respect for him as a coach and a father and a husband and a man — he's a good one. It's great to just catch up and see some familiar faces."
From the time you spent with Coach Joseph, could you tell back then he had some of the qualities you need to be a head coach?
"Oh, gosh, yes. And I knew Vance even before the three years down in Houston. But it just solidified the fact that Vance just commands respects from players and other coaches. He has great knowledge of the game. I think he has a great way with the players, where he loves interacting with the players. I have great respect for him. I felt like he had a good chance of being a head coach even back then."
What do you hold with you from your Super Bowl appearances in the 1980s?
"Well, that we lost (laughs). No, they were special teams, because I think it's what formed the Broncos' foundation for later success. Even in John Elway's career, he went through those losses before he was able to get those wins. I think those wins may be even sweeter — not just for John — but for the whole organization and even the alumni that had been part of the teams prior. So I think those were very special times, and I'll always cherish them. I think there's a lot of Broncos fans that reflect fondly on those and know that built the foundation of the successful organization it is today."