HOUSTON —** Legends of the gridiron and pitch collided Saturday night in Houston when Peyton Manning met reigning FIFA Women's World Cup champion Carli Lloyd following the Broncos' victory at NRG Stadium.
For Lloyd, it was a bit of reversal of her experiences meeting fans over the past couple months since she and the U.S. Women's National Team teammates won the World Cup title in July.
"I typically don't really stalk too many people out there," she said with a laugh. "I kind of know what it's like, but for me, I really respect athletes and professionals that are just pros on and off the field and Peyton is one of the best athletes ever, one of the greatest football players ever and just so classy, humble and goes out there and does his job. So, for me, this has probably been one of the coolest moments post-World Cup, to be able to meet somebody who, for me, I just admire and respect. So it was a pretty cool and amazing moment."
For Lloyd and her Houston Dash teammate Jessica McDonald, meeting Manning and talking to him after the game was certainly a powerful experience and the feeling was returned by the five-time MVP, who congratulated Lloyd on the memorable World Cup run she and the team had.
"It was definitely inspirational, simply because he's such an incredible athlete on and off the field," McDonald added. "He always works incredibly hard, so being a professional athlete myself, we look up to players and athletes like Peyton Manning in different kinds of ways, whether we play the same sport or not. So just having the ability to meet him has been absolutely incredible."
Lloyd's admiration for Manning and the impact he has on the field as a player and off the field as a person has also made her a Broncos fan, she said, even though she's an Eagles fan at heart because of where she grew up just outside of Philadelphia.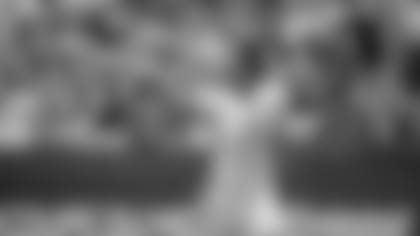 "For me, when Peyton went to the Broncos, that was when I continued to follow him and he's probably one of my all-time favorite athletes," Lloyd said. "So it's good to see somebody of that caliber be able to lead a team and I'm always following the Broncos and wishing them well. I was hoping they'd pull out that Super Bowl against Seattle; unfortunately, it didn't happen, but I'm just a big fan and hopefully they do good things this season."
That wasn't the only person Lloyd and McDonald met as they chatted with Executive Vice President of Football Operations/General Manager John Elway and some of the players in the hallway outside the locker room.
Since the World Cup victory, Lloyd and her teammates have received a staggering amount of messages, recognition and support from figures in sports and outside of it, including President Barack Obama, seven-time Grammy winner Taylor Swift, NBA superstar Kobe Bryant and many more — and now Manning.
"There's been so many people that have watched the game and I wasn't really able to kind of go back to see who was tweeting about it and talking about it, but there were so many professional athletes who were just glued to their TV and they weren't necessarily soccer fans or women's soccer fans, but I think we captivated a nation and I think everybody jumped on board and everybody was following.
"I go through airports and everything and I've got security guys saying 'Well done, well done.' Basically we captivated everybody and it was just one of the most memorable moments and best summers I think I've had thus far. And it's just been incredible seeing all the support around the professional athlete world and getting tweets from the president and Kobe Bryant and everybody. So it's been really cool."