ENGLEWOOD, Colo. -- **Rookie camp got under way Friday morning at the Broncos' field house, and five storylines jumped out, starting with the status of linebacker Shane Ray.
RAY'S RECOVERY IS ON TRACK.**
Head Coach Gary Kubiak opted to limit the on-field work for Broncos' first-round pick in what he described as "kind of an evaluation period" as he completed recovery from a toe injury.
"He could (practice), but he will not work," Kubiak said of his participation this weekend.
"I understand it's definitely part of the process for me to be 100 percent, because that's the goal," Ray said. "Me as a competitor, of course I would like to be out there and competing and doing what I can, but this is something I have to be smart with and take the proper direction under the medical staff.
"Hopefully I'll be ready to go whenever they feel like it's that time."
That could be as soon as May 18 -- the first day he is eligible to take part in offseason workouts other than weekend camp sessions. NFL rules prohibit rookies from taking part in weekday work until the spring semester ends at their school. The term at the University of Missouri ends May 15.
"When he comes back, yeah, we're expecting to put him to work right away," Kubiak said. "We knew from the beginning that we were going to use this weekend for an evaluation process."
Although Ray's work was limited, he did take a step forward in his on-field appearance, wearing the No. 56 he donned at Mizzou. Ray was issued No. 48 on Thursday, but made a deal with Shaquil Barrett to exchange numbers.
SETTING UP THE OFFENSIVE LINE.**
Not much can be made from where the offensive linemen work during rookie camp, but the relatively low number of players taking part -- just 36 players, including 10 tryout candidates, and only seven offensive linemen -- forces them to move around.
"I'm kind of playing wherever right now," said Ty Sambrailo, who is expected to get a look at right tackle once the veterans return. "Wherever we need people, we play. A lot of reps for a lot of guys, so wherever I get plugged, I play."
Fourth-round center/guard Max Garcia will begin at guard. That echoes Kubiak's statement after the draft that Garcia would work at right guard behind Louis Vasquez.
"Right now really the game plan is to learn guard and then as I learn the offense and get more comfortable, then probably transition over to center," Garcia said. "But right now it's just guard."
SENDING A MESSAGE: YOU TOO CAN MAKE IT!**
So much of the attention in the coming months will focus on the first- and second-day picks: Ray, Sambrailo and tight end Jeff Heuerman. When players selected on the first two days of the draft make the team and become standouts, it's not a story.
But most of the Broncos on hand were picked late on the third day of the draft, or not at all. They might be lightly regarded now, but Kubiak knows that there are future pro stalwarts among that group.
"Actually, I told them there is going to be a story coming out of this room. Somebody is going to jump up and become a player that maybe not that many people know about," Kubiak said.
Kubiak knows from experience -- both his own, as an eighth-round pick in 1983, and from what he's witnessed with other players.
During Kubiak's first training camp as a player, 12th-round pick Karl Mecklenburg made the 53-man roster, and the No. 310 overall pick in the 1983 NFL Draft eventually became one of just 27 players on the Broncos' Ring of Fame. Twelve years later, in Kubiak's first training camp as a Broncos assistant coach, sixth-round running back Terrell Davis used a crushing hit on kickoff coverage in the preseason to make an impression; he eventually became a Ring of Famer, a league MVP, a Super Bowl MVP and the Broncos' all-time leading rusher.
"I actually told them a little about T.D. this morning," Kubiak said, adding that he showed the video of Davis' preseason hit.
"They can't go out there today and cover a kick and hit somebody, but you are just trying to prove who you are and how you can take the thing from the meeting room to the practice field. That's important," Kubiak added later. "What can a guy handle? Then when he goes out there today, most guys are flying around this morning, which everybody was. It will be interesting to see who is still flying around this afternoon. It's about consistency and what they do, and seeing if we can give them an opportunity."
There was little contact and no pads at Friday's practice, but that didn't keep the coaches from maintaining a quick pace.
"We were out there moving really fast," Garcia said. "I haven't practiced like that in a long time, probably since my true sophomore year at Maryland. So we got after it pretty well. And we were just taking reps, every other rep.
"So it was definitely hard and I could definitely feel the elevation."
The pace is the same as the one kept by the veterans during voluntary minicamp from April 28-30: efficient, with little wasted time or motion.
But for some Broncos, like Heuerman, it was a bit slower in one respect: they huddled.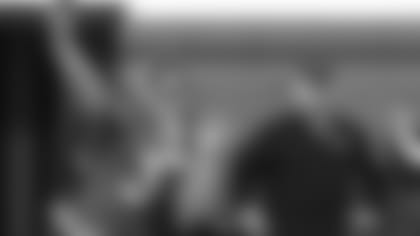 "I've never been in a huddle before, getting a huddle call. So I guess start there," the third-round tight end said, laughing. " We were all signals in college and in high school, so getting the huddle calls and stuff like that, just learning the pro-style offense, it's a little different than what we ran in college, so [I have] a lot of learning ahead."
5. POSITIVE SIGNS UNDER CENTER.
Seventh-round pick Trevor Siemian remains a while away from being cleared for full work after suffering a torn anterior cruciate ligament last November, but threw in the individual and seven-on-seven periods.
Kubiak expected that protocol would continue through organized team activities.
"Impressive. He can throw it," Kubiak said of his work Friday. "We knew what we were getting, but we've got to get him totally healthy, and training camp will be that date."
Siemian looked sharp at the start of practice, completing a variety of passes despite working a new group of wide receivers for the first time.
Check out photos from the first day of rookie camp, where several new Broncos made their first appearances on the field. (All photos by Gabriel Christus)