The fantasy season has certainly provided some real hurdles for owners thanks to the big-name injuries, and now the four-team bye weeks are in full force.
The NFL made sure to warm you up last week with just the Patriots and Titans on the bye, but all the challenges are in place now. Carolina, Miami, Minnesota and the Jets all have an early week off to pick costumes for Halloween.
Steelers QB Ben Rothlisberger will still be out, and even though Indianapolis' Andrew Luck could play, that shoulder should be a concern for his owners, as the Indianapolis offensive line doesn't look any better. I think those that have Pittsburgh WR Antonio Brown need to think long and hard as well, because Michael Vick hasn't been an effective starter since 2012.
So it's off to the thin waiver wire, if you have no trades to broker.
Looking at my league's wire, I suggest you make trades now if you have been waiting. My wire is more picked-over than a turkey carcass on Thanksgiving.
With Adrian Peterson owners needing a fill-in with the big man on bye, I think you should look first to Denver's Ronnie Hillman. He had the big 72-yard run last week, yes, but he also added some other productive runs throughout the game.
That production was noticed, and Broncos Head Coach Gary Kubiak said Monday Hillman will at least split carries with C.J. Anderson, as he has earned it. The Broncos play the Raiders, and many expect the rush numbers to be improved after this one.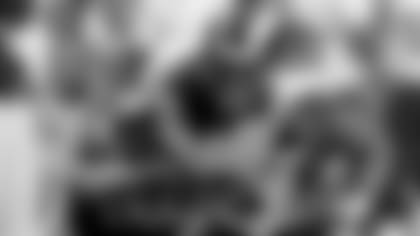 Rams RB Todd Gurley looks like a star waiting to happen. I got impatient and dropped him in a time of need. I hate myself now. Get him before he's really hot, and there is a lot of buzz on him, so get him now.
Cleveland's Duke Johnson is also a great grab -- especially in a PPR league. Johnson has 15 receptions out of the backfield and can throw in some rushes too, as Cleveland continues to try to figure out its offense.
Also monitor Tampa Bay's Doug Martin. he was trending up last week. He also was a football catching machine. I hesitate to pin much on Tampa Bay players, but if you have a low waiver claim, and a RB or flex need, there is your answer.
At tight end, Owen Daniels is a must-grab if available. The Raiders have struggled against tight ends, and Daniels has scored in consecutive weeks. It seems like he is finding chemistry with Peyton Manning, and he has always been productive in Kubiak's offense.
Buffalo's Charles Clay is becoming a favorite target of Tyrod Taylor, who threw in his direction 13 times in last Sunday's loss to the Giants.
You might also be able to grab San Diego's Antonio Gates as he returns from a four-game suspension. I told you to grab him last week, but he was still available in a number of leagues this week.
With the Jets' Brandon Marshall and Minnesota's Mike Wallace receiving a bye, there are decent options available in most leagues. Allen Hurns of Jacksonville seems to the security blanket of Blake Bortles, who targeted him 15 times last week. Bortles isn't a bad QB option either.
Atlanta's Matt Ryan targeted WR Leonard Hankerson eight times last week, one of which went for touchdown. His offense is balanced, and Hankerson is taking the opportunities that went to Roddy White. Add him.
St. Louis WR Tavon Austin will see more open space as Gurley blossoms, and is worth adding as a flex player.
But like I said earlier, now is the time for trades -- especially if you have Antonio Brown. I saw on Pro Football Talk today that Big Ben said he's feeling better, but didn't want to commit to the four-week recovery timeline. Roethlisberger admitted his bone bruise is still really sore, and his knee feels a little unstable out of a brace. Sell high.
Reactions, comments or venting?