In Mel Kiper Jr.'s eyes, the answer to the Broncos' lingering question at left tackle could come in the first round of this month's draft.
The longtime ESPN draft analyst projected Wisconsin offensive tackle Ryan Ramczyk to the Broncos in his mock draft released Wednesday.
"For him to go to Denver at [No.] 20 would be a nice fit," he said during an hour-long conference call with national media Wednesday afternoon. "If you look beyond that, and you get into the latter portion of the first round, I can't see him getting past Houston at No. 25, [or] Seattle at No. 26.
"But certainly, Denver -- whether it's Ryan Ramczyk, Garett Bolles out of Utah, Cam Robinson out of Alabama -- you would think one of those three could be the pick. All three could still be there very easily for Denver, so they may be looking at all three linemen."
In Kiper's mock draft, all three were available when the Broncos selected. Kiper tapped Robinson to the Texans with the 25th pick and Bolles at No. 37 to the Los Angeles Rams.
Kiper sees Ramczyk as a potential left tackle based on his tape study of the Wisconsin product.
"Ramczyk, you look at the way he keeps that big frame between the defensive end and the quarterback -- he's very, very good at that," Kiper said. "He really has a lot of savvy for an offensive tackle."
Kiper added that Ramczyk's medical reports "came out favorably" in the wake of Jan. 5 hip surgery.
"He's an underrated pass blocker; he gets after it in the run game," Kiper said.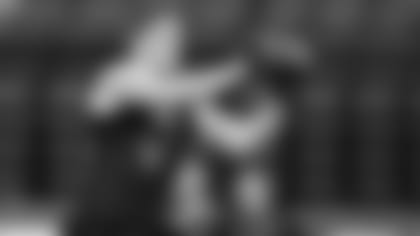 In the second round, Kiper projected the Broncos to pick tight end Adam Shaheen of Division II Ashland with the 51st pick. In a deep tight end class, Kiper has Shaheen as the fourth tight end selected, following Alabama's O.J. Howard to Buffalo at No. 10, David Njoku of Miami (Fla.) to Tampa Bay with the 19th pick and Mississippi's Evan Engram to Jacksonville at No. 35, the third pick of the second round.
This year's tight-end class is perhaps the deepest in draft history, and even though Shaheen lacks high-level college experience, Kiper sees the 6-foot-6, 278-pounder as a "rare talent."
"You can see the talent and the ability," Kiper explained. "He's a huge target -- you talk about a guy with his height, 275-280-pound frame, runs so well, so fluid, smooth, good hands, basketball background -- as a second- or third-round pick, that's where you expect him to go."
Kiper had Shaheen off the board before Michigan's Jake Butt, who he said was the fifth-best tight end in the draft, but was not in his two-round mock draft because of the torn ACL he suffered in the Orange Bowl on Dec. 30.
"Shaheen, I [initially] thought third or fourth round, but you keep hearing maybe in the second round," Kiper said. "That's why I projected him in the mock to the Denver Broncos."