ESPN draft analyst Todd McShay expects a run on offensive linemen at the end of this year's first round, and he believes the Broncos could be a part of it.
"It won't surprise me if they're in good position to draft one of these guys," McShay said. "Now, Brandon Scherff from Iowa will be gone; Andrus Peat from Stanford, the left tackle prospect, will be gone. Ereck Flowers, from Miami (Fla.), who's a pure right-tackle prospect, will also be gone, and my guess is La'el Collins from LSU will be gone as well."
If the Broncos look to the interior line, one option in that range McShay cited is Florida State's Cameron Erving.
"He played left tackle, he's moved into center, and to me, that's where his greatest value is," he said. "I think he's one of the 25 or 30 best players in this draft."
But if the Broncos focus on offensive tackle, McShay pointed to Texas A&M's Cedric Ogbuehi, Oregon's Jake Fisher and Pittsburgh's T.J. Clemmings as possibilities for the No. 28 pick.
Fisher's experience in a zone-blocking intensive scheme at Oregon enhances his value, but McShay believes he's a second-round prospect -- although he could be a first if there's a run on tackles.
"You'd like to get Fisher in the second round, but tackles always go fast," McShay said. "Quarterbacks, tackles and pass rushers third -- those are the three that always go quickly. There have been a bunch of second-round grades of offensive tackles that have snuck into the last five, six, seven picks of the first round."
Clemmings is right on the fence after emerging last year at Pitt to cap a college career in which he spent his first three years (including a redshirt season) as a defensive lineman before flipping to the other side of the line of scrimmage.
"T.J. Clemmings, to me, may wind up being the guy that's the highest-rated on the board at that point, but does he fit best for what they want to do? And the reason I say that is that with zone blocking, he has experience in it, but it's not his strength right now in terms of the movement because he gets a little bit upright and can be a little stiff in his movement," McShay said.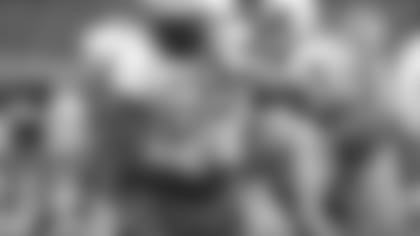 "But also in pass protection, he's got a chance to be a really good player, let's put it that way. But he's really inexperienced … He's big, he's physical and a punishing blocker, and, again, I think he's got a chance to be a really good player down the line, but when Peyton Manning's my quarterback, I don't know that I trust him as a rookie to work on an island."
One aspect of the college game's evolution is the increased emphasis on zone-blocking principles, making it easier to project an offensive lineman's potential transition to what the Broncos will demand.
"The good news is, the majority of offensive linemen coming out these days [were in] zone-blocking-heavy schemes anyway," McShay said. "There's just not that many power [offenses] left in college football. Most guys will have some experience to draw on."