The Broncos' 49th draft since being included in the first AFL-NFL common draft in 1967 was eventful, as usual ... and not just because of the nine selections the team made ...
STILL 'A LOT OF CONFIDENCE' IN BROCK OSWEILER
For the second time in the last three years, the Broncos drafted a quarterback in the seventh round, selecting Northwestern's Trevor Siemian with the 250th pick -- the first of three consecutive compensatory selections the team made.
However, Siemian's arrival is not a reflection of Head Coach Gary Kubiak's confidence in the incumbent backup quarterbacks behind Peyton Manning: Osweiler and that other seventh-round quarterback, 2013 pick Zac Dysert.
"I have a lot of confidence in Brock. I'll be honest with you, I like Zac. I thought Zac performed really well the last few days when we went out," Kubiak said. "I told (Quarterbacks Coach/Passing Game Coordinator) Greg (Knapp) I was very impressed with how he throws the ball.
"I feel very good about those guys."
Osweiler's progress will remain a subject of scrutiny, given the magnitude of the Broncos' investment in him, both in draft standing (a second-round pick in 2012) and developmental time.
As he enters his fourth season with the Broncos, he's at the point where he needs more game-time repetitions to get an accurate gauge on his growth. With Manning entrenched, those may not come.
But Executive Vice President/General Manager John Elway has repeatedly stated his satisfaction with Osweiler's development over the years, a sentiment Kubiak echoed Saturday.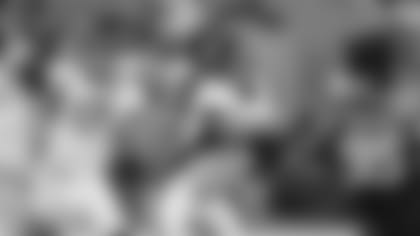 "We're very committed to Brock and his progress as a player. He's been excellent in his work patterns and the way he goes about his business. He's got a bright future," Kubiak said.
Of issue for Osweiler is his contract and whether he will get a chance for extensive action before it expires after this season.
The 16 games Manning missed because of neck surgeries in 2011 remain the only ones he's missed in his 17 seasons to date. If he remains as durable as usual, there's a good chance that Osweiler will become eligible for free agency without a regular-season start and with only preseason tape and regular-season mop-up duty on his ledger.
"No, that's something that (if) Brock takes care of his business, John will take care of the other end," Kubiak said. "Those things will work themselves out."
MARSHALL, TREVATHAN RECOVERING NICELY
Danny Trevathan's recovery is ahead of Brandon Marshall's, which allowed the fourth-year inside linebacker to take part in some "jog-through" work during voluntary veteran minicamp last week. But Marshall's progress in recovering from a foot injury has Kubiak optimistic that he will be ready for training camp.
"We're very confident that they'll be back," Kubiak said.
In the meantime, the Broncos' young backup inside linebackers have the chance to make an impression. Their work so far this offseason and last year has the coaches confident that capable options will emerge from a group that includes three rookies last year -- Todd Davis, Lamin Barrow and Corey Nelson -- and fourth-year veteran Steven Johnson, who started the second half of the season at middle linebacker.
Their work ensured that Kubiak and Executive Vice President/General Manager John Elway felt no pressure to draft an inside linebacker this week.
"I think we've got great competition right there, and if nothing else, with those two (Marshall and Trevathan) missing some time throughout the OTAs and the offseason, it'll give us an opportunity to give us a better look at some of the guys that are behind them," Kubiak said.
"It's time for [Defensive Coordinator] Wade [Phillips] and [Linebackers Coach] Reggie [Herring] and 'Pug' (Outside Linebackers Coach Fred Pagac) to go to work with those guys and they'll sort themselves out."
WILL THERE BE A ROOKIE IN THE STARTING LINEUP IN WEEK 1?
It's possible, and the best bet could be second-round pick Ty Sambrailo, given that first-round selection Shane Ray has two Pro Bowlers in front of him at outside linebacker in Von Miller and DeMarcus Ware.
"I know [Sambrailo] has the potential to do that (start), but we're going to create a competitive environment," Kubiak said. "We're not going to hand anybody anything."
Sambrailo will work at right tackle when he begins practicing, and Kubiak said he would open his on-field work behind veteran Chris Clark.
"Between [Sambrailo[ and Clark and Schofield, it's going to be a very competitive situation," Kubiak said. "Bbut the good thing about him, all through college, he played on the right, he played on the left, they played quick tackle, strong tackle, so he played everywhere. Footwork is not a problem."
Sambrailo's chances of starting are increased by the scheme in which he worked at Colorado State under then-coach Jim McElwain -- a pro-style offense with pro-style nomenclature. McElwain, a former Nick Saban assistant at Alabama, operated in as much of an NFL manner as the college game would allow, which has aided in the transition for numerous CSU Rams the last three years.
"[Sambrailo] understands what we're doing," Kubiak said. "He's been talking the same language we talk offensively for the last couple of years. It will be a very quick transition for him to be very competitive."
SO FAR, SO GOOD FOR CODY LATIMER.
The second-year wide receiver's progress was palpable during the recent voluntary veteran minicamp, and helped Kubiak feel good about the state of his wide receiver corps.
"Cody had a good (mini)camp," Kubiak said. "He's working hard; he's got a great attitude; I think he's got a little new life in a lot of ways, but I told him the other day I've got a lot of confidence in him. Don't worry about making mistakes, just go play fast, and I think that's going to be the key to his progress right now."
The Broncos didn't add any receivers until the draft was complete. With tight end taking on a greater emphasis and solid depth including Latimer, versatile Andre Caldwell and punt-return candidates Jordan Norwood and Isaiah Burse, there wasn't a pressing need at the position.
"First of all, I think it's a good group, not just Cody, and then with DT not here right now, obviously these guys are getting a bunch of reps, but I was impressed with what I saw," Kubiak said.
Kubiak said the notion of adding a kickoff or punt returner "came up" in the draft room, but the Broncos emerged from the draft without a rookie who could clearly seize the punt- and kickoff-return roles.
"There are a couple of guys we did talk about that ended up going before our picks came up," Kubiak said.
Seventh-round Taurean Nixon had limited return experience at Tulane, and could factor into the mix; he "does have some return ability," Kubiak noted.
For now, the Broncos' returners could come from a list that includes Norwood and Burse on punts, Caldwell, Omar Bolden and Ronnie Hillman on kickoffs, or perhaps some new faces in the mix. "We're going to have to get more guys involved in that," Kubiak said. "It's up to us in the offseason and preseason to find some more guys that can help us from that standpoint."