MASSILLON, Ohio — Pat Bowlen always dreamed big. He did so when he purchased the team in 1984, when he invested time and time again in necessary resources for the team and when he helped make momentous decisions that changed the direction of the franchise.
But few of those dreams have had the impact that matches his dedication to the Denver community when he and the Broncos decided to fund an entire Boys & Girls Club in 2003. With each passing year since then, the club has impacted more than 1,500 children.
So on the day that his family will accept his gold jacket on his behalf, nothing felt more fitting than for his children to champion that cause at the closest Club to the Hall of Fame in Massillon, Ohio, as they and the team donated 500 health and wellness bags to children and dedicated a memorial bench in their father's memory in the Club's garden.
"It's an honor to unveil this bench as a family, and with the Broncos organization," Brittany Bowlen said. "Our father strongly believed in the Boys & Girls Club mission, to help children grow into responsible citizens and to realize their full potential. His legacy continues with the Broncos, who are the only sports team that funds their own club today. To this day, we serve nearly 1,500 kids under his legacy and dedication. As a board member of the Boys & Girls Club of Metro Denver and on behalf of our entire family, thank you for letting us join you today."
In the 16 years since the Denver Broncos Boys & Girls Club opened, Bowlen's children have been able to understand why it meant so much to him.
"The Boys & Girls Club meant a great deal to my dad because he cared about changing the lives of all children," Annabel Bowlen said. "He believed that boys and girls should be given the tools and the opportunities to excel to their fullest potential. He made a commitment to help youth in many different communities."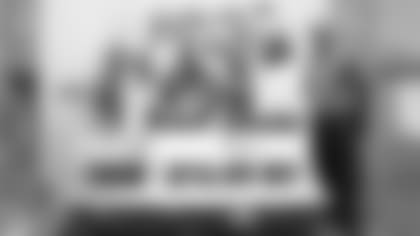 After their father passed away on June 13, the children have taken it upon themselves to uphold and extend his legacy, as challenging as it must be.
"It's a lot of responsibility, because my dad had very big shoes and we are all going to fill them together," Christianna Bowlen said.
In the months since then, they've come to realize just how extensive that legacy is, as people have recalled stories of Bowlen's generosity and kindheartedness. None of it has surprised them.
"He was bigger than life to us, as our dad," Beth Bowlen Wallace said. "But having the people galvanize around us after his passing has really just shown us how special he was to this community in the United States and, I'd like to say, even as far as reaching as the world. It's been very comforting and gratifying to see him recognized in that way."
So on a hot summer day more than 1,200 miles away from home, this was perhaps the perfect thing to do during enshrinement weekend as a testament to the kind of man their father was.
"I don't care how hot it is out here, how uncomfortable it may be," Patrick Bowlen Jr. said. "This is all for these kids and my dad, and it means so much to me to be able to help."