Eric LeGrand figured he must have done something wrong.
Paul "Triple H" Levesque, a 14-time WWE champion and World Wrestling Entertainment's executive vice president of talent, live events and creative, was trying to get in touch with LeGrand, who had hosted Levesque on "Mission Possible," LeGrand's Fox Sports digital series.
"Uh oh, what did I do wrong? What could he want from me?" LeGrand recalls thinking.
Levesque's assistant told him that he would be in touch in two days — time LeGrand spent fearing he had angered the wrestling legend. But LeGrand had nothing to fear, as he would soon find out from the wrestler he grew up watching.
The phone call was a joyous one, and it left LeGrand in complete shock. Levesque told him that he would be the recipient of the Warrior Award at the 2017 WWE Hall of Fame Induction Ceremony in Orlando, Florida.
LeGrand embodies those characteristics, and he demonstrates them in his travels around the world to share his story of overcoming adversity. When LeGrand was a defensive tackle at Rutgers University, he sustained a devastating spinal-cord injury while making a tackle on a kickoff return in October 2010. It left him paralyzed from the neck down, but in spite of the injury, LeGrand found a silver lining in sharing his story of positivity and serving as an inspiration to all.
"When you talk to Eric and when you're around him, it's really hard not to be blown away by his positivity and his demeanor as a human being; it's just inspiring," Levesque told ESPN.com. "Here's a guy who has every reason in the world to be bitter and angry and yet he's the most positive dude you've ever met."
LeGrand's positivity clearly leaves an impact on anyone he meets, but it's also his authenticity that disarms and earns him accolades.
"I do really enjoy getting awards like this. It really does mean a lot to me that people recognize me being the person that I am and doing what I'm doing," LeGrand says. "I always try to tell people that the best part about it is it's who I am. I don't have to put on a character. To be recognized for being the person that's you, it's pretty awesome."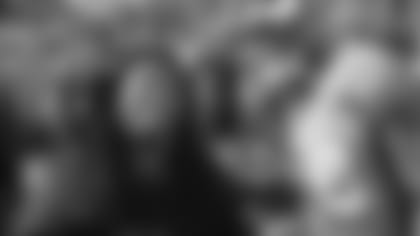 Accepting the award will evoke a similar reaction to how LeGrand felt when he watched the Broncos hoist the Lombardi Trophy after Super Bowl 50. Prior to his years at Rutgers, LeGrand wore No. 30 to pay homage to legendary Broncos running back and two-time Super Bowl champion Terrell Davis, his football idol. In 2011, Davis hosted LeGrand at a Broncos home game against the Kansas City Chiefs.
"My Broncos, that Super Bowl run, was absolutely amazing. That's everything I needed," LeGrand says. "Football is my life, and the Denver Broncos, they are my life."