ENGLEWOOD, Colo. — Former outside linebacker DeMarcus Ware was back on the Broncos' practice field Wednesday, but he wasn't lining up opposite Von Miller.
Instead, the future Hall of Famer was at OTAs to lend some advice to Miller and the rest of the Broncos' pass rushers.
Ware, who played with the Broncos from 2014-16 and earned a pair of Pro Bowl selections, spent the practice session moving among players in Denver's front seven to offer some helpful tips.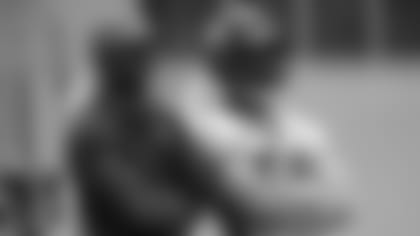 And who better to extend suggestions than a player who played an instrumental role in the Broncos' Super Bowl 50 run?
During that three-game stretch, Ware recorded 3.5 sacks and recovered a crucial fumble in the divisional round against Pittsburgh. He then retired following the 2016 season.
"He showed us some stuff," defensive lineman Shelby Harris said. "I wasn't here when DeMarcus was here, but he showed us some stuff. he came in and worked with some of the inside guys a little bit, the outside guys a little bit. He showed us a couple little moves that I'm going to try out tomorrow and when the pads come on.
"Hopefully we get to see more of him, hopefully he comes in and helps us with our pass rush a little bit more. I loved it. I thought he had some great insight into it."
While Harris wouldn't minimize the value of Defensive Line Coach Bill Kollar's instruction, he admitted there was something extra helpful about hearing from a former player of Ware's stature.
"When DeMarcus says something, you listen, because you know he's one of the all-time greats when it comes to getting to the quarterback," Harris said. "He has a lot of good insight, and you want to pick his brain and sit there and see … the way he thinks when it comes to rushing the passer. When he comes in and he says something, you want to listen."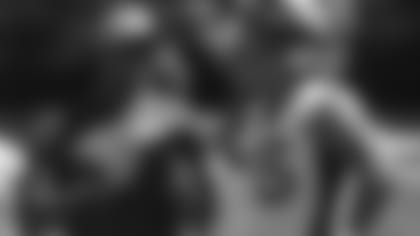 Zach Kerr, who grew up in a family of Redskins fans, was among those listening. He has long been a fan of Ware's game, and on Wednesday, he got the chance to work with him. The lessons were limited — as the Broncos weren't wearing pads — but both the interior and edge rushers received a lesson in Ware's patented finesse moves.
"I'm a fan of football, so I've been a fan of DeMarcus Ware [since] when he was a Cowboy, even though I grew up a Redskins fan," Kerr said. "So I always knew about DeMarcus Ware. It was cool having him at practice. He taught us a lot of things in the short time he was here. I enjoyed it."
Harris and Kerr's teammates appeared to feel the same way as they attempted to glean any useful information from the man who sits eighth on the NFL's all-time sack list.
"You should've seen him today," Harris said. "He was talking to us, and all the D-linemen were circled around him just listening to what he had to say, because how often do you get a first-ballot Hall of Famer to come in and talk to you and try to teach you about pass rushing? You've got to take it and you've got to enjoy it.
"That's why we're out here. We all want to be great. We all want to win championships, we all want to make the Hall of Fame. Why not take tips from someone who's going there?"