ENGLEWOOD, Colo. — The meticulous habits DeMarcus Ware had as a player did not cease to exist when his playing career ended. Rather, they just became part of his coaching style in his first year as the Broncos' Pass Rush Consultant.
That means Ware, formerly the kindly teammate and mentor, can be quite the demanding coach.
It's not enough to know what pass-rush move you did on the last play. You need to know all 45 that you did in the last game. And you need to write them all down.
"All 45 or however many rushes there [are], you need to write down your rushes and what that guy did to you," Ware says. "… What came before that and what did the guy do? So if you did a stab, if you did a spin, if you did side-scissors, if you did a swipe — it was so many moves, but what did he do? And now, how can you set him up after that? OK, what did he do after that?
"So let's say we did a sequence of a stab-swipe. Cool. What did he do? After your stab-swipe, if you just swipe, without the stab, did he try to lean into you, thinking that now you're going to try to push him back? And so now were you able to get around the corner? When you got off the ball, did he turn? Is he an open-gate guy? Did you see that?"
That's a lot to remember, but that's what it takes to be an All-Pro pass rusher. Or, at least, it's what it took for Ware to be one.
"[I'm] getting them to see exactly what the guy is giving them, but they're the dictator," Ware says. "I'm teaching them to be the dictator of pass rush, and not, 'OK, well, we're worried about the tackle and what he's doing.' No, you do what you need to do and then you'll assess the situation. And then you'll go do something else."
These things go for everyone he works with, even Von Miller. Ware played with Miller from 2014 until 2017 and now takes an approach that's more than just that of a mentor.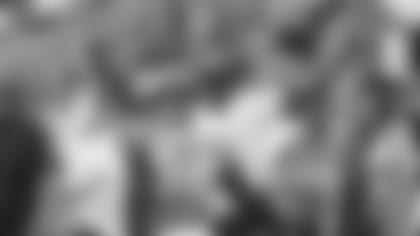 "At first when I was here, it was more of a mentor role, being a captain of the team and making sure that things were done the right way," Ware says. "But now, it's my responsibility to coach him, to really dive in deep in what he doesn't do well — which aren't a lot of things. But the mental aspect, how do you prepare yourself for a five-play drive? What moves did you do for five plays? [So that] on that sixth play, you win.
"You're not going to win every single play, but what are you going to do to set up, and now it's not all about the sack. It's about getting pressure. Every play. I tried to get pressure every play. The more pressure you have, the more sacks you'll have."
Watching the Broncos' pass rush these days, Ware has been able to see a lot of that, especially because Denver's tandem of Miller and Bradley Chubb has excelled.
Ware's been keeping a keen eye on the rookie. He knows that Chubb has already passed his rookie-season mark of 8 sacks, matching that mark before the Week 10 bye and then surpassing it in Week 11.
"When Chubb first came in, he was like a sponge," Ware says. "He knew where he wanted to go, but he didn't know how to get there. And talking with him, you can see that as a rookie, you just don't want to make mistakes. But I really harped on him to take the chains off. It's OK to take the chains off. You're already here. You're not going to get cut your first year."
Ware could also recall his rookie season, and the challenges that year brought — learning a new playbook, the speed of the game ("three times faster," Ware says) and the fact that opponents are bigger and smarter than in college — and he knew somehow he needed to convince Chubb that he could play with a bit more reckless abandon.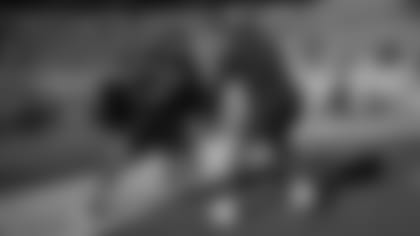 "I said, 'You play the same position that I play,'" Ware recalls telling Chubb. "'And as a pass rusher, your job is to be very aggressive. Get to the quarterback, wreak havoc. Even if you make a mistake, you probably took two dudes with you and somebody else on the team is going to make that play. It's your job.'
"And I could see how he's been progressing throughout the whole season, from the first game, second game, third game — oh, man, [the] third game he got a sack! And I could see he's progressing along as he should, but he's still learning and he can get even better. And knowing that now he's past my single-season rookie [mark] already, I feel like the sky is the limit for him. I told him, 'You have all the tools needed to be an awesome pass rusher, and as you keep progressing, you take it, but don't be afraid to make mistakes.'"
As a coach, Ware gets a lot out of watching players make those kinds of leaps of faith, trusting him that his advice is worth taking. When he sees someone try out something that they'd been practicing dozens of times on the sideline with him, he feels something of a thrill.
"The gratification comes in practice when you see them do a move they had never even thought about doing — and they're trusting you to do it — and in the game, they're doing the same thing," Ware says. "You can see those guys mature, and … you see that experience and that hard work that you put in, you see it start trickling through them. It's an amazing thing, and that's the gratification for me, when I can give something to them and they can keep it. They can keep it forever. They put it in their toolbox. We always say we get our toolbox ready for the season. They put it in their toolbox and they use it for the whole season."
Ware's toolbox as the Broncos' Pass Rush Consultant, it seems, is as impressive as the one he had as a player.