ENGLEWOOD, Colo. — Second-year running back De'Angelo Henderson thanked Parker Police and South Metro Fire Rescue on Monday for their role in helping him evacuate from the scene of a multi-car accident that took place Saturday.
Henderson's car was one of several vehicles struck by a stolen car when that driver attempted to evade police.
According to an Instagram he posted Monday, Henderson's car was "T-boned, airborne, flipped and rolled." Henderson said he then pushed his way through a jammed door in order to escape the vehicle.
"I'm truly blessed that God protected me through this accident," Henderson posted. "Without his favor, I don't know if I would've survived. I'm thankful to only [come] out with minor injuries and a few scrapes and bruises."
"… I am very grateful and humbled to be alive."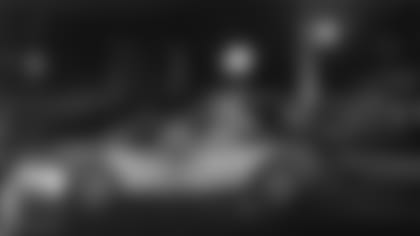 Henderson also thanked the doctors at Parker Adventist for their help after he was transported to the hospital. He said Monday he is currently rehabbing his injuries in order to participate in next week's organized team activities.
Patrick Smyth, the Broncos' executive vice president of public and community relations, expressed relief Monday that Henderson was not seriously injured.
"We're thankful that Broncos RB De'Angelo Henderson sustained only minor injuries as one of several accident victims when a car collided with his jeep Saturday," Smyth tweeted. "He was taken to the hospital as a precaution and is at the team's facility preparing to participate in OTAs next week."
Henderson on Monday was at UCHealth Training Center, where he received treatment for his minor injuries and watched his teammates practice.