ENGLEWOOD, Colo. — Choosing a jersey number can be a matter of pride.
A matter of swag. A matter of legacy.
And for sixth-round draft pick De'Angelo Henderson, it's an extremely personal matter.  As he begins to lay the groundwork for his NFL legacy, he'll have an old friend close to his heart.
A little over a year ago, Henderson's close friend and fraternity brother, Anthony Frye, died in a motorcycle accident in South Carolina. Frye was on his way home to girlfriend and newborn after hanging out with Henderson and others.
Henderson dedicated his final season as a Chanticleer to Frye, and the Coastal Carolina running back averaged 128.4 rushing yards per game. Before every game, Henderson would write the No. 33 on his left wrist tape and "Anthony" on his right in remembrance of his friend, former teammate and fraternity member.
"Life is short. Enjoy your loved ones now. Love them as much as you can because you never know when someone's time is called," Henderson said Friday.
Since Henderson's college number is worn by last year's third-round pick Justin Simmons, Henderson took this opportunity to honor Frye to an even higher degree.  
When he hits the field Saturday, he'll do so in a jersey stamped with No. 33.
"He was a real dear, close friend of mine," Henderson said. "To be able to wear his number and to honor him through it, it means so much to me. I'm so thankful. I'm so blessed to even be here right now. It's humbling."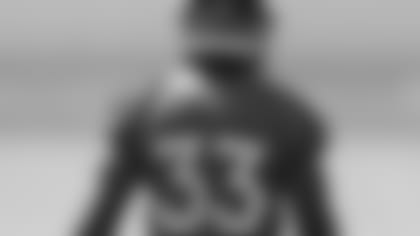 Henderson is officially a member of an NFL organization, a dream he and Frye talked endlessly about as running backs at Coastal Carolina. After his first few days as a Bronco, Henderson couldn't help but smile at the thought of what Frye would've said when he was drafted.
"We talked about this day for the last couple of years," Henderson said. "I know tears of joy would have probably come from his eyes because he really cared about me as much as I did for him. He probably would've jumped around, teased me a little bit, ask me if I was ready, try and toughen me up."
Frye won't be with Henderson on Saturday morning when he slips his arms through the sleeves of that No. 33 jersey. So what will Henderson be thinking as he puts on the uniform that's about more than pride or swag?
"Making him proud, making everyone back home proud and making everyone here proud," Henderson said.
"Everyone back home knows what I've been fighting for, and it's time to show everyone who is associated with the Denver Broncos organization what I'm fighting for."