ENGLEWOOD, Colo. — For three months, David Bruton Jr.'s classmate in biology lab didn't recognize the former NFL player.
They went to class each week at the University of Colorado Denver, and the guy never asked Bruton if he was a Super Bowl 50 champion or three-time NFL captain.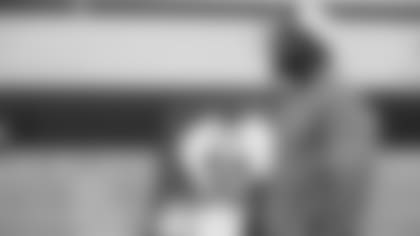 Then Bruton cut off his dreadlocks. Suddenly his hair was in stark contrast to the way he wore it while with the Broncos.
And that's when his classmate approached.
"[He] came up to me and was like, 'David, do you have a cousin who plays for the Broncos?" Bruton said Monday. "I was like, 'What do you mean?'
"He goes back to his table, grabs his computer, opens it up. … He opens it up and shows a picture of me and him at this event at Sports Authority [Field at Mile High]. And I was like, 'Man, that's me.'"
The classmate had to be convinced. He still hardly recognized Bruton, who played seven years with the Broncos.
And perhaps it makes sense he didn't recognize the former safety and special teams weapon -- because David Bruton Jr. is carving out an entirely new path.
---
Understand this: Bruton thinks he can still play football in the NFL.
He looked out at the Broncos' practice Monday and estimated he's still faster than 90 percent of the players on the field.
Can he still backpedal? Can he still run?
Yes, is his definitive answer.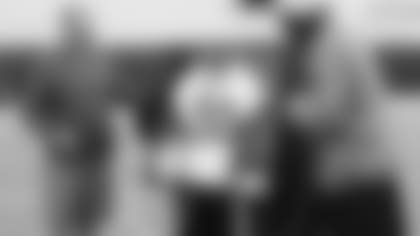 Whether that's factual is anyone's guess, but Bruton believes if he got back in the gym, he could still find a role on this team.
When he has a lab report due, though, workouts have to take a backseat.
That's just how it goes when you're taking prerequisite classes for physical therapy school and shadowing the Broncos' training staff.
Bruton, who retired in late July after weighing the health risks, is starting this next chapter of his career at the University of Colorado Denver.
And as he does, the Broncos made sure to end the previous one the right way. Bruton may have spent his last season in Washington, but Broncos President and CEO Joe Ellis recognized the three-time captain Thursday with a framed Broncos jersey.
"It means the world to me," Bruton said. "It means more than Super Bowl 50. It means more to me than that. And it's not because I didn't play. It's not because of anything, because I did a lot for us to get there. I played a lot, I helped a lot, I still coached a lot even when I got hurt. But just to see the organization's appreciation for me, that speaks volumes.
"It's great to have a Super Bowl ring and a trophy and be able to kiss the trophy and this, that and the other, but not many guys are presented such gestures and appreciation as I was. And I definitely am extremely grateful that the Broncos see me fit for such a gift."
When's the last time you heard that?
When's the last time you heard a player -- on any team -- admit a Lombardi trophy had been upstaged?
That's the way Bruton feels about this organization, and he said Monday he wished he'd never left for Washington.
"To this day, like, man, if I'd just stayed in orange and blue," Bruton said, trailing off.
But then consider Bruton has moved past football, even though he said the chills he felt Monday wouldn't let him completely dismiss his passion for the game.
He's found peace with his decision to reenter school and begin his road toward becoming a physical therapist.
He's wanted to take this path for some time now. Bruton said he's always been fascinated by the amount of work it takes to get the human body to perform, but his interest may have grown a bit due to his own unfortunate luck.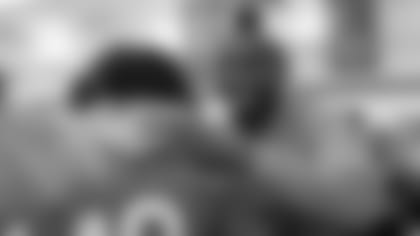 "I saw it a lot as a player," Bruton said, laughing. "Especially early in my career, I saw the training room a lot."
As he watched Director of Sports Medicine Steve "Greek" Antonopulos during his time with the Broncos, that appreciation only grew.
During his playing career, Bruton was already getting a crash course from Antonopulos in sports medicine. Bruton's training has intensified in the previous few weeks, and there was more to learn than just the various parts of the body and how to use the recovery machines.
That's not to say those basics aren't important, but Bruton has been exposed to more integral lessons during his shadowing process.
"It's definitely been something that's been eye-opening and makes me realize that this is what I want to do," Bruton said. "It's not just the physical sense of things. It's also the emotional and psychological approach to a certain guy, because each guy is different in how they respond to a certain exercise. You might have to tailor your gameplan just a little bit.
"That's something that I can do well – adjust. Because I've had to do that for years on years on years."
His first day of class at UC Denver required that same type of flexibility.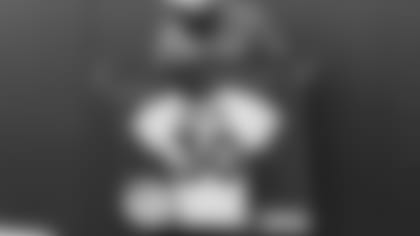 Bruton hadn't taken a science class since junior year of high school -- and he was struck by how little he knew as he pulled out his notebook and pen.
"Honestly, that first month was like a foreign language to me because I haven't seen science in so long," Bruton said. "All I'd seen was X's and O's and players on tape and studying individual players, so it definitely was a learning curve for me, and I had to take advantage of some classmates who'd been through school for a while or were going back for a second degree and just using the resources there at school to help me get a feel, get into the groove and then flourish when I got my bearings right."
"Learning curve" doesn't seem to do Bruton's challenge justice, but his long-instilled disposition to work hard led him to remain in school.
In his eyes, there's just no other option.
"I don't foresee myself not becoming a P.T.," Bruton said. "I see myself being Dr. Bruton and having that doctorate, and telling my mom, 'Don't call me son, call me doctor.'"
He's joking, of course. But his vision for his future is clear, and it doesn't necessarily end in the professional or collegiate ranks.
Bruton said he hopes to work with Colorado's general public, which appeals to him because of the number of amateur and former professional athletes in that group.
When that day comes — when David Bruton Jr. becomes Dr. David Bruton Jr. — he will have to leave the Broncos again.
And this time, he'll know he made the right decision.