ST. PETERSBURG, Fla. -- **The sight of a golden ram horn on a green helmet was a welcome one this week at East-West Shrine Game practice for quarterback Nick Stevens and offensive lineman Jake Bennett.
It's not simply that Stevens and Bennett were happy to be teammates for at least one more game after playing together at Colorado State. For Stevens in particular, the presence of Bennett allowed him an extra level of comfort working under center, something that has been a point of emphasis for all quarterbacks this week.
CSU's offense provided Stevens plenty of opportunities to work under center and take snaps from Bennett, so he doesn't face the same transition other quarterbacks have in learning to operate while dropping back, amplifying Stevens' advantage.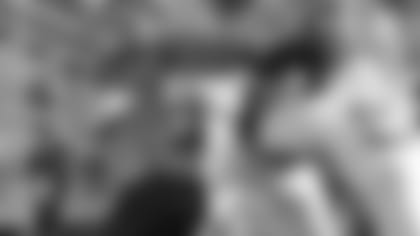 "It's awesome. It's like a broken-in baseball glove when he gets under center," Bennett said. "We know each other's timing well because we've done it thousands of times, so it's definitely comfortable with him back there."
The West team has shuffled its quarterbacks and centers throughout its three practices this week, so Stevens has taken snaps from every interior prospect on the squad.
"We've rotated centers, so I haven't been in there with him the whole time," Stevens said. "Both of us have talked and both of us feel super comfortable having all that experience together, having five years being under center -- especially because we ran an offense where we were under center a lot."
That has helped as the CSU standouts look to distinguish themselves. Stevens, a classic pro-style quarterback, wants to show that his skills and ability to read a defense translate to the NFL. That starts by incorporating some lessons from his coaches this week into his play -- including one designed to help simplify his reads.
"Just trying to eliminate as much as you can in a play," Stevens said. "When you go up to the line, instead of having to read the whole field, we split it down the middle if it's down the middle -- [to] split it down the middle, pick a side and stay on a side. Play loose, stuff like that."
Bennett, who was an all-state selection at Bear Creek High School before moving on to CSU, hopes to show his versatility, as he knows being able to play both guard positions as well as center could help him stick on a roster.
"I think it's hard to be just a center, so you've got to be versatile and be able to play those three [interior] positions. I think that's where I would fit in the NFL, being able to play anywhere in that middle three."
For both, the pro-style aspects of CSU's offense gave them an advantage heading into this week.
"Actually, one of the play calls is the exact same thing we run," Bennett said. "The concepts of the other ones are the same thing out of our playbook. So it's nice to have that background and that understanding. It's just more of a verbiage thing as far as flushing some old stuff [out] and getting some new stuff in."
But one thing that won't change -- at least for one more game -- is the green helmet and the gold horn both will wear together. For a final Saturday, Stevens and Bennett will be the harmonious pair that good quarterbacks and centers often are.
"We have chemistry," Stevens said, "and we're on the same page every time."
Andrew Mason offers his evaluations of 11 key players from the first two days of East-West Shrine Game practice. (Photos: Andrew Mason)