BOULDER, Colo. -- **Never have the Broncos failed to have a substantial presence at the University of Colorado's annual Pro Day. With Boulder in their backyard, the Broncos typically have a robust complement of personnel evaluators on hand; that was the case once again Wednesday afternoon.
But in the wake of a revival season that saw CU sprint to the Pac-12 North title, the secret of the Buffaloes' program -- and the quality within it -- is out. The Broncos were joined by representatives of every other NFL team, marking the first time since 1995 that all clubs were present.
Perhaps no statistic better demonstrates that CU's "rise is real" than that; it is evidence of the upgraded quality of talent that helped the Buffs return to national relevance.
"I didn't even know that stat, but, dang," said cornerback Chidobe Awuzie.
"You get the individual accolades along the way when you're losing, but when you really start winning, that's when everybody gets to eat, and everybody gets to succeed, so I feel like us going to that bowl game, having a 10-win season -- it meant a lot of that team, and also for a lot of our futures."
Awuzie turned heads with a 4.43-second 40-yard dash that ranked eighth among 33 cornerbacks to run the 40 in Indianapolis. He also ranked among the top 10 cornerbacks in the broad jump, three-cone drill and the short shuttle.
But he came up short in just one statistic: the vertical jump. That was the only drill he chose to do Wednesday, and he improved from 34.5 inches to 39.5 inches. That would have been the second-best vertical jump among all cornerbacks at the Combine -- only trailing CU teammate Ahkello Witherspoon's 40.5-inch leap.
"I got five more inches on my vert, so something was working," Awuzie said.
Like Awuzie, Witherspoon and safety Tedric Thompson bypassed every timing and strength drill other than the vertical jump, but took part in all of the position drills.
"Coaches wanted to see hip turns and breaks -- simple DB stuff," Awuzie said. "I think we answered those questions."
They didn't need the exposure. Neither did quarterback Sefo Liufau, who also took part at the Combine.
But some players truly needed the spotlight that Wednesday's workout brought -- perhaps none more than outside linebacker Jimmie Gilbert.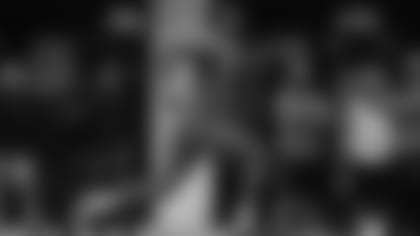 With 11 sacks last year, Gilbert ranked 15th in the nation and second in the Pac-12 in that category, and only two players in FCS accounted for more yards lost via sacks than Gilbert, whose takedowns led to 106 yards in losses for opposing quarterbacks.
But Gilbert doesn't fit the traditional size of an edge rusher; he played last season at around 215 pounds. His season did enough to earn him an invitation to January's East-West Shrine Game in St. Petersburg, Fla., but he was not among the 330 players invited to last week's Scouting Combine.
Gilbert had a strong day, posting a 37-inch vertical jump, a 10-foot broad jump and a 40-yard dash that was timed at 4.64 seconds.
"I could have done better -- and I should have," Gilbert said.
But the biggest thing he did was show that he could maintain his speed with added bulk; at 234 pounds, he's nearly 20 pounds heavier than he was last season.
"I just wanted to show that I can put on the weight, and hopefully [teams] take that into consideration," Gilbert said. "Before draft day, my goal is to be 240 [to] 245 [pounds]."
Gilbert's work opened some eyes -- which shows the value of Pro Days around the country. The Combine isn't the be-all, end-all, but without it, Pro Day was everything for Gilbert, eight of his CU teammates who worked out Wednesday and a host of players from schools around the state like Adams State, CSU-Pueblo and the Colorado School of Mines, who took the field after CU's players completed their work.
"We were trying to make the most of what we could today and put it all on the line," Gilbert said.
And for the first time in a generation, they did so knowing that every NFL team was on hand.