INDIANAPOLIS —* It was just another day at the office, offensive tackle Stephane Nembot [pronounced "steff-on name-bot"*] said with a smile.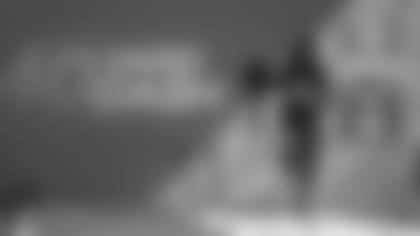 A day at the NFL Scouting Combine—during which time NFL hopefuls are examined physically and psychologically and are sat down for one of the biggest media days of their careers—hardly seems like an ordinary day, but Nembot is just one of those types of people who takes on challenges of all sizes with an unwavering approach.
Challenge became routine for Nembot. He came to America from Cameroon with no grasp of the English language. Originally a basketball prospect, Nembot didn't pick up football in his senior year of high school with little understanding of the game. Recruited as a defensive lineman, Nembot was then asked to become an offensive lineman and learn the other half of a sport he was still in the process of understanding.
And once all this—an NFL career and anything further—unfolds for Nembot, he dreams of taking on a new kind of difficult challenge when he goes back to Africa.
"I want to build my own orphanage. The NFL is like a bridge out there, so I want to be able to use a platform of the NFL and bring it back home in order to help not only my family but also people that are out there struggling that never had the opportunity I had, and now through me they can have the same opportunity that I have. I just want to use my platform and help other people."
But before any of that path materialized, Nembot made his first impression by ripping down a basketball rim in front of a UCLA assistant basketball coach who was hoping to discover a prospect. But it seems he actually had discovered a football prospect, though Nembot didn't even know what the sport was at the time.
After moving to the United States in 2008 and moving from basketball to football as a defensive end, Nembot excelled in his only season playing high school football. He was named an all-region selection by PrepStar and a member of SuperPrep's All-Far West team. Much of the Pac-12 came calling to recruit him, but Colorado won his heart by hiring a French translator to talk to Nembot's parents.
"It was different, for sure, moving out of Cameroon," Nembot said. "I'd never seen snow in my life. Coming out here in Boulder where it's snowing and it's cold and things like that, you have to adjust to everything."
He would have to adjust even more when the Buffaloes needed him to move from defensive end to offensive tackle in the middle of a game against Fresno State. He was a redshirt freshman then, and though he could have been easily overwhelmed, Nembot instead controlled what he could: his ruthless drive. Before plays, he was told who to block and he almost exclusively blocked on run plays. On third downs in obvious passing situations, Colorado substituted someone in for Nembot.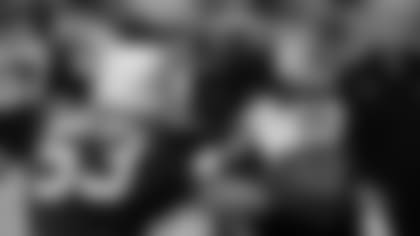 In coming years, Nembot devoted himself to learning the playbook—something he had not had before—and learning the ins and outs of the game, to the point that he would Google to find more information.
"When I started learning about pass protection and realizing I could stay on the field for both pass and run, because if you realize that year, I would only be there for first down, second down. On third down, I would run off the field and somebody else would go in pass protect," Nembot said. "So the year after that is when I actually started learning how to play the full game, pass protecting and learning the playbook, because that year I never had a playbook."
In the three years as the Buffaloes' full-time starter, Nembot improved year after year and still has the potential to improve further as a pro, which has him optimistic.
"I know the sky is the limit for me," Nembot said. "I have to adapt a lot to the game and everything, and learn more in terms of football savviness and things like that, so that's where I'm at right now. I'm learning."
What he adds: "I want to add physicality. I know for a fact that I'm very physical, I know that my work ethic is incredible. I work hard at everything I do, no matter what. I just want them to know that if they need somebody physical in the run block, pass protection I'm the right guy."
What teams want to know about him:"The good thing was mostly they want to know who Stephane Nembot is, where I come from, my history, what got me in the U.S., how I transitioned from Africa to the U.S. and all that, just more about my personality and a little bit about my football I.Q."