ENGLEWOOD, Colo. --In the Jan. 11 divisional playoff loss to the Indianapolis Colts, few, if any, gave more of themselves to the Broncos' cause than C.J. Anderson.
No play showed his indefatigable effort and intensity more than the last snap of the third quarter that day, a fourth-and-1 trek that saw Anderson change directions in the backfield and elude five defenders before finally succumbing to D'Qwell Jackson's tackle after gaining seven yards.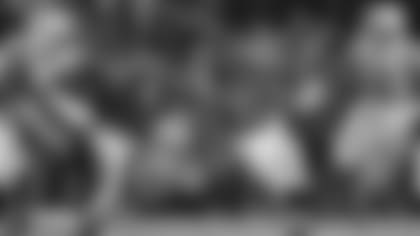 If the Broncos had rallied to win the game, Anderson's run would have taken a legendary place in franchise lore, replayed on Broncos highlight reels for decades to come. But the offense petered out on the following three plays, settled for a field goal, and then watched as the Colts seized the game by marching to a clinching field goal of their own.
You might remember the play well now, but as time passes, history recalls only the winners. Moments like Anderson's run become forgotten. Perhaps that's why he looks back at the humbling 24-13 defeat and does not see the determined play he made; instead, he focuses on the ones he didn't.
"I was watching the playoff game last week and I left a lot out there. I left a lot out there," Anderson said. "A lot of people came to me and said, 'You played so hard. You did this.' Man, that was unacceptable. I had 24 touches and I didn't get in the end zone to help my team win.
"That's just unacceptable. I felt I left a lot out there, which means I know that I left a lot out there in other games. I'm just trying to get better every day. The only way you can do that is doing your job."
On the surface, no one had less reason to absorb blame for the defeat. But Anderson doesn't see it that way.
"I'm comfortable where I'm at, but I'm still hungry because I know last season I was a big key why we didn't move on to the next round," he said.
You want players that are accountable and take responsibility. Those are the ones that develop into leaders, that carry entire teams to championships.
Time will tell whether Anderson has that in him. But in the middle of OTAs, he's saying the right things -- and, more importantly, is doing the right things -- to set an example.
Take how he's adapting to the new offensive line. With at least three of five O-line starters guaranteed to be players who have never started for the Broncos before, it would be easy to use the inexperience and lack of cohesion as a reason why the ground game would struggle.
Anderson refuses to buy into that notion.
"We'll make the right cut," Anderson said. "No matter who's back there, we'll make them (the offensive linemen) right. That's a promise."
Losing left tackle Ryan Clady's leadership "hurts," Anderson said, but so far, the offensive line is "looking good."
"There are some bumps in some roads, but I mean, it's June. We don't play until September," Anderson said. "We've got a lot of time to fix things up. We'll get it going.
"It doesn't matter who's up there up front: I trust them; they trust us, and as a backfield, we'll get 'em right."
To help prepare for his role, Anderson watched tape of the offenses Head Coach Gary Kubiak supervised in Denver, Houston and Baltimore, taking note of the running backs' roles. Anderson said Houston's Arian Foster was "probably my favorite out of all them," but it was his fellow Cal alumnus, Justin Forsett, who he sought for advice. His pointers?
"Just be patient, pick your spots and be decisive," Anderson said. "The whole thing for me is just being smart. With me, recognizing fronts, and that's just coming from last year's offense and playing with [Manning]. Recognizing fronts, what the defense wants to do, what gaps they want to play, you can kind of anticipate what's going to happen before it happens. Kubiak has made some of the great ones, and hopefully I can do that."
If Anderson does, he will show that he has staying power, and isn't a shooting star that blasts through the NFL firmament and then fades fast.
"You don't want to be a one-year wonder in this league, not at all. No one wants to do that," said Anderson. "I'm going to keep my head down, keep grinding every day and keep pushing. What happened last year happened last year. That's completely over and done with.
"At the end of the day, no matter what season I had last year or what season Peyton (Manning) had last year, at the end of the day we have no ring on our finger. We want to bring that Lombardi (Trophy) back here for sure."