LB Keith Burns (Round 7, No. 210)
C Tom Nalen (Round 7, No. 218)
A spate of trades left the Broncos with just five picks -- including only one in the first three rounds (LB Allen Aldridge, No. 51 overall). General Manager John Beake and Director of Football Operations Bob Ferguson had to maximize their selections, and they did, while also adding the greatest undrafted free agent in Broncos history.
Nalen, of course, is not only the best center in Broncos history, but one of the greatest value picks in Broncos history -- a Ring of Famer and the anchor of their offensive line until a 2007 injury helped lead to his 2008 retirement. Only Jason Elam and John Elway played more games for the Broncos than Nalen (194); only Elway had more starts than Nalen's 188.
In an era where offensive linemen got bigger, Nalen remained below 300 pounds, typically playing at around 285 pounds.
"I was 296 pounds at one point in my life. I tried to get to 300. Couldn't do it," he recalled in 2013.
But he used his size to his advantage.
"The guys that I played against, Ted Washington was close to 400 pounds," Nalen said three years ago. "There were some big human beings I had to block. I think there's a cap to how big an offensive lineman can be and still be effective. I still think that if I was drafting a center, 285 pounds would not scare me in the slightest, because you use that to your advantage, and you're quicker. It depends on the guy that plays, but you kind of have to have a disposition about you that's a little angrier, maybe. But that's the guys I'd go for."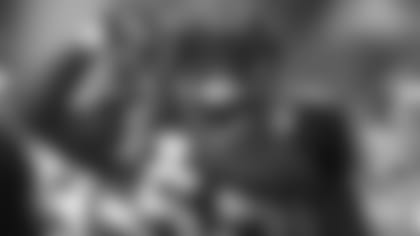 Burns had three separate stints with the Broncos, departing for Chicago and Tampa Bay in free agency before returning each time. The Oklahoma State product was the heart and soul of the Broncos' special teams for most of the late 1990s and early 2000s, and went on to serve as an assistant coach under Mike Shanahan, Josh McDaniels and John Fox.
The Broncos' draft trades were a mixed bag. The first-round pick was part of a three-selection package sent to Minnesota for Hall of Fame tackle Gary Zimmerman; given Zimmerman's quality and endurance through Super Bowl XXXII, it is hard to argue against that deal.
Defensive tackle Ted Washington was a product of a trade with the 49ers that sent away a fifth-round pick. Washington started all 15 games in which he played in 1994, but wasn't the difference-maker the Broncos hoped he would be in a 7-9 season.
Rod Smith wasn't a draft pick, and this is a slight that still rankles him to this day. But it helped push him to become the best wide receiver in Broncos history.
Smith was one of 16 undrafted players signed to fill out the rookie class, and made it onto the practice squad in 1994, but did not make it to the 53-man roster until 1995.
(This always stuck in his craw, because a year of practice-squad service does not count toward the experience listed on the roster. Thus, in 1995, he was listed on the roster with "1" under experience rather than "2," and that discrepancy had to persist until he retired. Smith made a great point: His work on the practice squad was just as diligent as when he was on the 53-man roster, so why shouldn't it count?)
Another contributor on the back-to-back world championship teams of 1997 and 1998 was defensive end Harald Hasselbach; like Smith, he was part of the undrafted rookie crop in 1994. Hasselbach played in 112 games, including 29 starts, over the next seven seasons.